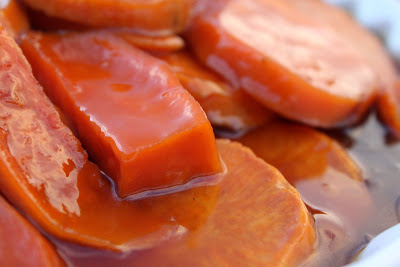 If you are short on space in the oven for Thanksgiving, and have a crock pot, our Candied Crockpot Yams is for you. I've never made yams in a slow cooker before today. The texture of the yams is different than if using the traditional boil and bake method. They are a little more firm. I experimented and sliced the yams into 1/4 to 1/2 inch slices. Liked the thin to win slices a bit better. Adding chunks of apples and cinnamon or other spices to the mix would make the recipe a little more interesting…I like this recipe for yams a bit better, but you know I'm a sucker for a twist on an old fave.
In case you lost count-10 more days.
Up next: PIE.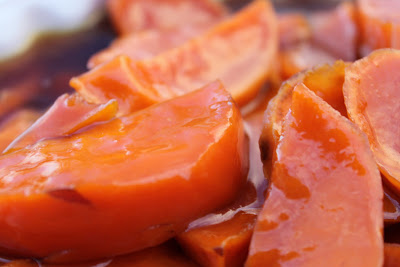 Candied Crock Pot Yams
adapted from Southern Living, October 2008
Ingredients
1/4

cup

butter

2

teaspoons

vanilla extract

1/4

teaspoon

salt

1

cup

granulated sugar

1

cup

firmly packed brown sugar

4

pounds

yams

peeled and cut into 1/2-inch-thick slices

2

tablespoons

cornstarch
Instructions
Microwave butter in a microwave-safe bowl at high 30 seconds to 1 minute or until melted; stir in vanilla and salt.

Place cut yams and sugars in a lightly greased 6-qt. slow cooker. Pour butter mixture over top. Stir until all ingredients are combined. Cover and cook on LOW 4-5 hours, or until potatoes are tender. Stir halfway through cooking time, to insure yams are coated with sugar/butter mixture.

Transfer yams to a serving dish using a slotted spoon, reserving liquid in slow cooker. Keep yams warm.

Remove 1/3 cup liquid from slow cooker; whisk cornstarch into 1/3 cup liquid until smooth. Carefully pour remaining liquid from slow cooker into a medium saucepan. Whisk in cornstarch mixture. Bring to a boil over medium heat; cook 1 to 2 minutes or until thickened. Pour over yams. Serve immediately.
Recipe Notes
– I recommend first cutting slices of yam into a large plate or shallow bowl, adding about 1/4 cup water and microwaving the yams for about 10 minutes. Drain and then proceed with the recipe above.