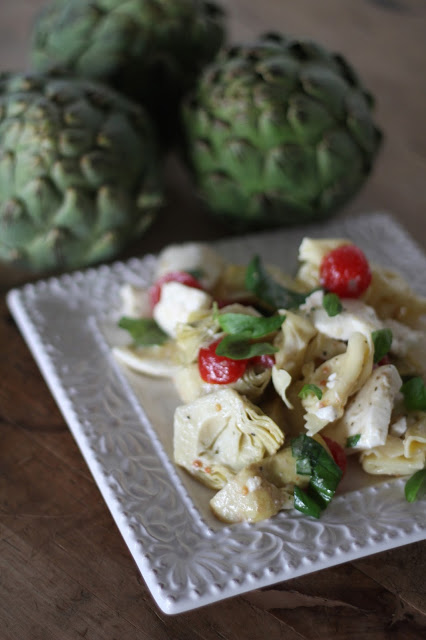 A few weeks ago, I made lunch for one of my favorite non-profit organizations, Rising Star Outreach. Rising Star helps those afflicted with leprosy in India through education, micro grants and medical care.
We served three salads: Basil Couscous Salad, Chicken, Apple and Smoked Gouda Salad and this incredibly simple and flavor packed Caprese Pasta and Artichoke Salad. A fruit platter, assorted rolls and cookies completed the menu.
If you are looking for a simple and fresh pasta salad, it doesn't get much easier than this, cook the fresh pasta in less than two minutes, chop a few ingredients and toss with salad dressing. It's great for make ahead, or make at the last minute. With fresh basil and tomatoes being available year round, this is a salad you can make any time of the year!
Caprese Pasta and Artichoke Salad
A Bountiful Kitchen
Ingredients
16-20

oz

package fresh Tortellini or Ravioli cheese filled pasta

1- .7

oz

Good Seasons Salad Dressing

dry mix envelope

6-8

oz

jar marinated artichoke hearts

drained and cut up

1

pint

grape or cherry tomatoes or heirloom tomatoes

3/4 to 1

cup

good quality Italian salad dressing

I used Bernstein's Cheese Fantastico

8-12

oz

fresh mozzarella cheese

cubed

1

cup

fresh basil leaves

whole or chopped

Salt and fresh ground pepper to taste
Instructions
Cook Pasta according to package directions. Be careful to not overcook. Rinse with cold water and drain well. Place pasta in a large bowl and sprinkle with dry seasoning. Place in refrigerator for at least 2 hours, overnight if possible. Before serving, add the remaining ingredients.

Serve or refrigerate for up to 6 hours.

Serves about 10 as a side dish.
Recipe Notes
-You may make this salad the day before serving. Cut up the mozzarella. Cut the tomatoes in half and refrigerate each in separate Ziploc bags (if you mix the cheeses and the tomatoes and refrigerate, the cheese will become wet from the tomatoes). Toss the cooked pasta with dry dressing, refrigerate in separate bag. When ready to serve, Toss all ingredients together, add artichokes, basil leaves, salt and pepper.
-If you are making this last minute, toss the pasta with the dry dressing mix and then add remaining ingredients. It is better if the pasta can sit with the dry dressing sprinkled on top, but not necessary.
-If you are making this for a large crowd, it is not necessary to double the dry and bottled dressings. One package of the dry dressing should be enough for a double recipe. A double recipe will also consume about 1 1/4 cups of bottled dressing. Add more bottled dressing if necessary before serving.
-If you are preparing this for a large group, and want to shop at a big box store, purchase: double pack of the cheese filled tortellini and two grape tomato packages, one package of the fresh mozzarella (comes in double pack), And 1 large marinated artichoke hearts (use about 1/2 jar) . This along with tripling the dressings and basil should feed approx. 50 people as a side dish.