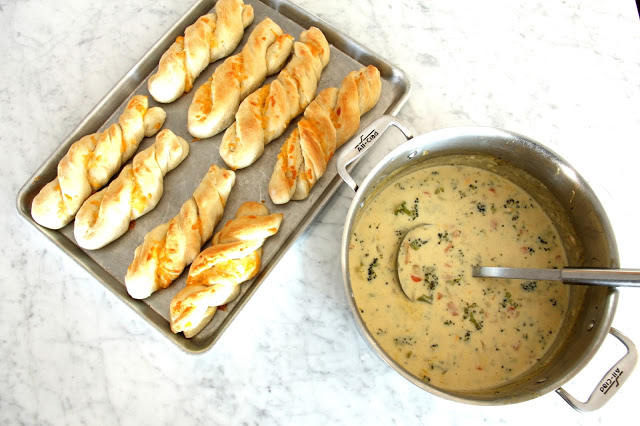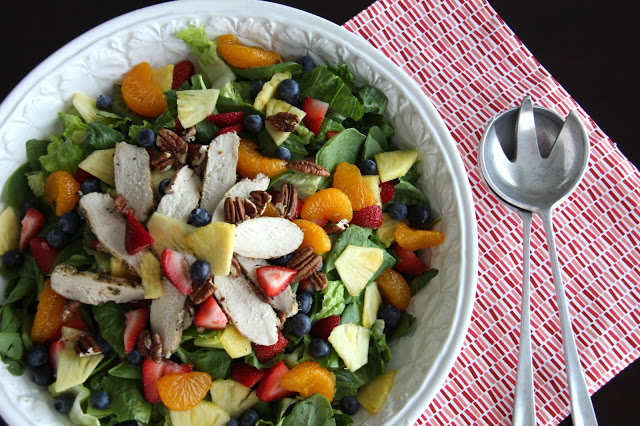 I've been making Cheese and Garlic Twisted Breadsticks for years. They take less than an hour start to finish and paired with a salad or soup make a meal complete! They are simple enough to make with your kids this summer, they'll love to cut the dough into strips, sprinkle with cheese and then twist.
I love them paired with these main dish salads: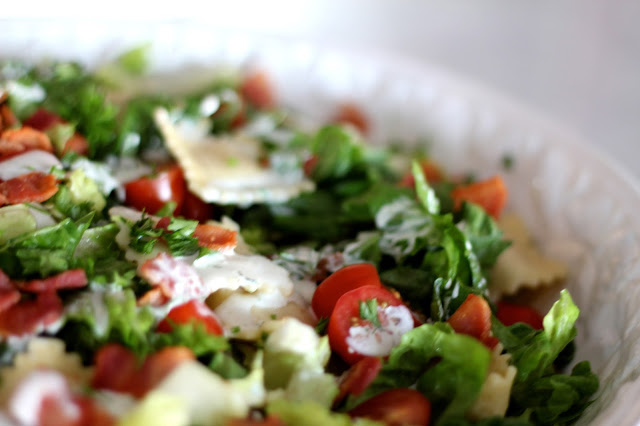 BLT Pasta Salad with Buttermilk Ranch Dressing

Here's a little step by step to help you out: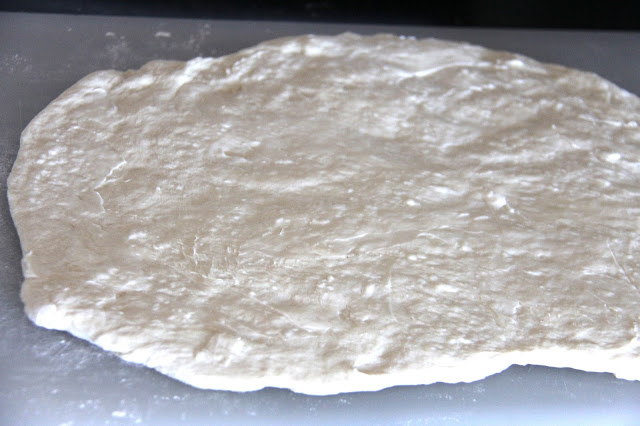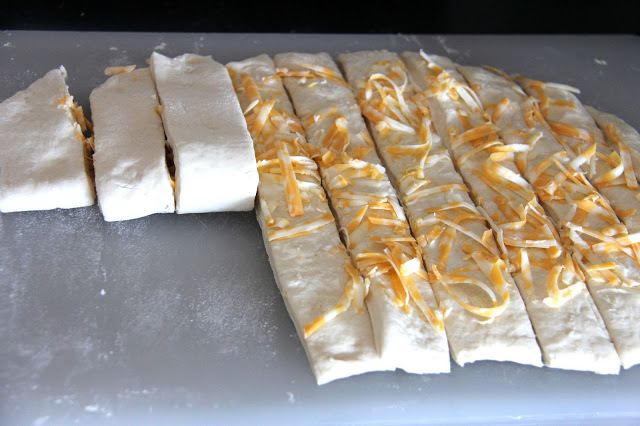 Spread with butter and garlic mixture (optional).
I skip this step if I'm in a hurry, sprinkle with cheese, cut into strips.
Fold the strips back to meet the top of the dough.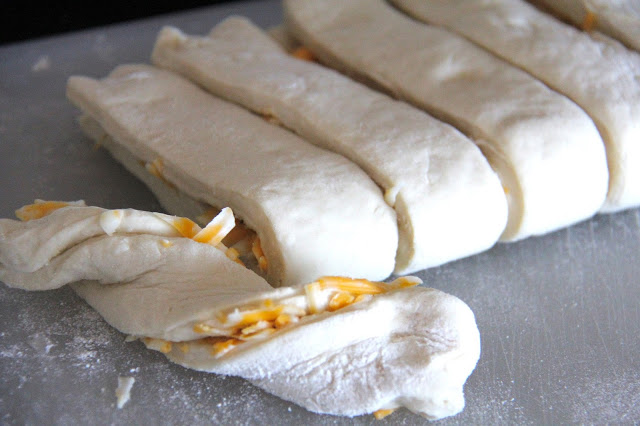 Gently twist one end of the dough.
It's okay if the cheese spills out the side of the breadstick!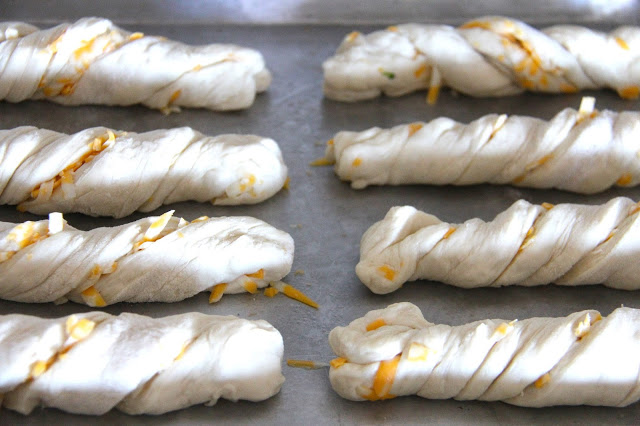 Place the breadstick on the greased baking sheet.
Brush with egg and sprinkle with poppy or sesame seeds.
Or skip this step if you're in a hurry.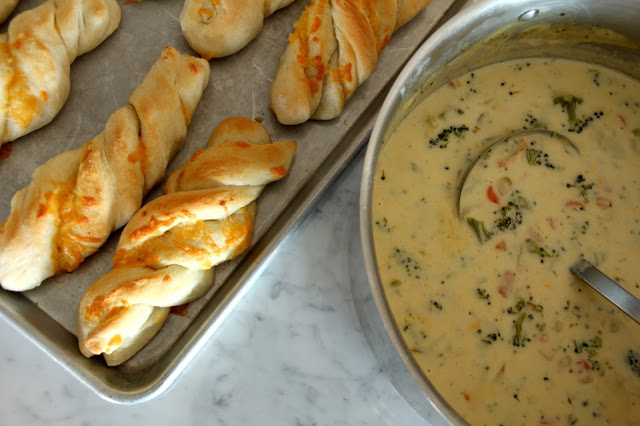 Cheese and Garlic Twisted Breadsticks
A Bountiful Kitchen
Ingredients
1 1/2

cups

warm water

1

package active dry yeast or 2 1/2 teaspoons dry yeast

1

tablespoon

honey

1

teaspoon

salt

3 1/2 to 4 1/2

cups

flour

1

egg

beaten (optional)

1

clove

crushed garlic mixed with 2 teaspoons salt

or 1 tablespoon garlic salt

2-3

tablespoons

butter

softened or melted

1 1/2

cup

grated cheese

Cheddar, Co-jack, Parmesan

poppy seeds

sesame seeds optional
Instructions
Place the warm water in a large bowl. Sprinkle the yeast over top of the water. Let sit for about five minutes or until bubbly. Stir in honey. Add the flour and salt, a cup at a time, until dough pulls away from sides of bowl and is no longer sticky. Remember, it is easier to work with dough that has not had too much flour added.

Let the dough sit for about 15 minutes. This step is not necessary, if you are in a hurry, go ahead and proceed to next step.

Mix the butter and garlic or garlic salt in a small bowl.

Roll the dough out on a floured surface into about a 10×15 rectangle. Spread or drizzle the surface of the dough with melted butter and garlic mixture. This step is optional, you may simply sprinkle the dough with grated cheese, but the flavor is much better with the garlic butter mixture spread on top first.

Grease a jelly roll pan with cooking spray. Pre heat oven to 400 degrees. Place rack in middle of oven.

Using a pizza cutter, cut the bread sticks in to 8-12 pieces (width wise), depending on the desired size. Take one end of the dough strip and fold upward to meet the top of the other end of the strip (see photo). Continue until all of the strips are folded. Pick up one dough strip and gently twist in one direction, holding the other end while twisting. Place the twisted dough strip on the greased baking sheet. Repeat until all of the dough has been twisted and placed on baking sheet. Dough may be brushed with beaten egg and sprinkled with poppy or sesame seeds.

Let the dough sit in a warm place for about 20 minutes.

Place in oven and let bake for about 15-20 minutes or until golden brown.

Serve immediately.
Recipe Notes
-When making any type of bread, the kitchen should be warm and draft free. The microwave oven is a great place to put a bowl of rising bread dough. Place a cup of water in the microwave on high for one minute. Remove the water and place the bowl of bread in the microwave oven with the door shut. The temperature inside of the oven is perfect!
-While this recipe is supposed to be a thirty minute recipe, the texture of the bread is better if you let it raise a bit before baking. If you have lots of time, let it raise for 30-40 minutes after making the dough, then another 30-40 minutes after shaping into breadsticks and before baking.