Cheesy Baked Artichoke Dip has been my recipe archives for about 25+ years. It's the easiest appetizer recipe on ABK! I know you're going to fall in love with this cheesy, creamy dip…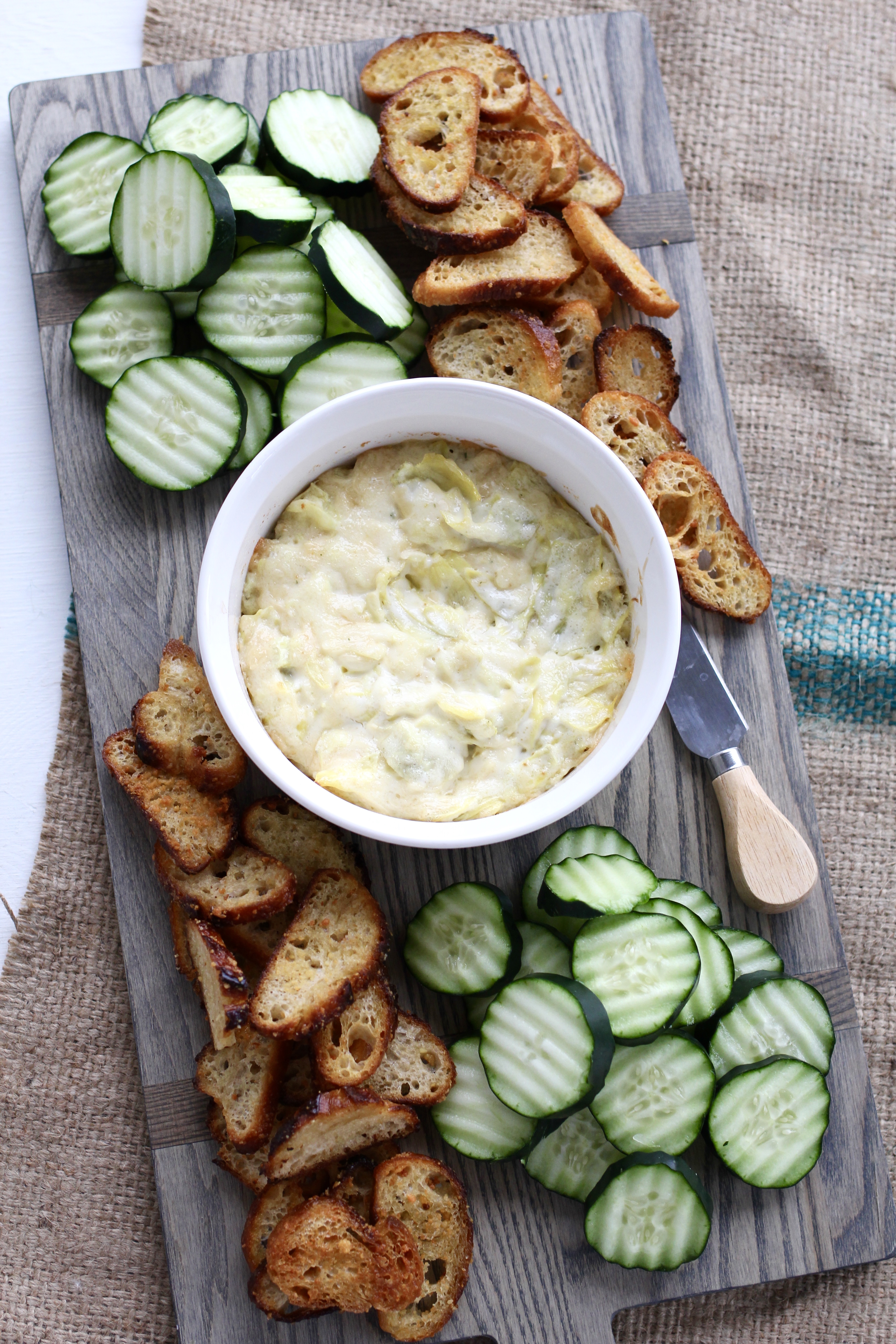 About 100 years ago, I worked for PacifiCorp in Portland, Oregon. Grant went to school and I worked in a big pink office building in downtown Portland.  It was there that I met Jane, my co worker and a woman I really looked up to. We both really loved cooking, and eating, and eating out, so we had a lot in common.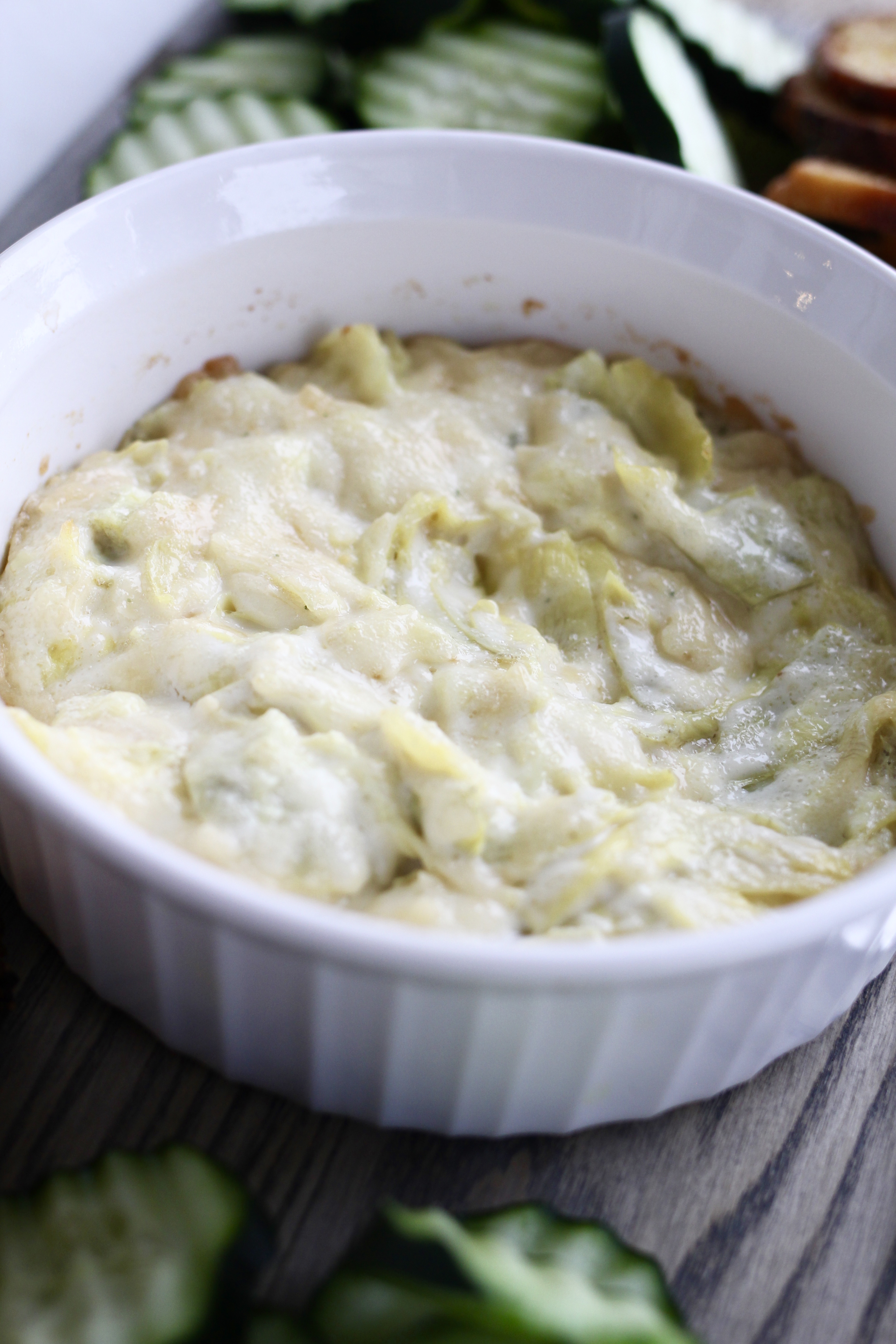 The story behind this dip…not a casserole
About once a month at work we would have a "food day". I was lucky enough to work with several women who loved to cook. We would all bring in dishes for a potluck and start eating "lunch" at about 10 am. I loved our potluck work days.  One day, my friend Jane, who gave me this recipe , came back to her desk with a plate full of food. I took a look and asked her what was her favorite item. She pointed to a pile of cheesy looking substance and said "this casserole is amazing!".  Shortly after, I went back to the break room and found a slow cooker with a layer of the "casserole" Jane was eating (with veggies on a plate next to the slow cooker). It was in fact, not a casserole but Cheesy Baked Artichoke Dip! When I went back to my desk, Jane said she wasn't feeling very well. Hmmmm maybe it was because she ate a helping of dip like it was a casserole?! We had a good laugh and she had a stomach ache the rest of the day.
Cheesy Baked Artichoke Dip = best cook ever
This dip is probably the easiest appetizer you will ever make in your life. If you can open a can, scoop mayo out of a jar, and spread the contents into a dish,  you can make this dip. Here's the beautiful part of Cheesy Baked Artichoke Dip – it tastes like a million bucks. Every time I make it,  people ask me for the recipe, and then can't believe it basically has three ingredients. Yes, three ingredients. Four if you count the garlic salt.  Empty the drained can of artichokes, mix with the mayo, fold in the cheese, season and bake. In 15 minutes you're the best cook, ever. That's what someone told me when I served this at a party. Oh, and I love to serve Cheesy Baked Artichoke Dip with toasted slices of baguette and  thick cut slices of cucumber. I use this Crinkle Cutter to get the fun edge on the cucumber!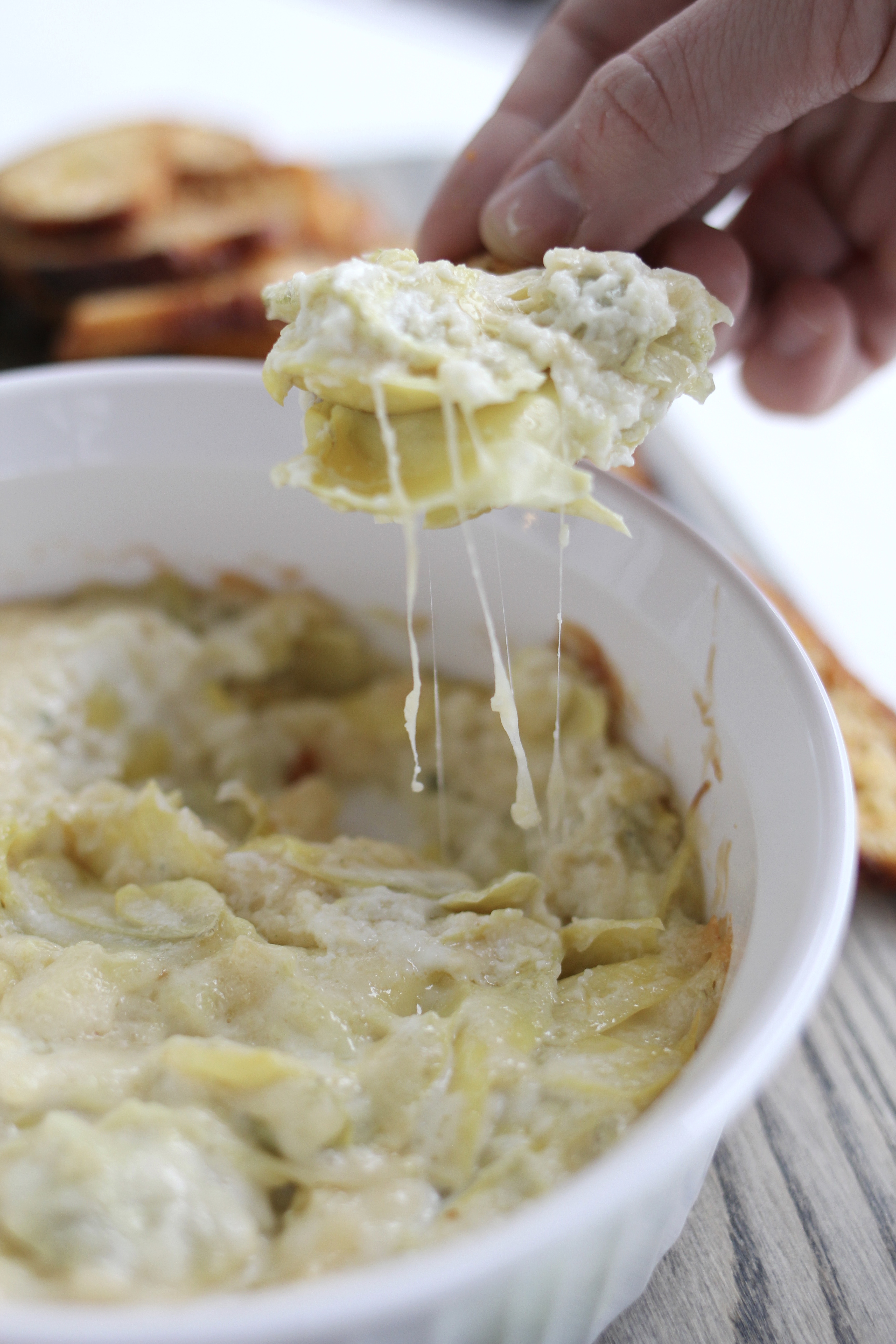 change it up
This recipe is really simple to adapt to your taste. If you like green chiles, they are a perfect addition, especially if you're serving a Mexican theme meal or want to get out the tortilla chips.  Sautéed mushrooms or about 1/4 cup of sundries tomatoes, chopped and drained  are delicious in this dip.  If you like your dip a little spicy, add a few drops of hot sauce and mix in before baking. Chopped cilantro or parsley are also an easy addition. I bake it in one 8×8 size dish or two small (8 oz ) dishes. There are dozens of ways to make this dip your own.  Cheesy Baked Artichoke Dip is going to be your new favorite dip!
Cheesy Baked Artichoke Dip
Ingredients
1- 14

oz

can artichoke hearts

not marinated, quarters, drained well

1

cup

parmesan cheese grated

1

cup

Best Foods Mayonnaise

not low fat

dash of garlic salt
Instructions
Turn oven to 350 degrees and place rack in center of oven.

Fold all ingredients together in a bowl.

Spread mixture in one or two oven proof serving dishes.

Bake at 350 degrees for 15-18 minutes or until bubbly and lightly golden.

Serve immediately.
Recipe Notes
-Cheesy Baked Artichoke Dip is easy for make ahead as well as a last minute dish.If you are making this ahead, follow the instructions for making the dip, Place in a bowl and then refrigerate until ready to bake and serve. You can make it a day ahead of the time you need to serve. When you're ready to cook the dip, simply spread into the baking pan and heat until bubbly and a bit golden on top! -Way back when, I used the canned Parmesan cheese to make this dip, but I always make it with grated Parmesan now. It tastes about 100 times better than the canned variety and is found in most grocery stores.