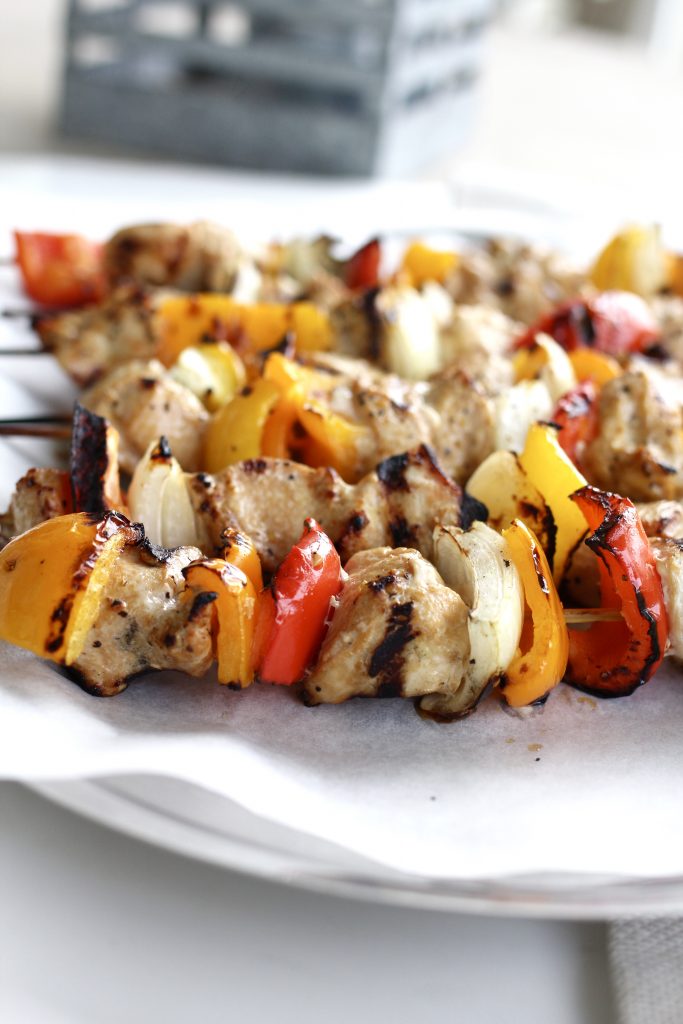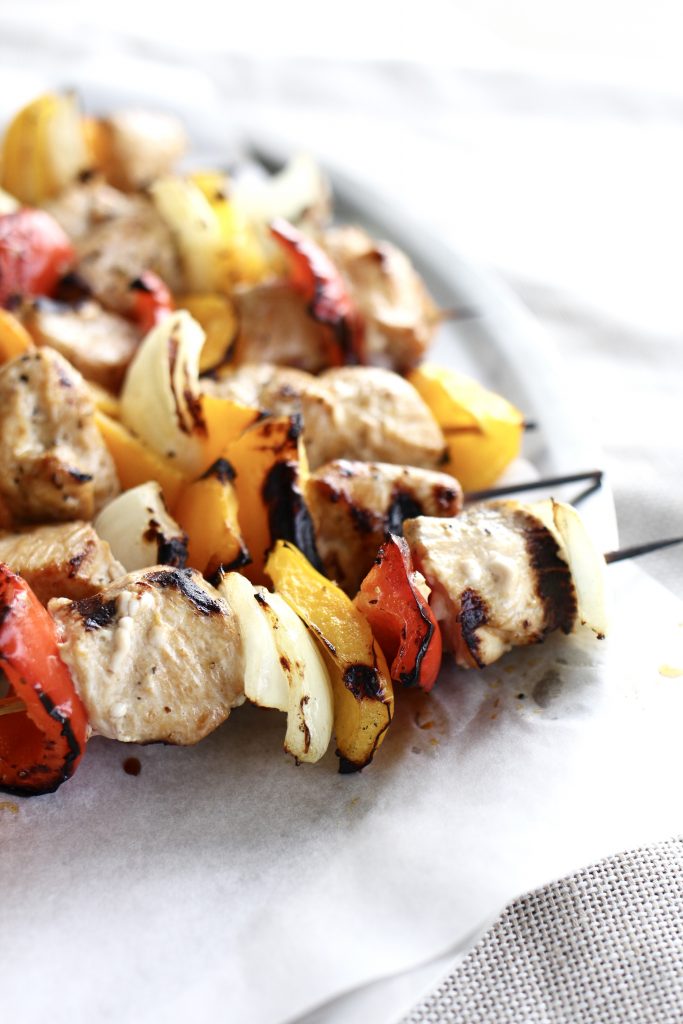 What is it about meat and veggies threaded onto little pieces of wood that makes a meal special??Mention the word "kabob" and everyone's eyes light up. These Lemon Pepper Chicken Kabobs with Soda Pop Marinade will quickly become your families favorite summer dinner! This marinade turns ordinary chicken into something special.
We use this marinade on chicken year-round. The soda acts as a tenderizer for the meat, and keeps it unbelievably moist. Did I mention quick and easy?? Two minutes to mix up the marinade, then throw in the chicken. Let the chicken sit in the marinade for a while and you're ready to assemble.
If you're hoping to persuade your kids to eat more veggies, try letting them be a part of the meal making process. Nothing gets kids more excited about eating at home than letting them participate in making the meal! The beauty of Lemon Pepper Chicken Kabobs is everyone can thread their own kabob and choose their veggies.
Grant isn't a huge fan of peppers, but he loves mushrooms and onions. For me, it's "GIVE ME ALL THE BELL PEPPERS" (please).  I also love grape or cherry tomatoes on my Lemon Pepper Chicken Kabobs. The tomatoes get all squishy and soft while grilling. I love warm, squishy tomatoes that have been cooked on the barbecue. Grilling brings out the sweetness in tomatoes ( and just about every vegetable) like you can't believe.
Wouldn't this be the perfect Father's Day main dish? Lemon Pepper Chicken Kabobs with Soda Pop Marinade (and a few steaks for the meat eaters) is on our menu. If you're looking for a good dry rub for your steaks, take a look at ABK's Dry Rub recipe. You won't be disappointed!
One last bit of advice. Some people shy away from grilling kabobs on the bbq because they have issues with meat sticking to the grill. Cleaning your grill immediately after cooking so you won't have issues with food sticking next time you fire up the grill. If you forget to clean the grill after using, simply scrape off the bits of food before heating up with a  wire brush, or a sheet of foil that has been bunched up. After the grill has been scraped clean, lightly grease with vegetable oil. You can do this by pouring a bit of oil on a paper towel.  Heat grill as directed. Now you're ready for grilling! Lemon Pepper Chicken Kabobs are perfect for grilling because of the amount of oil in the marinade. Hope you love this recipe as much as we do!  Happy grilling, friends.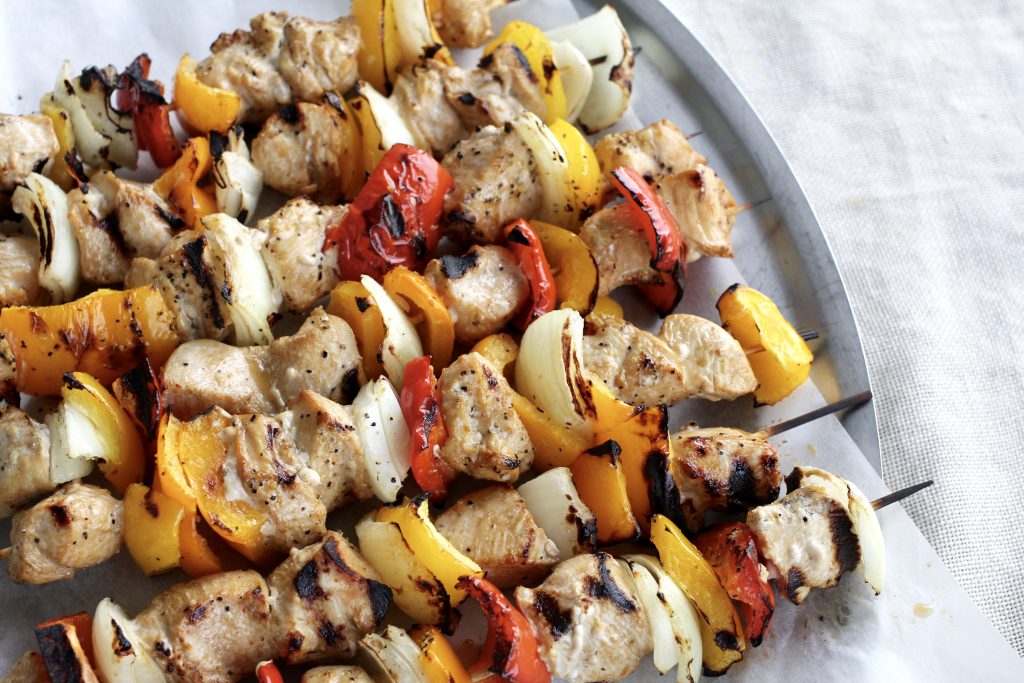 Lemon Pepper Chicken Kabobs with Soda Pop Marinade
Ingredients
for sauce:
1

cup

not can of Sprite or other Lemon Lime soda, not sugar free

1/2

cup

soy sauce*

1/2

cup

canola or vegetable oil

1

teaspoon

crushed garlic or 1/2 teaspoon garlic powder

1

tablespoon

lemon pepper

plus additional for sprinkling on kabobs before grilling

2

tablespoons

honey
kabobs:
3

large chicken breast halves or about 2 1/4 lbs chicken

cut into 1 1/2 inch cubes**
suggested vegetables:
3

large bell peppers

assorted colors, seeded and cut into chunks

1

regular size onion

cut into chunks, mushrooms, about 1 lb, halved, cherry or grape tomatoes, cut up fresh pineapple chunks, f1-2 small zucchini, green or yellow

wood skewers
Instructions
Mix together all of the marinade ingredients in a bowl with a whisk.

Cut up the chicken and place in bowl of marinade.

Place in refrigerator for 1-4 hours.

Run the skewers under cold water, shake off excess water.

When ready to thread the skewers, drain the marinade off the chicken and discard. Carefully thread the meat and vegetable onto the skewers, alternating meat and vegetables, fruit may also be added, see notes about vegetable choices.

Turn on grill to medium heat or about 400 degrees about 15 minutes before cooking kabobs.

When ready to cook, place kabobs on hot grill. Barbecue for about 6-8 minutes then carefully turn so opposite side of kabob is exposed to grill. Cook for additional 6-8 minutes.

Remove and check one of the thicker pieces of meat to make sure it is cooked thru.

Place on platter and cover with foil until ready to serve.
Recipe Notes
-You may uses regular or low sodium soy sauce in the marinade. -I like to use chicken that has been frozen and thaw it quickly in the microwave until it is thawed enough to cut into chunks. The chicken is easier to cut up if it is partially frozen. I place the chicken into a bowl with the marinade and stir about every 15 minutes to make sure the marinade is evenly distributed. If the chicken is partially frozen, I leave it out at room temperature in a bowl for about 1 hour total while marinating. -Each shish kabob will feed one adult if served with side dishes. If you have a particularly big eater, you may want to plan on two kabobs. -vegetables that are firm such as onions, peppers, mushrooms, zucchini, grill and hold their shape better during grilling than some softer vegetables.-If you would like to brush the shish kabobs with marinade during grilling, reserve about 1/2 cup in a bowl before adding the chicken. This is not necessary and the chicken will be very moist and tender without basting during cooking.