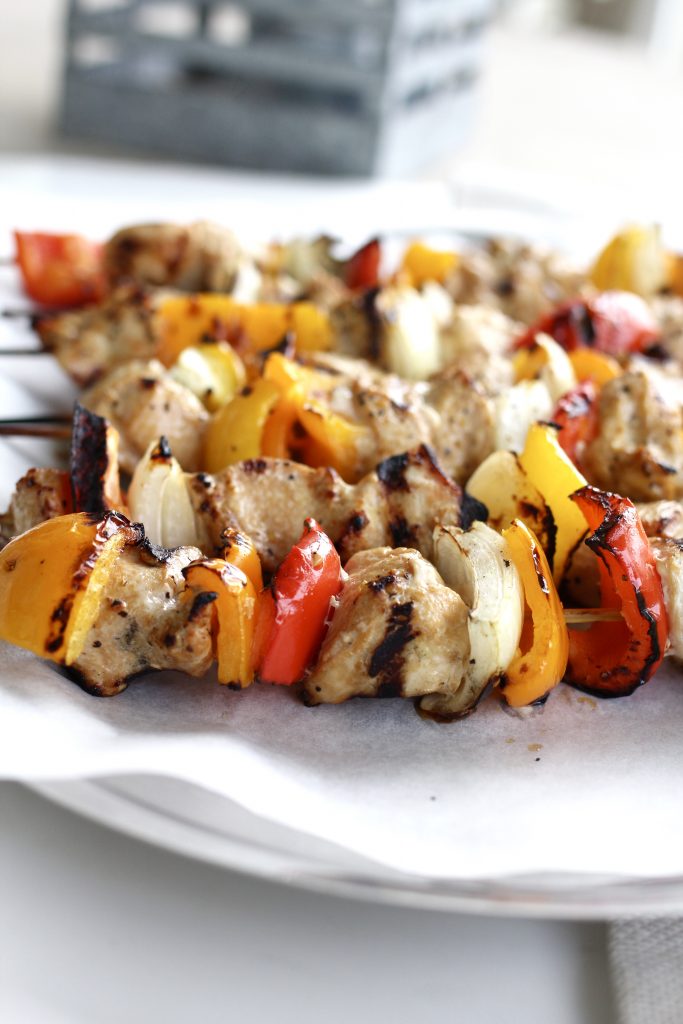 What is it about meat and veggies threaded onto little pieces of wood that makes a meal special??Mention the word "kabob" and everyone's eyes light up. These Lemon Pepper Chicken Kabobs with Soda Pop Marinade will quickly become your families favorite summer dinner! This marinade turns ordinary chicken into something special.
We use this marinade on chicken year-round. The soda acts as a tenderizer for the meat, and keeps it unbelievably moist. Did I mention quick and easy?? Two minutes to mix up the marinade, then throw in the chicken. Let the chicken sit in the marinade for a while and you're ready to assemble.
If you're hoping to persuade your kids to eat more veggies, try letting them be a part of the meal making process. Nothing gets kids more excited about eating at home than letting them participate in making the meal! The beauty of Lemon Pepper Chicken Kabobs is everyone can thread their own kabob and choose their veggies.
Grant isn't a huge fan of peppers, but he loves mushrooms and onions. For me, it's "GIVE ME ALL THE BELL PEPPERS" (please). I also love grape or cherry tomatoes on my Lemon Pepper Chicken Kabobs. The tomatoes get all squishy and soft while grilling. I love warm, squishy tomatoes that have been cooked on the barbecue. Grilling brings out the sweetness in tomatoes ( and just about every vegetable) like you can't believe.
Wouldn't this be the perfect Father's Day main dish? Lemon Pepper Chicken Kabobs with Soda Pop Marinade (and a few steaks for the meat eaters) is on our menu. If you're looking for a good dry rub for your steaks, take a look at ABK's Dry Rub recipe. You won't be disappointed!
One last bit of advice. Some people shy away from grilling kabobs on the bbq because they have issues with meat sticking to the grill. Cleaning your grill immediately after cooking so you won't have issues with food sticking next time you fire up the grill. If you forget to clean the grill after using, simply scrape off the bits of food before heating up with a wire brush, or a sheet of foil that has been bunched up. After the grill has been scraped clean, lightly grease with vegetable oil. You can do this by pouring a bit of oil on a paper towel. Heat grill as directed. Now you're ready for grilling! Lemon Pepper Chicken Kabobs are perfect for grilling because of the amount of oil in the marinade. Hope you love this recipe as much as we do! Happy grilling, friends.