A few years ago one of my favorite people in the entire world (yes, the entire world) made Chocolate Pecan Pie and brought it over to our house the night before Thanksgiving. Her name is Melanie. And she's the best.
That's my friend on the left. Always helping in the kitchen.
And my Brookie on the right.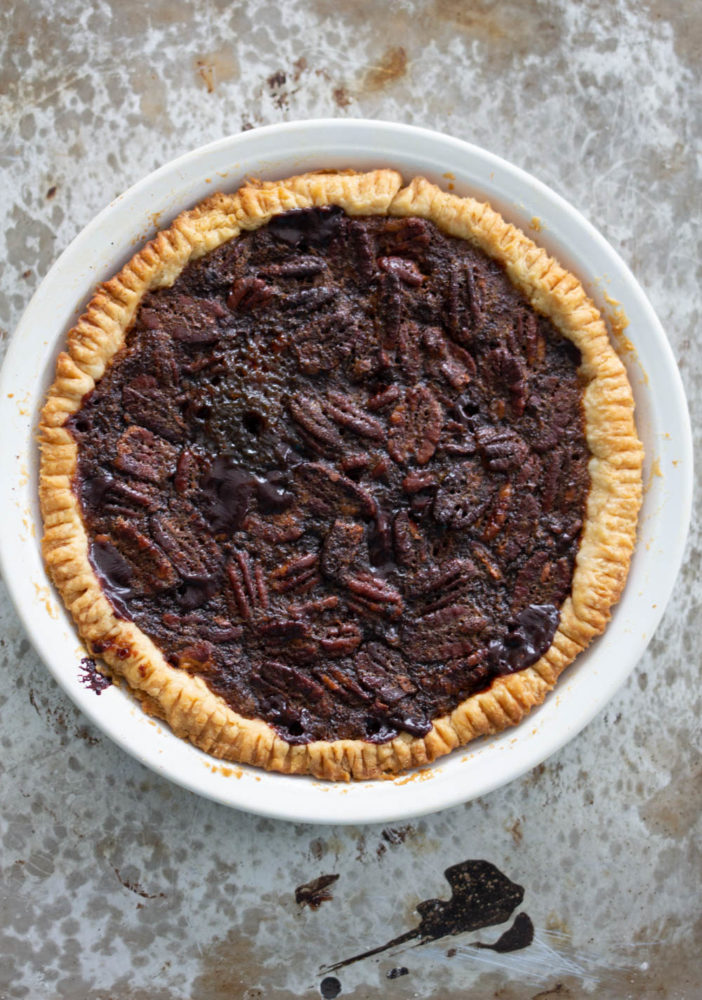 I have no idea why it took me three years to get around to making this recipe. It's now one of my favorites. Whenever someone asks me "what is the easiest pie to make if I'm a beginner in the kitchen?" I always say pecan pie. It's one bowl- mix, dump and bake type of recipe.

If you have an assignment to make pies for Christmas, and you need to impress your new in-laws, this is your lucky day. Here's the scoop on this recipe:
1. super simple
2. tastes great
3. super simple
4. tastes great
Think chocolate, caramel, pecan in a pie crust. Best combo ever.

Chocolate Pecan Pie
adapted from Keep Your Fork-There's Pie!
Ingredients
Prepare crust for a single crust pie. Pie crust recipe found here

3

tablespoons

butter

softened

3/4

cup

packed dark brown sugar

1/2

teaspoons

salt

2

large eggs

1/2

cup

light corn syrup

1

teaspoon

vanilla

1

cups

toasted pecans

1

cup

semi sweet chocolate chips
Instructions
Place rack on bottom third of oven. Preheat oven to 450 degrees.

Prepare crust as directed roll out and fill a single 9 inch pie plate.

Mix butter, brown sugar, salt, eggs, corn syrup and vanilla until smooth.

Fold in pecans.

Sprinkle chocolate chips over bottom of pie crust. Pour filling on top of chocolate chips.

Place filled pie in preheated oven. Bake for 10 minutes at 450 degrees.

After ten minutes, reduce heat to 375 Do not open oven door. Bake for an additional 45 minutes.

Remove from oven. Let cool for at least three hours before serving.

Serve with whipped cream or ice cream.
Recipe Notes
-Do not use larger than a 9 inch pie plate.
-Take out all of the ingredients ahead of time and pre-measure. This will ensure you have the amounts right. Last night a friend told me about a three time attempt at making a cream pie filling. First time, forgot the sugar, second time, doubled the milk, third time, no idea why but it didn't set up. If the ingredients would have been pre-measured, she might have avoided the first two failed attempts. Lesson here, if you are forgetful (like me) or just starting out, pre-measuring and placing all ingredients on counter will help you to avoid pitfalls such as realizing you don't have a key ingredient on hand or leaving a key ingredient out of a recipe 🙂
-Do not open the oven after you place the pie inside. If you bake the pie on the bottom third (usually the second rack from bottom) your crust should not over brown.
-When making a bottom crust for pecan pie, do not roll it too thin. The filling will caramelize and if it seeps through the bottom crust, it will stick and make the pie difficult to remove from the pie plate.