Looking for a decadent treat for your Valentine? Nothing says "I love you" like a home made chocolate dessert.
Well, maybe diamonds.
Yeah, diamonds or chocolate.
In that order.
Love you.
Step by step instructions. Just for you 🙂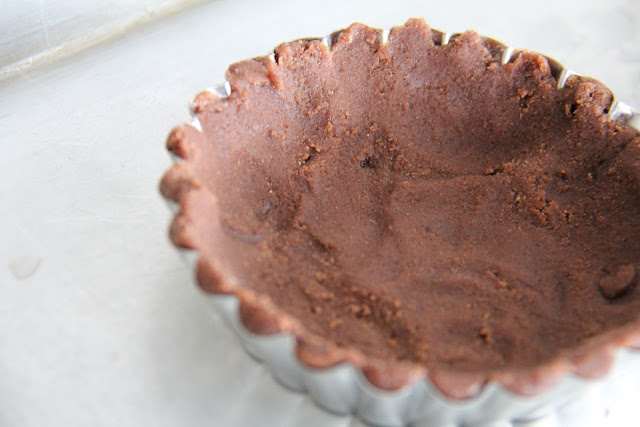 Make the crust, press into individual tart pans. Got mine at
HomeGoods
6 for $4.99 .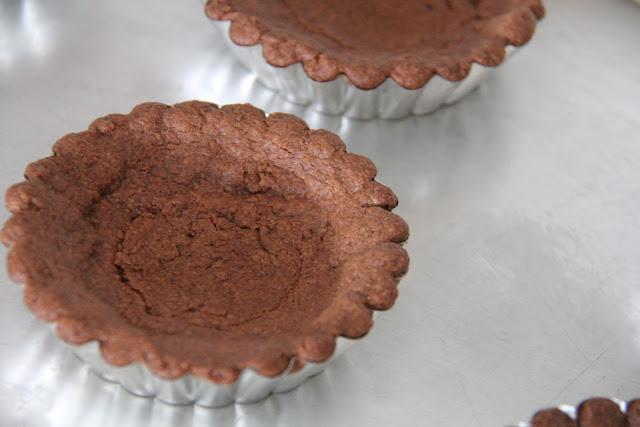 Bake and remove from oven to cool completely.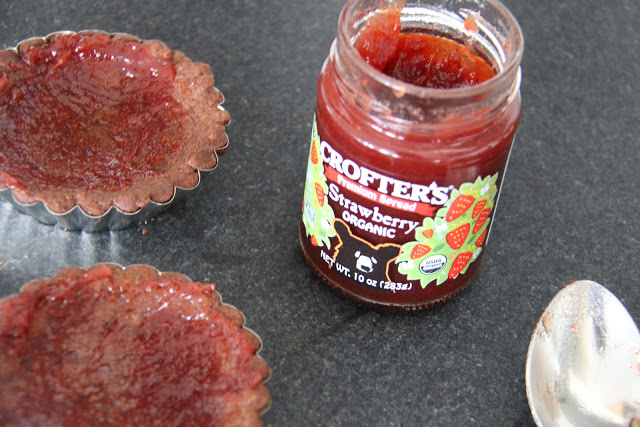 After crust is cooled, spread with about a tablespoon of raspberry or strawberry jam.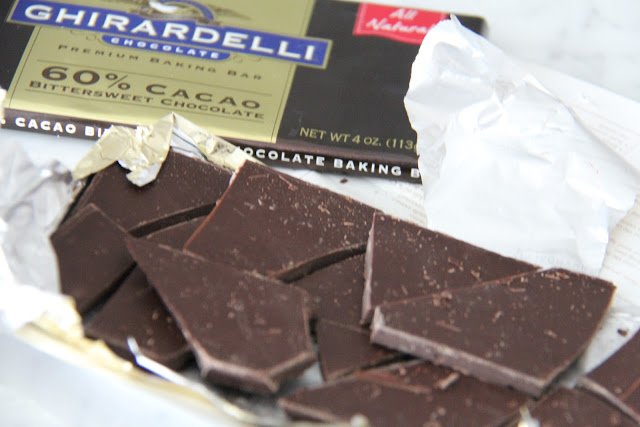 Break up the chocolate…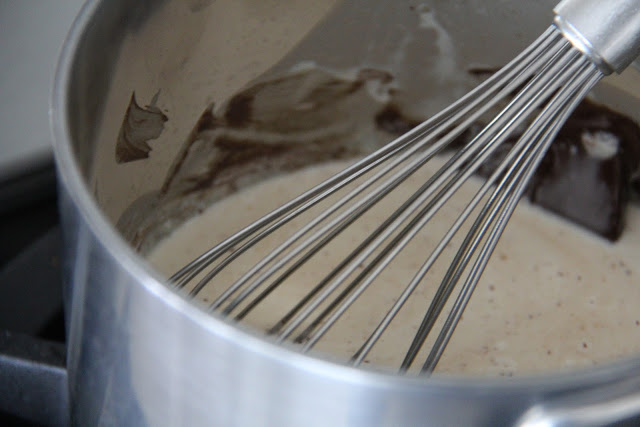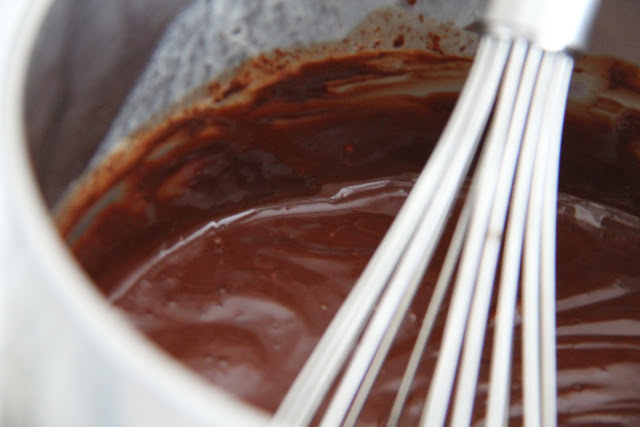 Heat up heavy cream just until barely boiling, reduce heat and add chocolate.

Turn off heat and whisk until thick and creamy.
Try not to eat all of the chocolate while testing.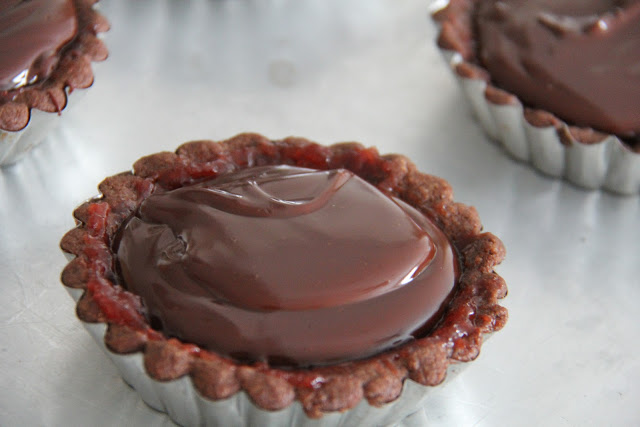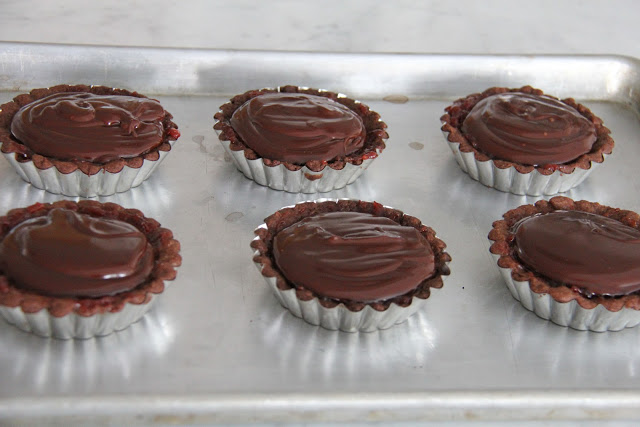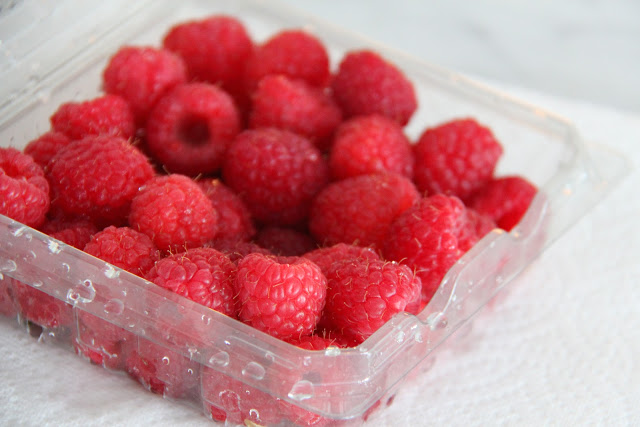 Spoon thickened chocolate mixture into the prepared crusts. Almost done.


Wash the fresh raspberries, drain on paper towels.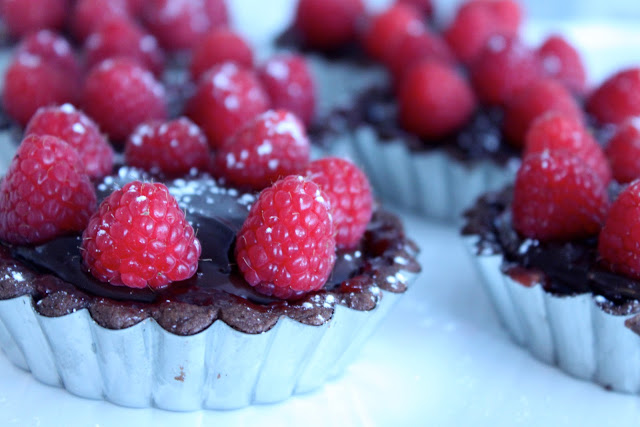 Arrange raspberries on top of the filling, dust with a little powdered sugar just before serving.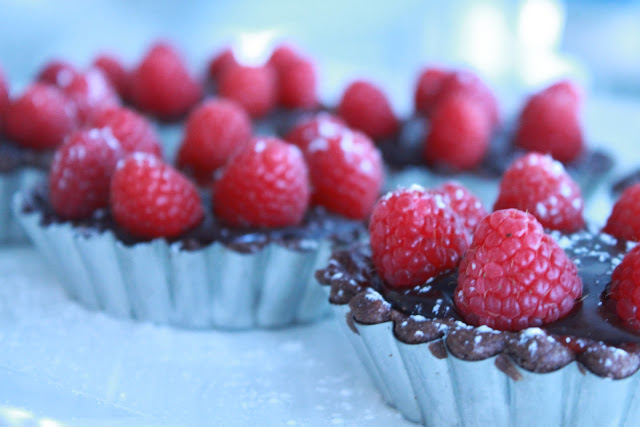 Chocolate Raspberry Tarts
adapted from David Lebovitz
Ingredients
1

stick (4 of butter)

room temperature

1/2

cup

sugar

1

egg yolk

1

cup

all purpose flour

2 1/2

tablespoons

unsweetened cocoa powder

about 3/4 cup seedless raspberry or strawberry jam

8

oz

semisweet or bittersweet chocolate

chopped

1

cup

heavy whipping cream

6

ounces

fresh raspberries

1/2

tsp

water

powdered sugar for dusting
Instructions
Beat butter and sugar on medium speed until smooth and creamy. Add the egg yolk, beat well, and scrape down sides of bowl.

Add the flour and cocoa powder, beat on the lowest speed until dough has just come together (but still has small to medium clumpand looks moist with a dark uniform color. Scrape down the bowl and use the spatula to incorporate anything that isn't mixed in.

Lightly grease the pans, then wipe out the excess grease.Divide dough and place into 6- 4 inch tart pans. Use your fingers to evenly press dough and spread along bottom of the pans and up the sides. ( if the dough is too soft, refrigerate the dough 15 minutes before pressing). This dough may be made in advance*see tips below.

Preheat the oven to 350 degrees with rack in the lower third of oven. Place dough filled pans on a cookie sheet and bake in lower third for 15 minutes. Remove and change to middle rack for 8 more minutes, for a total of 20-23 minutes baking time.

Remove tart pans to a cooling rack and use the rounded side of a spoon to press the center down and make more room for filling. Let cool completely (you can do this in refrigerator for faster results).

Set a tablespoon of the jam aside in a small bowl or glass. Spoon about 1 tablespoon of jam into each tart crust and spread to cover the bottom.

Heat the heavy cream over medium heat in a saucepan, taking care to not scorch. Put chopped chocolate in with the heavy cream in the saucepan. Remove from heat. Begin whisking gently to blend completely and melt all the chocolate. Chocolate will blend into the cream and form a smooth, thick filling. Spoon ganache evenly into each crust.

Refrigerate the tarts for at least 1 hour, until the filling is firm. Remove from fridge and arrange raspberries on top of each tart.

Mix reserved tablespoon of jam with the 1/2 teaspoon of water and heat in microwave for about 15 seconds. Brush the jam mixture onto the tops of the arranged raspberries if desired**. Serve immediately or refrigerate until serving. Use a mesh strainer to sift a dusting of sugar onto the tarts just before serving.
Recipe Notes
-*The dough keeps 3 days in refrigerator and 6 weeks in freezer.
-**I did not take the time to glaze the berries after placing on the tarts. This step is important if you are keeping the tarts for more than a day, it will help the berries to stay looking fresh. Also, it gives the berries a nice shiny glazed look.