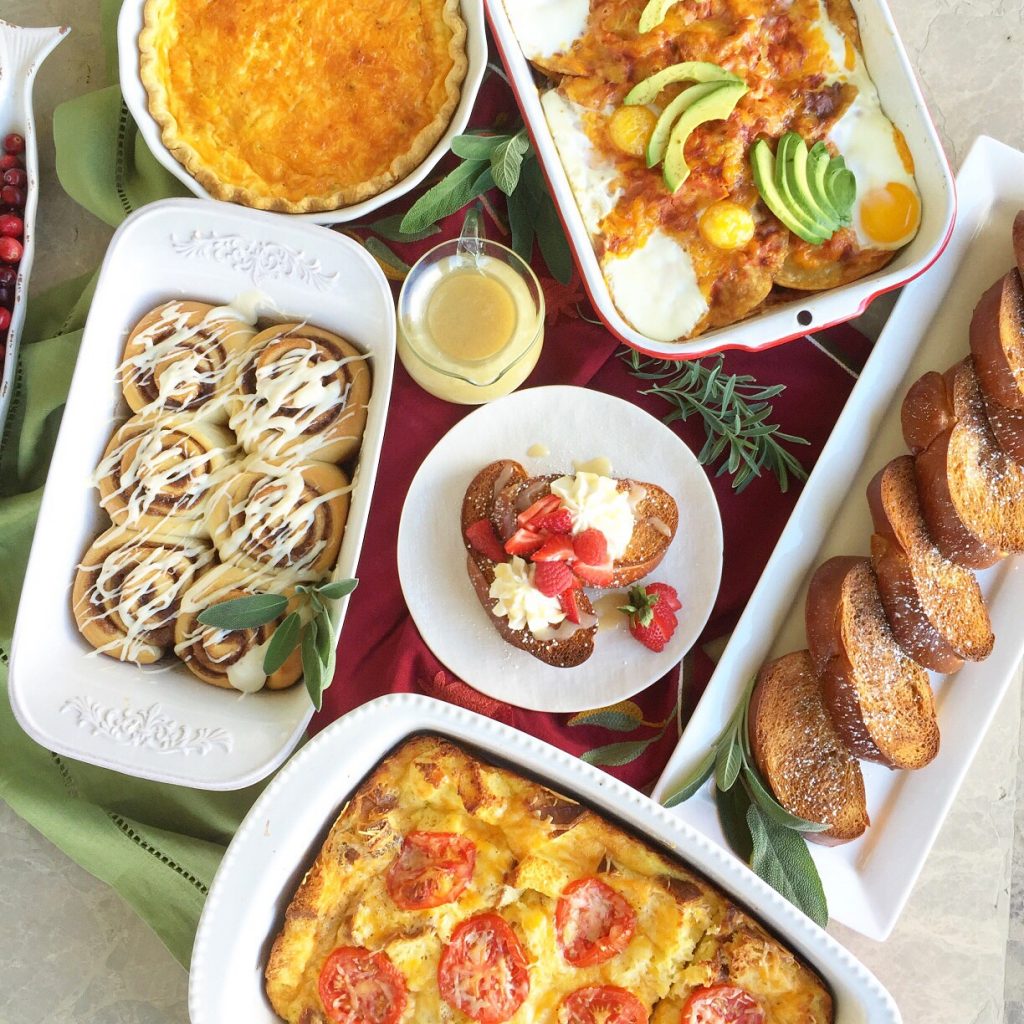 Christmas morning brunch is one of my favorite meals of the year!  I love a slow pace on Christmas day.  After all the hustle and bustle of the Christmas season, a delicious stress free brunch is what I'm all about.  This recipe for Christmas Morning Brioche and Tomato Bake is the perfect start to a memorable Christmas Brunch!  A little planning ahead can help you carry out a beautiful spread with very little work on Christmas morning.
I teamed up with the Harmons bloggers to bring you a whole menu of goodness for your Christmas morning brunch, with many of the recipes make-ahead friendly! I know you're going to love each of these dishes.
Jesseca from One Sweet Appetite brought one of my favorite sweet treats of all time, her Overnight Cinnamon Rolls. These are going on my list of Christmas morning celebration dishes. Does it get any better than cinnamon rolls prepared the day before?? photo credit Jesseca
Becky from Vintage Mixer shared this colorful and absolutely delicious Huevos Rancheros Breakfast Casserole. I could not stop eating this dish! A little spice, eggs, sauce, avocados. Perfection! And don't you love her vintage dish? We all had serious pan envy.
Rachel from Lafujimama baked up a dish I could eat every morning… Cheese & Sausage Quiche . It's not only pretty, but tasty too! Rachel is a master of crust and this one did not disappoint!
Caroline of Armelle Blog made this Overnight Challah French Toast with Homemade Vanilla Bean Syrup using Harmons Challah bread. It was melt in your mouth delicious! Sure to be a hit with the kiddos and adults. Photo credit Caroline
This recipe is so simple, you might feel a bit guilty when you receive rave reviews and only spent a few minutes preparing! The thick sliced Brioche loaf makes the base of this dish beautiful. I made it without meat so it could be served with a sliced ham or thick cut bacon. Round the meal out with fresh sliced fruit and something sweet for a brunch your family will tuck away in their "Best Christmas Ever" memory bank.