Are you looking for the perfect cookie to bake for Santa on December 24th?  Word has it Santa loves homemade Swig cookies!  The Christmas Swig is the classic Almost Swig Sugar Cookie with peppermint candy bits in the dough, topped with ABK's  famous creamy pink frosting and decorated with white sparkling sugar sprinkles.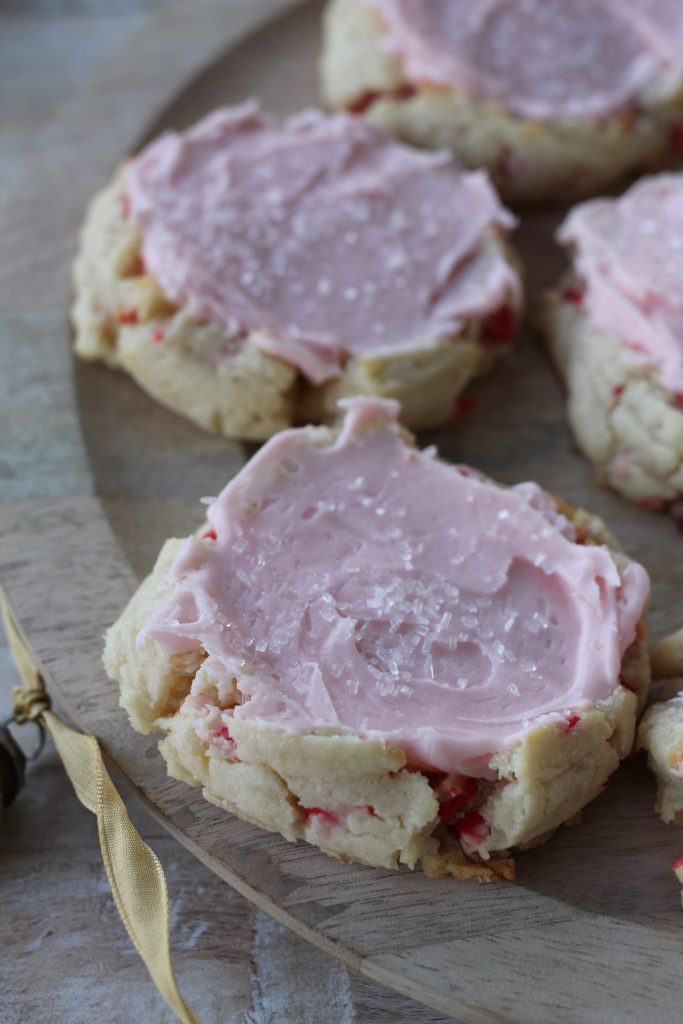 Swig Cookies have become a household name in Utah. They were originally sold in Southern Utah and made in a small gas station/bakery called Dutchman's.  The bakery is still in operation, but Swig, the famous Utah drink stop no longer carries the original cookie from Dutchman's.
ABK's original recipe for the  Almost Swig Cookie is a blank slate for lots of different flavor combinations.  I've posted several different recipes using the Swig base: Triple Chocolate Mint Swig, Coconut Cream Swigs (my favorite), Lemon Lime Sprig Cookies, and the  Chocolate Swagg Cookie .  I also posted an update on the original Almost Swig recipe a while back, which includes some of the alterations I made to the original recipe.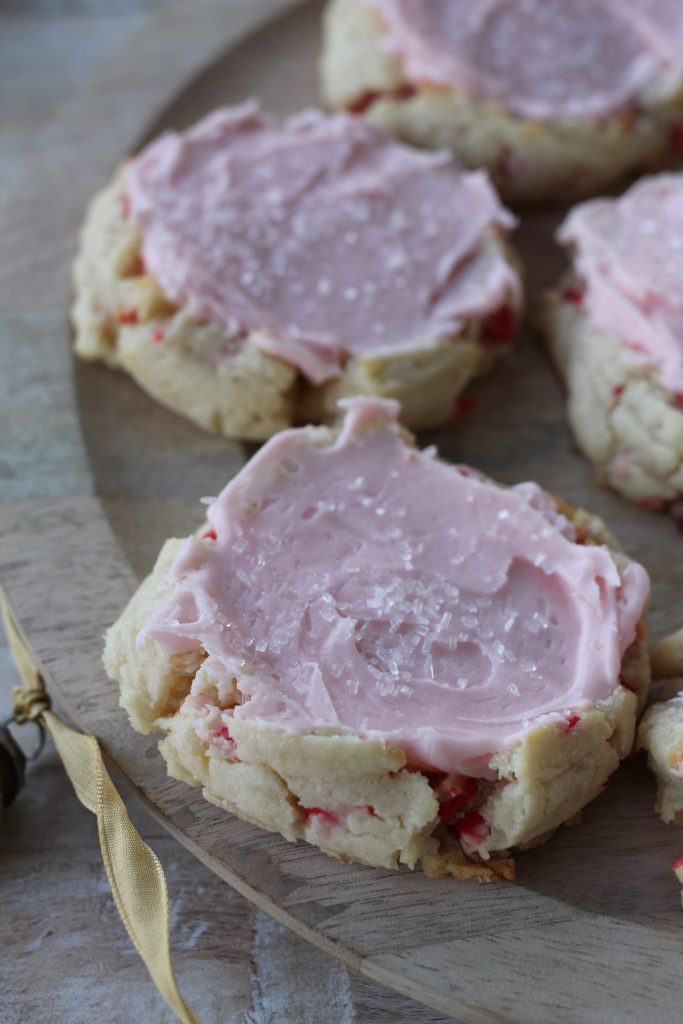 Naturally, a Christmas Swig Cookie needed to be added to the ABK lineup! I tried simply adding mint to the frosting, and also to the topping of the cookie but it wasn't enough to make it distinctly different from the rest of the pack of Swig cookies, so I added mint chips to the dough. I like the Andes Peppermint Baking Chips better than simply adding chopped candy cane. The Andes chips are creamy chips (white chocolate) with peppermint flavoring added.
Buying the In-Demand Chips! (updated December 2017)
Andes Peppermint Baking Chips are somewhat difficult to find in grocery stores at Christmas time! They are usually stocked at Halloween and then not restocked for the rest of the holiday season, according to my sources. I've had luck shopping at a local store, Dick's Grocery in Bountiful, UT, also have found the baking chips at Smith's, Target, Walmart, Macey's and most recently, my friend bought a bag at World Market in Farmington, UT.  Out of the state of Utah, I've heard reports of the Ande's chips purchased at Meijer, a grocery/department store in Kentucky and Ohio. A reader from Washington state reported finding them at Safeway grocery store.  If you've purchased in another location or store, please leave a comment below!
Remember, you may also chop candy canes and add to the dough, a decent substitute if you're in a pinch and can't find the Peppermint Baking Chips. The peppermint chips are usually sold for less than $3 per bag, so the Amazon option is quite a bit more expensive (over $6 per bag). Ghiradelli also makes a Peppermint Chunk, which doesn't have a lot of red color in the chunk itself, but the flavor is similar to the Andes chip. I prefer the Andes baking chip to the Ghiradelli. A couple of other readers suggested using Andes Peppermint Candies (sold just like the green wrapped mints, but they are white with peppermint) I've seen these at Target, one box will be enough, chopped.  Also,  Hershey's White Chocolate Kisses, chopped. Next year, I'm going to remind all to purchase these in October!
Christmas Swig Cookies
Ingredients
1/2

cup

unsalted butter

1/2

cup

canola oil

1

cup

sour cream

1 1/2

cups

sugar

2

teaspoons

vanilla

4 1/2

cups

flour

1

teaspoon

baking powder

1

teaspoon

salt

1

cup

crushed candy cane or Andes Peppermint Crunch Baking Chips

if you are doubling the recipe, one 10 oz bag is sufficient 

sugar for top of cookies
for frosting:
1/2

cup

butter

softened

2

tablespoons

sour cream

4

cups

powdered sugar

1

teaspoon

vanilla

dash of salt

1-2

drops red food coloring

2-3

tablespoons

milk if needed

sprinkles
Instructions
Preheat oven to 325 convection or 350 regular bake.

Take butter out of refrigerator and microwave for about 15 seconds.

Place butter, oil and cold sour cream in a mixing bowl.

Mix for about one minute.

Add sugar and vanilla extract, mix until smooth.

Add all dry ingredients at once, including chopped candy cane or Andes Peppermint Crunch Baking Chips.

Mix just until flour disappears and the mixture comes together in a ball of dough, about 1 minute on very low speed.

Spray the cookie scoop with a little cooking spray.

Scoop the dough onto a lightly greased cookie sheet. I use a 2 inch scoop. A 2 inch scoop will produce a cookie similar in size to the Swig cookie. If you don't have a cookie scoop, use an ice cream scoop or roll the dough into a ball about the size of a golf ball. It is best to use a scoop and overfill it a bit to get the desired jagged edge.

Place about ¼ cup sugar into a small bowl.

Spray the bottom of a flat glass with cooking spray.

Flatten one cookie a bit then dip the glass in sugar.

Press the bottom of the glass against the cookie. Press the cookies so they are flattened a bit ( until the cookie dough just reaches the outside of the edge of the glass) twisting the glass as you press to produce a jagged edge.

I bake 8 cookies per tray. Continue until all cookies are flattened.

Bake in oven for about 10-12 minutes on convection or about 12-15 minutes regular bake or until edges are lightly golden and cookies are slightly firm to the touch.

Remove from oven, let cool. Loosen the cookies from the cookie sheet after cooled a bit, or they will stick to the pan (even though it has been lightly greased).

Place the cookies in the fridge and chill.
Prepare the frosting:
Beat together the butter, sour cream, powdered sugar, vanilla and salt. When all ingredients are incorporated, add the drop of food coloring and a little milk if the frosting needs to be thinned.

Frost after the cookies are completely chilled.

Makes about 18 large cookies.
Recipe Notes
Tips
-If you cannot find the Andes peppermint baking chips use crushed candy cane, about 1/2 cup at most.
-The recipe looks a little long and maybe even complicated, but it's not. Once you get the hang of the technique for scooping and pressing, it takes less than a half hour to make and bake the entire batch.
-If you want the cookies to taste more like the original Swig cookies make this adjustment to the dough: Omit the vanilla extract and reduce the sugar to a total of ¾- 1 cup.I prefer the cookies to be sweeter, so I like 1½ cups of sugar in the dough. 1½ cups of sugar may sound like a lot, but consider traditional chocolate chip cookies have 1½ to 2 cups of sugar to 2¼ cups of flour. The ratio here is 1½ cups sugar to 4½ cups flour.
-This cookie measures about 3¾ to 4 inches across when finished baking.
-The St. George Swig cookie is frosted with quite a thin layer of frosting. I prefer my frosting to be a bit thicker. If you want to frost the cookie with a thinner frosting, add about 3-4 tablespoons of milk to the frosting.
-This cookie stays quite well in the fridge for up to a month if kept in an air tight container. I frost the cooled cookies, then store them in the fridge. Once the frosting is set on the cookie, you may layer the cookies between sheets of parchment or wax paper. This allows you to stack the cookies without taking up too much space in the refrigerator.
-This cookie freezes well frosted or unfrosted.
-If you are making this for a gathering where there will be other desserts, use a smaller cookie scoop and bake for less time.
-See the post for information on purchasing the peppermint baking chips!