Chunky Yams and Apples
Yams. About twice a year I get a craving for some. My mom always made the type out of the can, with marshmallows melted on top. Still does. Every year. In the same dish. An oval cream colored casserole with fainted gold leaves printed on the sides. When I grew up and started making Thanksgiving dinner on my own, I tried several sweet potato/yam recipes. For years, I made the mashed type, tasted almost like pumpkin pie filling with a pecan brown sugar topping. They were yummy, but I grew tired of the dish after years of making it, and gravitated toward yams with chunks of apples and a sweet, buttery, not to spiced coating. Every time I fly through Atlanta, I go to Paschals ( airport version). It's a Southern restaurant, and they have really yummy candied yams. I've experimented with several recipes trying to duplicate that texture and flavor. Chunky Yams and Apples is close (with the addition of apples). Another great make ahead dish. You can make it a day or even two ahead, and on the day of feasting, take it out and bake. More time for watching the parade. Or planning Friday shopping. Or playing in the Turkey Bowl.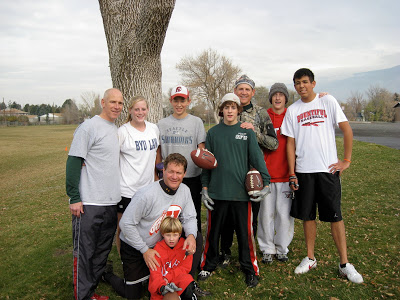 The squad.
Justin, my nephew started asking everyone in the family (back in September) if they would be attending. Not if they would be attending Thanksgiving dinner, if they would be attending THE Turkey Bowl. Taylor, our sports superstar, is the female rep. in the picture. The rest of us womenfolk 🙂 are back at the homestead, getting dinner ready.
Chunky Yams and Apples
Chunky Yams and Apples is our favorite way to serve yams at Thanksgiving. A truly Southern style sweet yam side dish!
Cook Time
1
hour
30
minutes
Total Time
1
hour
35
minutes
Ingredients
4

yams

about 8 cups cooked (after peeling)

1

apple

peeled, cored and chunked

6

tablespoons

butter

1

tablespoon

fresh lemon juice

1

cup

brown sugar

light or dark

1

teaspoon

cinnamon

dash salt

additional brown sugar for topping
Instructions
Place the yams, sliced in half, skin on, in a large pot of water.

Bring to boil and cook for about 20-30 minutes, or until soft and skins are beginning to peel away from yam. Remove from water and let cool. OR cook the yams in Instant Pot for 10 minutes at high pressure using 1 cup of water.

Peel and cut into large chunks.

Set in greased 9×13 or large casserole dish.

Peel and cut an apple into small chunks. Place apple chunks on microwave safe plate and cook for 3 minutes on high.

Add apples to yams in casserole dish.

In microwave or small saucepan, melt butter.  Add lemon juice, brown sugar, cinnamon and salt.

Pour over yams and apples in dish. Crumble about 1/4 to 1/2 cup additional brown sugar over top of yams. Cover and refrigerate if using later. Bake covered with foil at 350 for 30- 45 minutes, until yams are heated through and sugars are bubbling.
Recipe Notes
– I prefer apples that are not too tart, McIntosh or Jonathan's work well.
-You can double this dish and use the same size pan, the layer of yams will be thicker, and require about 10-15 minutes more baking time.
-If baking after refrigerating, let dish sit out of refrigerator for about 30 minutes, uncovered, or bake for an additional 15 minutes.