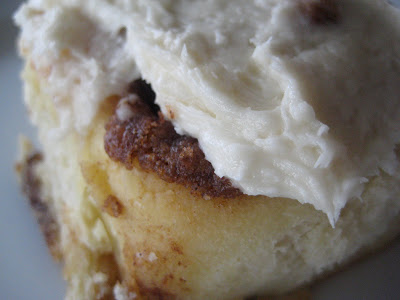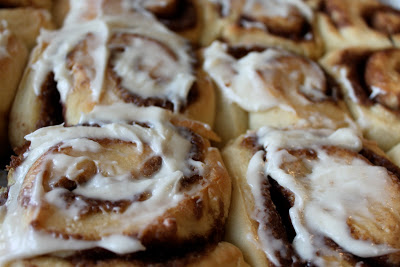 Cinnamon Rolls. Love them. Can't begin to count the number of recipes I have tried. Still on the quest to find the perfect one. To date, this recipe has been my favorite. The claim is, they taste "just like Cinnabons"… I'm not sure about that. But they are pretty darn delish.
Cinnamon Rolls with Cream Cheese Frosting
Ingredients
dough:
1

1/4 ounce package dry yeast

1

cup

warm milk

I used whole

1/2

cup

granulated sugar

1/3

cup

butter

1

teaspoon

salt

2

eggs

4

cups

flour
filling:
1

cup

packed brown sugar

2 1/2

tablespoons

cinnamon

1/3

cup

butter

softened

1

tablespoon

flour
frosting:
4

tablespoons

butter

1 1/4-1 1/2

cups

powdered sugar

1/4

cup

cream cheese

1

teaspoon

vanilla

dash salt
Instructions
Dissolve the yeast in the warm milk in a large bowl. Add sugar, butter, salt, eggs, and flour, mix well. Using a mixer fitted with a paddle attachment or a dough hook, knead the dough into a large ball. Place the dough in a clean lightly greased bowl, cover and let rise in a warm place about 1 hour or until the dough has almost doubled in size. Roll the dough out on a lightly floured surface, until it is approximately 15 inches long by 10 inches wide. Preheat oven to 400 degrees.

Combine the brown sugar, cinnamon, melted butter and flour in a bowl.

Spread the filling mixture evenly over the surface of the dough.

Working carefully, from the long edge, roll the dough down to the bottom edge. Cut the dough into 1 3/4 inch slices, and place in a lightly greased baking pan. I use a 9 x 13 pan. Let rise for about 30-45 minutes in a warm, draft free place. Bake for 10-15 minutes or until light golden brown. While the rolls are baking combine the frosting ingredients. Beat well with an mixer until combined. When the rolls are cooled a bit, spread generously with icing.
Recipe Notes
-Be careful about adding too much flour to the dough. The dough should not be sticky when ready to raise. It should be barely coated with flour. When making rolls or bread
– I usually add about 1/2 of the amount of flour the recipe calls for- add the remaining flour and then any additional flour the dough may need 1/4 cup at a time.
-I like to frost the rolls with icing a few minutes after removing from the oven, then let the rolls cool almost completely and top with the remaining frosting. If you frost too soon after removing from the oven, the frosting will melt into the pan and rolls. See third pic above, taken after the first frosting layer, first pic was taken after rolls were completely cooled and 2nd frosting layer applied.
-This dough does not raise a lot, compared to most dough recipes.