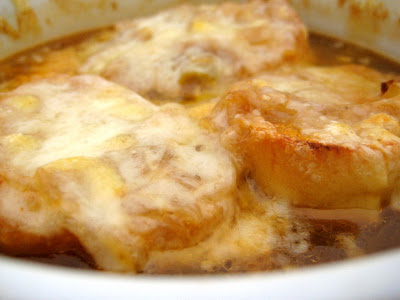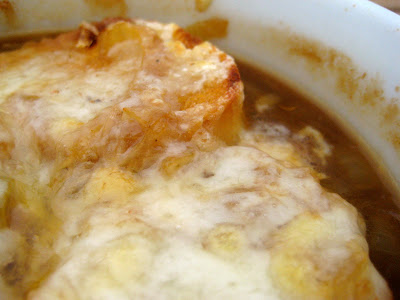 French onion soup. How many people say it's their all time favorite soup? Creating an outstanding French onion soup experience (in my opinion) includes: home made broth; deep, dark caramelized yellow onions; good quality baguette (preferably stale); and the best Gruyere cheese you can buy.
Now, I know you are going to look at this recipe and say, Sheesh, have you ever heard of Campbell's ?? YES, my pantry is stocked with it. For the kids, or a quick lunch, it has it's place. Let's face it. Using canned soup won't produce the same rich flavor you'll get if you make the broth yourself. If you want to indulge yourself, or someone you love 🙂 invest a little time and make this special soup.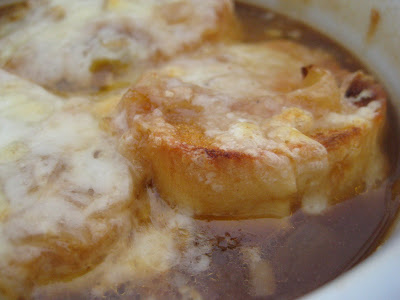 This recipe for Classic French Onion Soup is adapted from Fine Cooking Magazine and Anne Willan, renown French chef, cookbook author and founder of
La Varenne Cooking School
.
French Onion Soup
Ingredients
French Onion Soup:
2

oz.

1/4 cup unsalted butter, more for the baking sheet

5-6

medium-large yellow onions

about 2 lb., thinly sliced (8 cups)

Kosher salt and freshly ground black pepper

1

tsp.

granulated sugar

1

small baguette

1/2 lb., cut into 1/2-inch slices

2

quarts

Roasted Beef Broth

recipe above or canned beef broth 🙁

1

bay leaf

2-3

cups

grated Gruyere
Roasted Beef Broth:
best if you make this the day

or two before serving

5

lb.

meaty beef or veal bones

such as shanks, knuckles, and ribs

2

medium carrots

cut into big chunks

2

medium yellow onions

quartered

1

bouquet garni

1 sprig fresh thyme, 1 bay leaf, and 4 parsley stems, tied with twine

1

Tbs.

black peppercorns

1

Tbs.

tomato paste
Instructions
For the Soup:
Melt the butter in a 4-quart pot over medium heat. Stir in the onions and season with 2 tsp. salt and about 1 teaspoon fresh ground pepper. Press a piece of foil onto the onions to cover them completely, cover the pot with a lid, and cook, stirring occasionally (you will have to lift the foil), until the onions are very soft but not falling apart, 40 to 50 minutes. Remove the lid and foil, raise the heat to medium high, and stir in the sugar. Cook, stirring often, until very deeply browned, another 10 to 15 minutes.

Meanwhile, to make the croûtes (baguette toasts), position a rack in the center of the oven and heat the oven to 375°F. Butter a rimmed baking sheet and arrange the baguette slices on the sheet in a single layer. Bake until the bread is crisp and lightly browned, turning once, 20 minutes total. Set aside.

Add the broth and bay leaf to the caramelized onions and bring the soup to a boil over medium-high heat. Reduce the heat to medium low and simmer for 10 minutes to blend the flavors. Discard the bay leaf and season to taste with salt and pepper. Keep broth hot.

To serve, position a rack 6 inches from the broiler and heat the broiler to high. Put 6 to 8 broiler proof soup bowls or crocks on a baking sheet. Put 2 or 3 croûtes in each bowl and ladle the hot soup on top. Sprinkle with the cheese and broil until the top is browned and bubbly, 2 to 5 minutes. Serve immediately.
For the Broth:
Position a rack in the center of the oven and heat the oven to 450°F.

Put the bones, chopped carrot and onion on a large rimmed baking sheet and roast until brown, about 45 minutes to 1 hour.

With a slotted spoon or tongs, transfer the roasted bones and vegetables to a stockpot, leaving any rendered fat in the pan. Add the bouquet garni, peppercorns, tomato paste, and 5 to 7 quarts cold water (enough to cover the bones and vegetables by a couple of inches) to the pot. Bring to a boil slowly over medium heat, reduce the heat to medium low or low, and simmer, uncovered, skimming the surface occasionally with a slotted spoon until the broth is flavorful and reduced enough to just barely cover the bones and vegetables, 4 to 5 hours.

Strain the broth into a large bowl, cover, and chill. Skim off all fat before using.

make ahead tips:

The broth can be refrigerated for up to 3 days or frozen for up to 2 months.
Recipe Notes
-I added about 3-4 teaspoons of salt, total.
-This is not a difficult recipe, just time consuming. If you break it into steps, it is simple:
1. Brown the bones and veggies.
2. Cook the broth.
3. Refrigerate the broth and skim the fat.
4. Caramelize the onions.
5. Make the croutes.
6. Put the soup together, broil and serve.