If you're a fellow chocoholic, then this recipe for Classic Mud Pie is calling your name. It has a chocolate cookie crust, a dense ice-cream filling, and is topped with fudge, whipped cream, and cookie crumbs. It's easy to make and is our go-to easy dessert recipe when we need something a little more special than cookies or cake!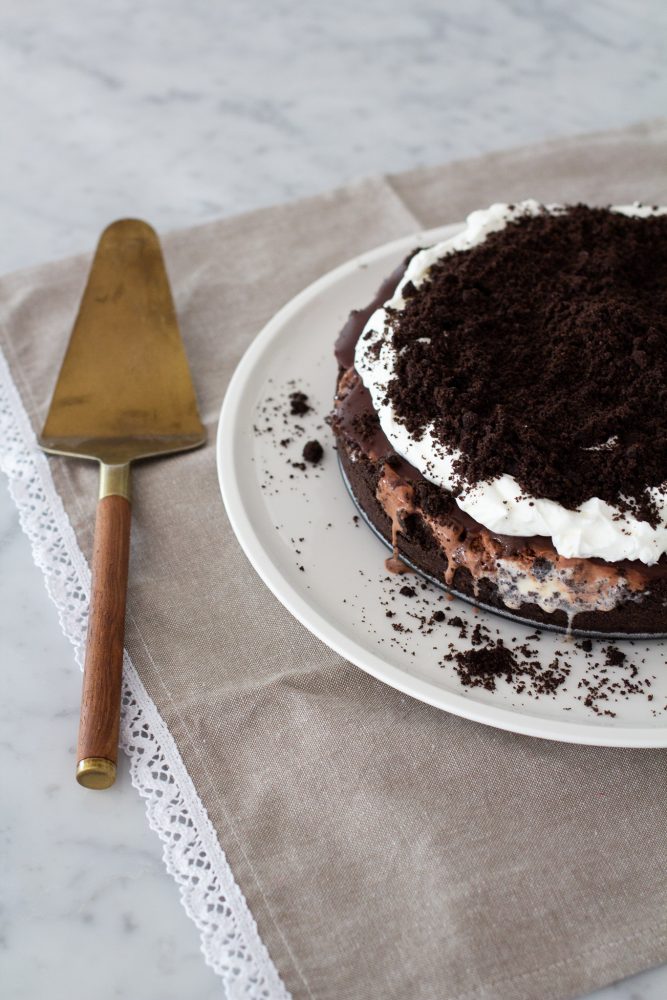 The Perfect Trio: Chocolate, Ice Cream, and Pie
If you know me or have read this blog any amount of time, you know I love PIE. And this Classic Mud Pie is no exception. It has all the wonderful flavors of a chocolatey ice cream treat, but is dressed up as a fully loaded pie. It's thick, silky, and packed with chocolate cookies, ice cream, fudge, and of course, whipped cream. Who could say no to this recipe?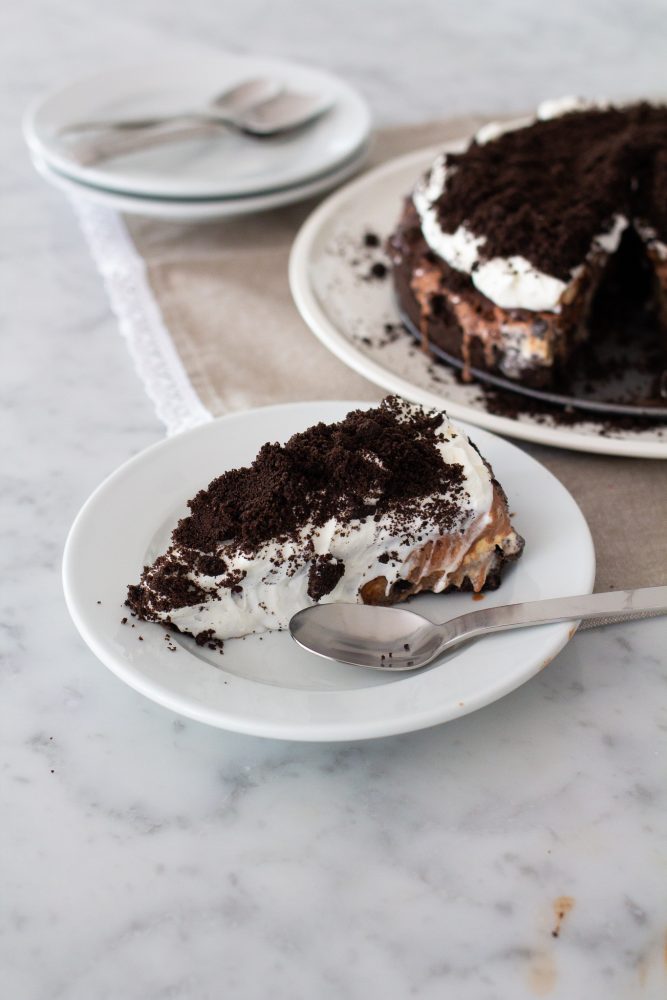 Traditional Recipe, Unforgettable Flavor
Classic Mud Pie is one of those timeless desserts that every cook needs in their recipe collection. It's been a favorite in our family for years. My sister in law,
Sheri, originator of several recipes on ABK
made this for me years ago and I've loved it since. It may look like a lot of work, but here's the shocker: it's SO EASY to make. Promise. Just assemble the cookie crust, press into a dish (3 options of dish type, I like
Springform
the best) , fill with a thick layer of ice cream, and top with fudge sauce, whipped cream, and crushed cookies. No baking and most of the ingredients are ready made. If you're looking for a quick, cool, and absolutely delicious dessert to make, it's staring at you right in the face. The pie, of course!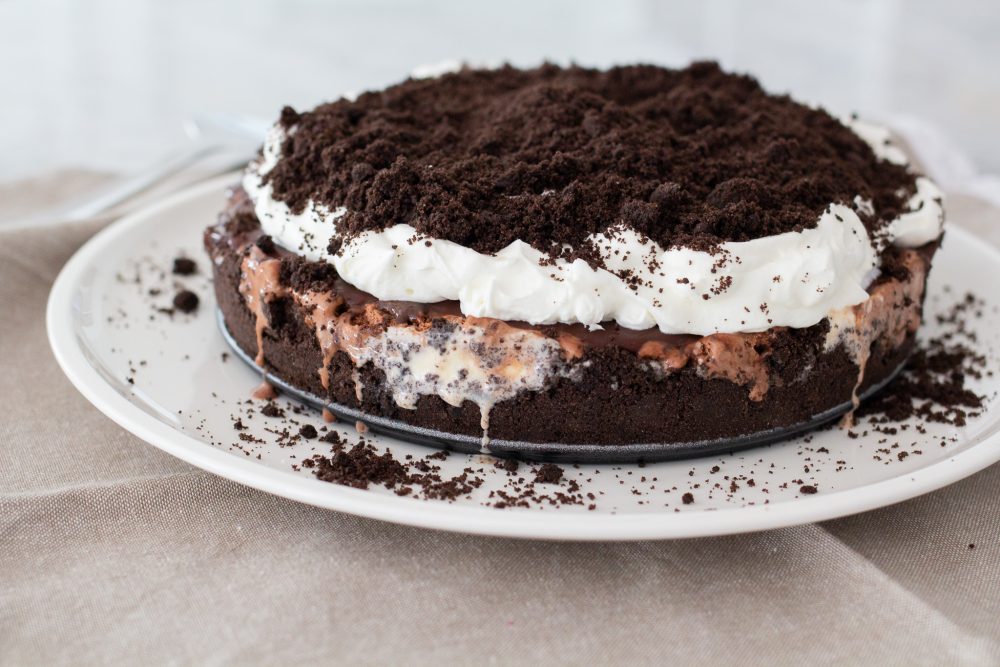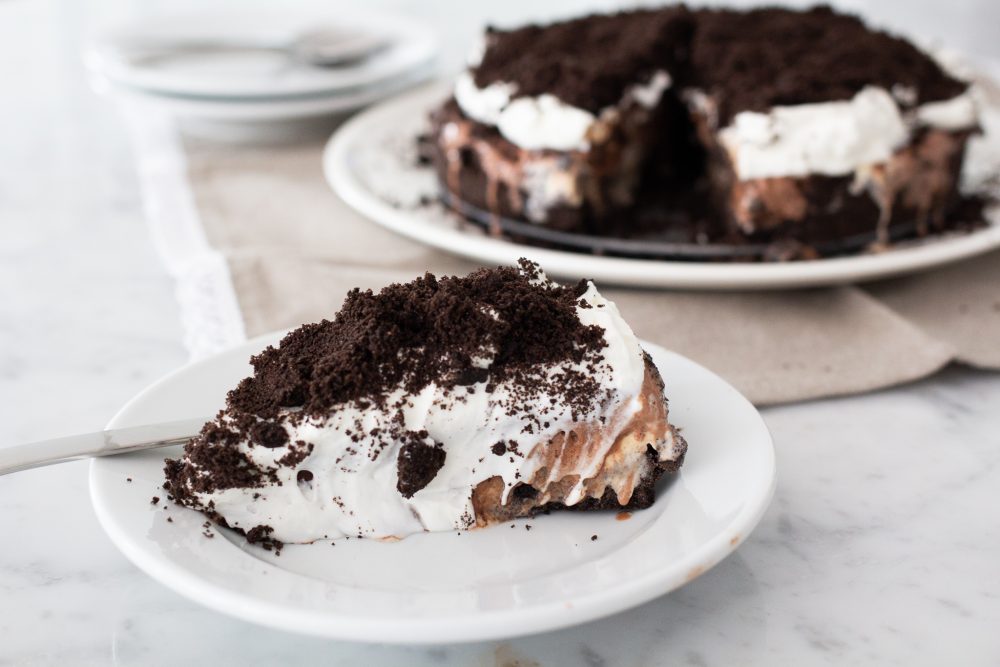 The BEST Classic Mud Pie Recipe, Ever
There are so many variations to mud pie out there. Some use mocha ice cream, chocolate chip ice cream, or even a chocolate pudding filling. But personally, I think this recipe for Classic Mud Pie is the real winner. The crunch of the cookie crust, the soft ice cream center, the rich homemade fudge and fluffy whipped cream. YUM. It's extra-chocolately, creamy with a little bit of crunch, and absolutely irresistible. Plus, you can make it the day of serving or prepare it ahead and store in the freezer. It serves a crowd and is perfect for birthday parties, family gatherings, or Sunday dinner. Warning: don't expect to have any leftovers!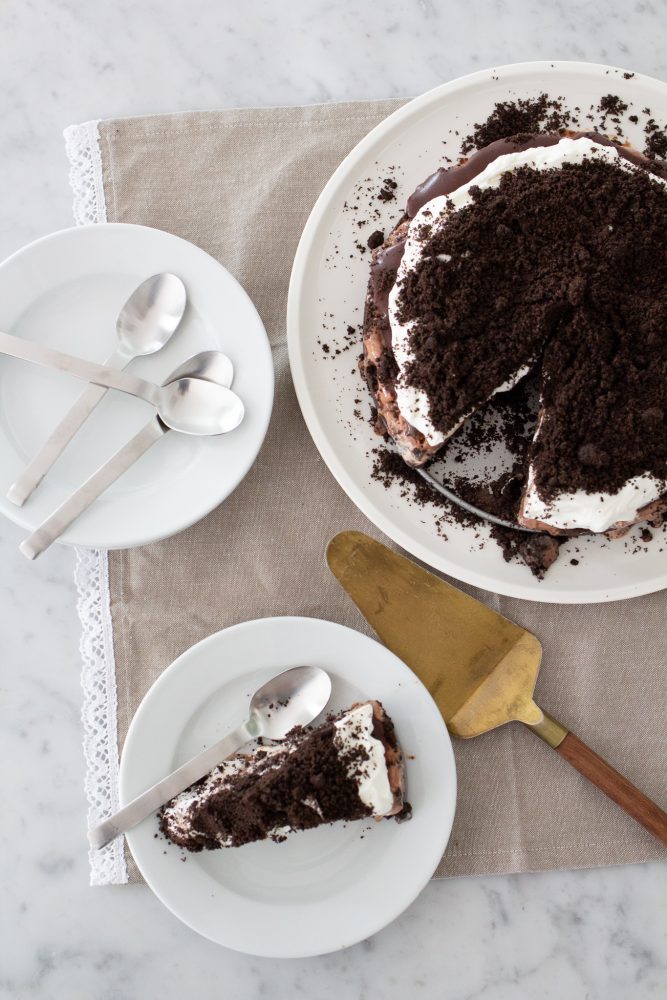 Classic Mud Pie is the perfect treat to celebrate the upcoming fall/holiday season. Think of all the possibilities- pumpkin and chocolate, pecan and chocolate, peppermint ice cream with a candy and Oreo topping! The best part: just assemble and serve. No baking required. Oh, and it's absolutely stuffed with chocolate. So for all my chocolate-lovers, this one's for you. If there's one dessert you HAVE to make, it's this Classic Mud Pie. Best ice cream dessert, ever.
Classic Mud Pie
Ingredients
1

package

Oreo Cookies

14-15 oz, reserve 1/3 cup for topping pie

3

tablespoons

unsalted butter

melted

1/2

gallon

ice cream, any flavor

1

cup

heavy whipping cream

1/3

cup

granulated sugar

4

oz

semi sweet chocolate

chocolate chips will work!

2

tablespoons

vanilla

1

cup

heavy whipping cream

2

tablespoons

powdered sugar
Instructions
The day before serving, or early in the day prepare the crust and fill with ice cream.

Remove ice cream from freezer. Let sit on counter while preparing crust.

Crush Oreos in food processor.

Add 3 tablespoons melted butter while using the pulsing action on the food processor.

Press the crumbs into a 9 inch pie plate with deep sides, or a 9-10 inch springform pan or a 9×13 pan.

Spoon softened ice cream into prepared crust. Be careful to not press too hard or crust will separate.

Cover and store in freezer.
To Make hot fudge:
Place 1 cup whipping cream, 1/3 cup granulated sugar and 4 oz chocolate together over low heat in heavy pan, until chocolate melts.

Increase heat to medium and cook for about 8 minutes while stirring occasionally to prevent scorching. You may use a double boiler for this process!

Remove from heat and add vanilla, mixing until smooth.

Let cool completely before topping the ice cream.

When hot fudge is completely cooled, top ice cream and place pie back into freezer.

Whip cream in stand mixer or large bowl with hand mixer. Add 2 tablespoons powdered sugar to whipped cream, while beating on low, beat until stiff.

Top pie with whipped cream and remaining Oreo crumbs.

Store in freezer for at least 4 hours or up to 2 days before serving. Pie is best when allowed to sit in freezer for 6+ hours!
Recipe Notes
If making ahead, prepare the crust and fill with ice cream, store in freezer. 
Prepare the hot fudge and store in refrigerator until ready to use. 
the whipped cream may be made and top the mud pie immediately or whipped and spread on top just before serving.