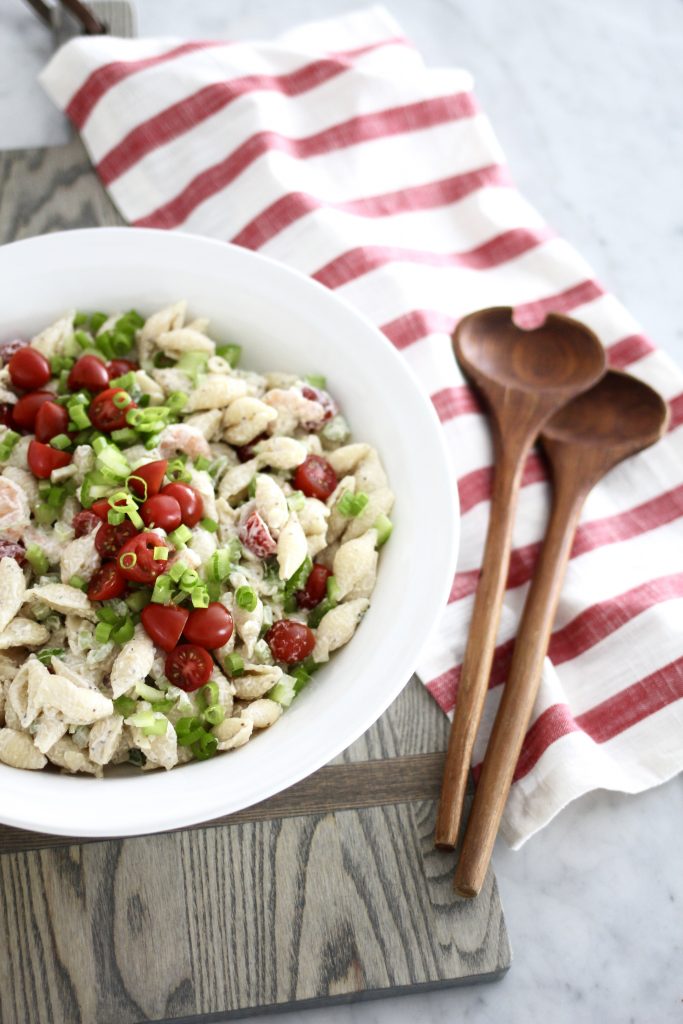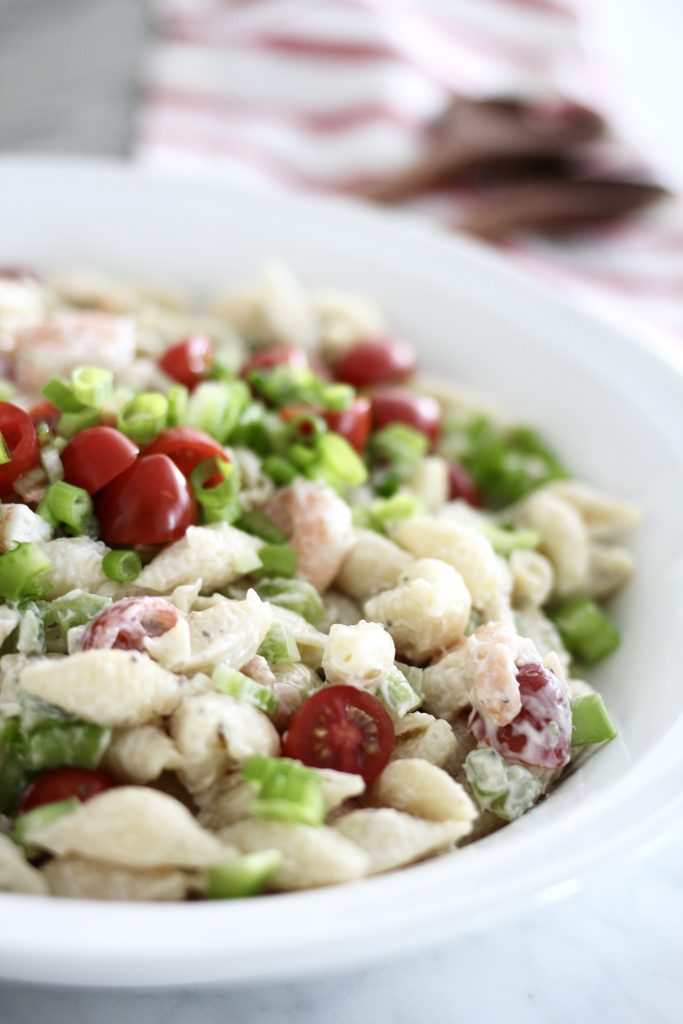 Summer, pasta, shrimp, it doesn't get much better than this! ABK's Classic Shrimp Pasta Salad is a throwback to summer meals from my childhood and is a recipe every cook should have in their summer rotation. There's something about those little salad shrimp that just shout SUMMER! to me.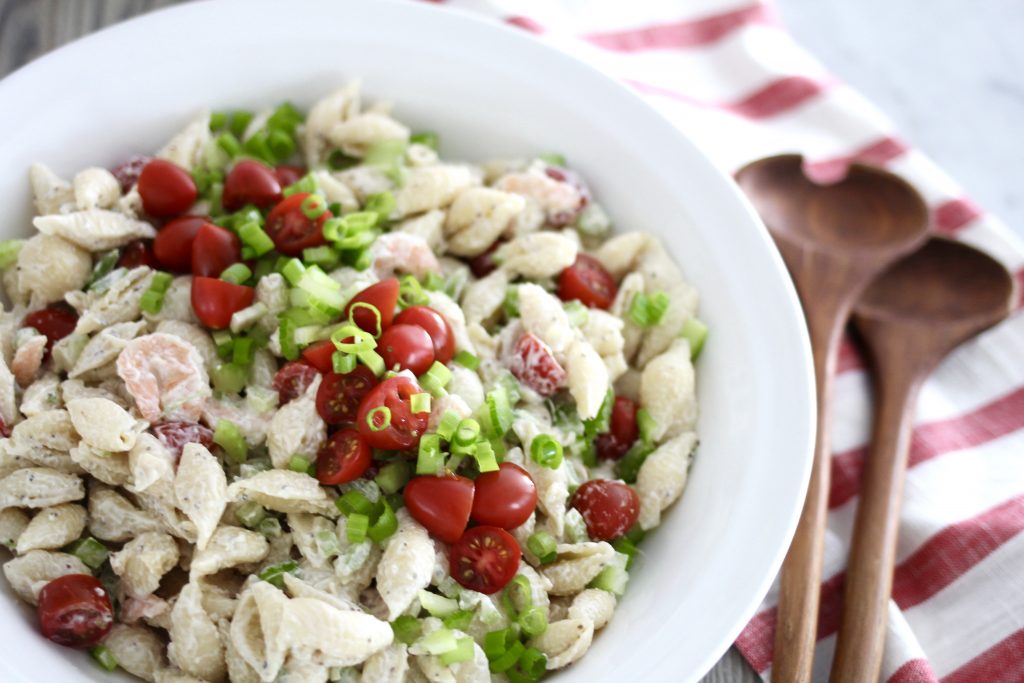 I have vivid memories of summer barbecues at Kitsap Lake in Bremerton, WA as a child. My dad was a Chief in the Navy and every summer our family attended the Chief's summer bbq at the lake. There were always grilled meats… everything from burgers and hot dogs to steaks. Lots and lots of desserts, chips, dips and huge tubs filled with ice and soda. And the salads. Oh my goodness. As a kid, I loved going to parties with long buffet tables lined with a variety of foods. I remember one of my favorite salads was the Classic Shrimp Pasta Salad. It consisted of pasta (usually overcooked), salad shrimp, chopped celery, a bit of onion, and mayo. Simple, but delicious!
I wanted to create a salad similar to the one from my childhood memory. I'm a sucker for small shell pasta with shrimp. Add some crunchy celery, mayo and tomatoes, and you've got a classic (updated) pasta salad that's as popular today as it was back in the 70's. Ahhhhhhh. Don't you just love food that takes you back to another time?? Here's to simpler times and summer.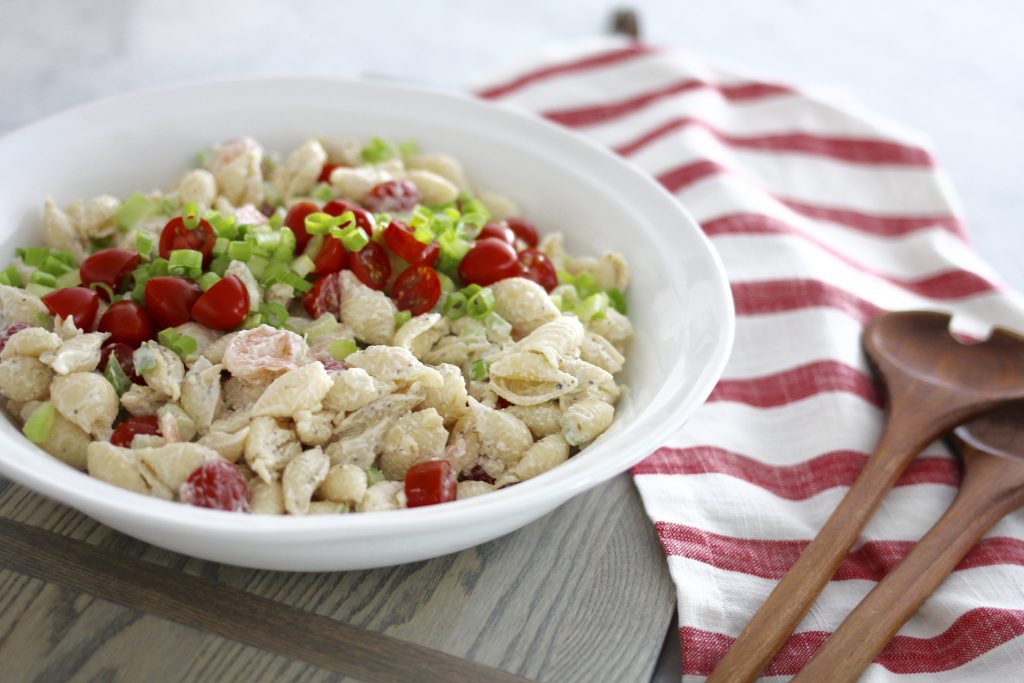 Classic Shrimp Pasta Salad
Servings
15
-18 side servings
Ingredients
1

lb

small shell pasta

1 1/2

cups

Best Foods or Hellman's Mayonnaise

give or take a few tablespoons

2

cups

finely chopped celery

2

cups

whole grape or cherry tomatoes

washed and sliced in half or thirds

one lemon

juiced

1-1 1/2

lbs

salad shrimp

1

bunch green onions

chopped green and white parts

celery seed

about 1 1/2 tablespoons

salt and pepper to taste
Instructions
Cook pasta al dente, set aside to cool. See notes about coking pasta. This may be done early in the day, or up to three days before serving.

Set aside about 1/4 cup each of the chopped celery, tomatoes, green onions and shrimp for topping salad.

In a large bowl, Combine cooled pasta, chopped celery and cut grape tomatoes. Throw the shrimp on top of the other ingredients. Before mixing the shrimp into the pasta, pour the juice of one fresh lemon on top of the shrimp. Gently toss all of the ingredients in the bowl together. Sprinkle with salt and pepper, about 1/4-1/2 teaspoon each.

Add about 1 cup of mayonnaise and toss the salad together. Add the additional 1/2 cup of mayo. This may vary according to your taste preference. If you like less mayo, add less. The longer the salad sits in the refrigerator, the more the pasta will absorb the mayo.

Add the chopped green onions and about 1 1/2 tablespoons celery seed.

Taste the salad and add more salt and pepper to taste.

Add the reserved toppings to the top of the salad and cover the salad with Saran Wrap or foil.

Refrigerate until ready to serve.
Recipe Notes
-Cooking the pasta "al dente" is usually about 1 minute less than the package directs. Taste the pasta before removing from the boiling water. It should be just a tiny bit firm. Not too soft, but not hard either. Do not rinse with cold water. Remove from water and set aside. It will continue to cook a bit while it cools down. Toss with a tablespoon of olive oil if desired. -This salad may be made two days before serving. -The salad may need to have more mayo added after sitting in the fridge for a day. The pasta will absorb the mayo and the salad may seem a bit dry. Add mayo, a tablespoon at a time, tossing well after each addition. -You may also add a tablespoon or two of milk to loosen up the salad a bit if you don't want to add more mayo. Be careful to not add too much milk or your salad will get runny and flavors in the salad will become diluted.-You may use light mayo if you'd like, but the result will not be the same. Light mayo or Miracle Whip will change the flavor of this salad.