Classic Strawberry Cheesecake is one of the first recipes I posted way back in 2008- the first year of A Bountiful Kitchen! If you haven't ever tried to make cheesecake, this is the perfect recipe, for everyone from beginners to experienced bakers.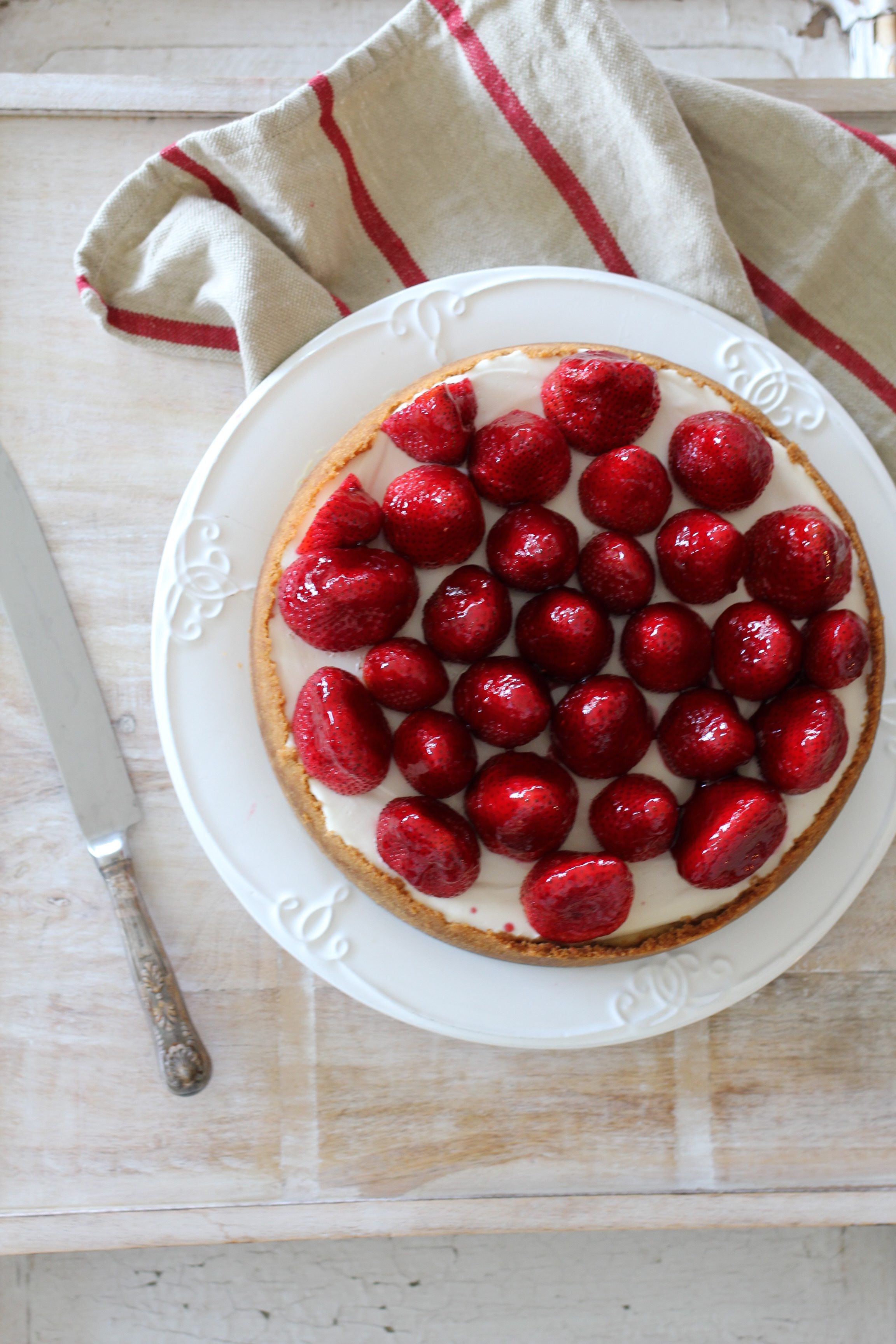 What makes a classic strawberry cheesecake?
If you've spent any time reading recipes online you know there are hundreds of varieties of cheesecake recipes.  Cheesecakes filled with all kinds of interesting ingredients ranging from raw cookie dough to chopped up cake, fruits, and chocolate to name a few.  I've read recipes that include so many fillers, it was difficult to find the cream cheese!  This cheesecake recipe is filled with cream cheese, sugar, eggs, lemon,  and a delicious homemade graham cracker base. The topping is a simple mixture of sour cream, sugar and vanilla. All classic ingredients, for a classic, timeless  cheesecake.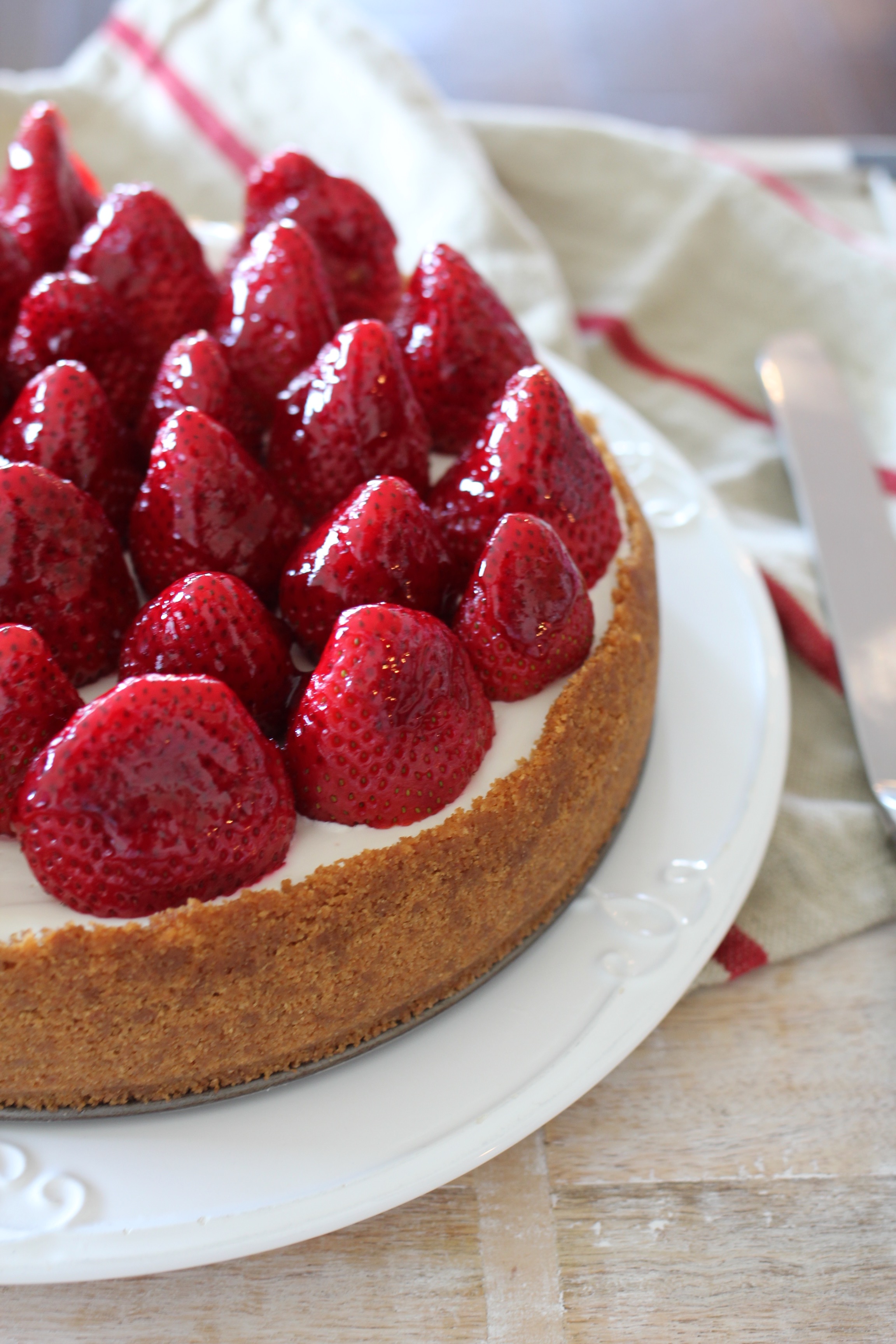 Top me off
How often have you ordered a cheesecake in a restaurant and been disappointed by the topping? I always think it's a bit of a shame to take a carefully prepared dessert and top it with a can of fruit,  swimming in a thick congealed sauce. If you love cheesecake and strawberries, you're going to love this recipe for Classic Strawberry Cheesecake. It's rich and creamy and topped with just the right amount of fresh berries brushed with warmed jam to make this dessert a show stopper! I also think this would be perfect topped with fresh raspberries. Make sure to completely dry the berries after washing to insure they won't bleed onto the cheesecake. Sometimes, I wash the berries and turn them upside down on a sheet of paper towel and let them sit for an hour or two so all of the moisture is removed.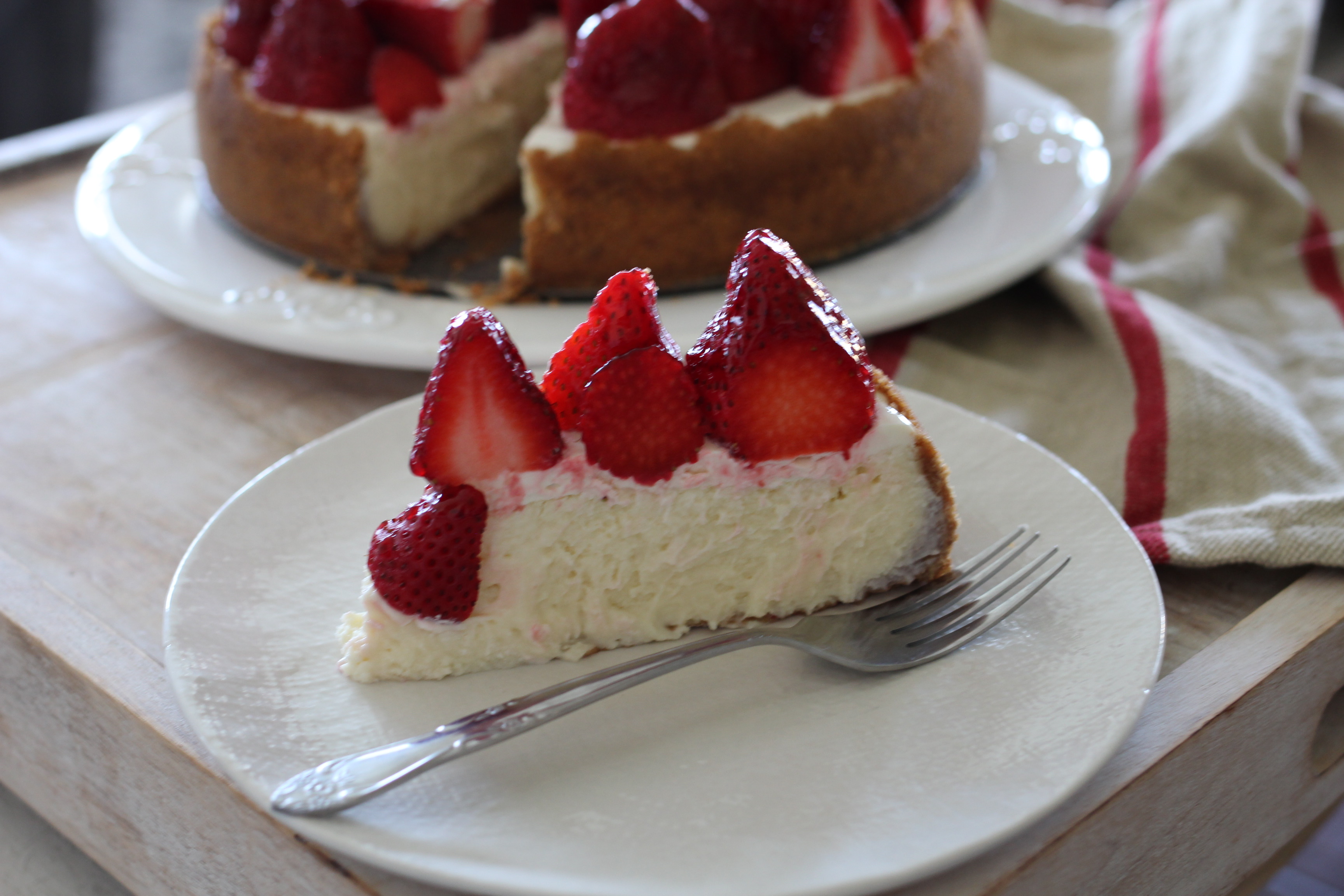 a cheesecake for all- Beginner to experienced bakers
Classic Strawberry Cheesecake is a straightforward, simple dessert that requires a few steps and a little time to put together. Don't be intimidated by the length of this recipe. I promise, you won't find a better tasting classic cheesecake that is easier to make! Start the dessert early in the day and preferably the day before to insure it will have time to set up before slicing. I like to make the crust and filling and sour cream topping the day before serving if at all possible and finish the baking process so all I have to do the day of serving is top it off!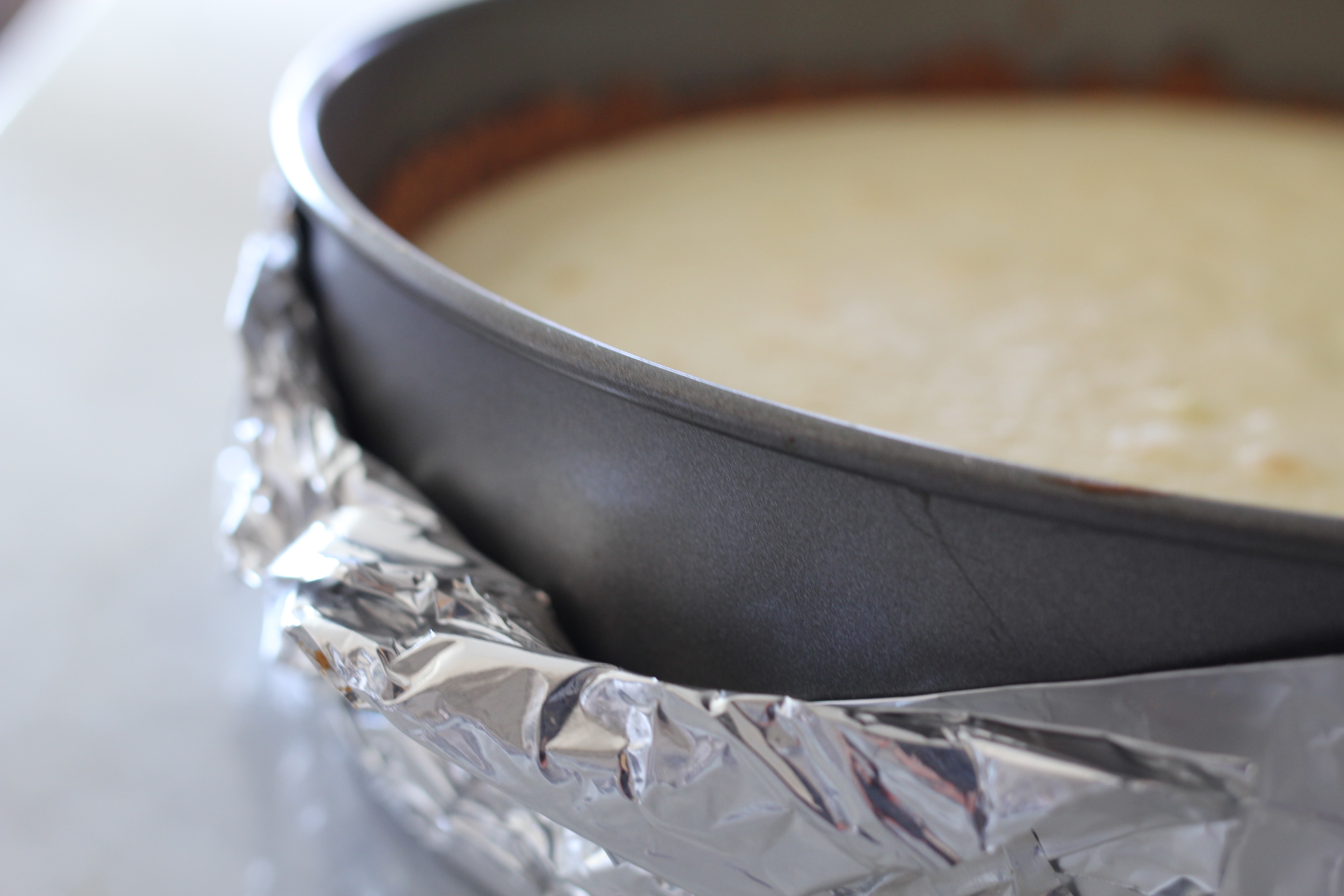 My tips are included in the recipe (such as wrapping the pan with foil to insure the butter in the crust doesn't leak out and make a mess in your oven!), make sure to read all before starting.  The only must-have piece of equipment is a sturdy 10 inch Springform pan, which you probably already have in your pantry. If not, you can order one online here or in a pinch you can use a 9×13 pan. I don't recommend using a pie plate because the sides aren't high enough to hold all of the crust, filling and topping. A Springform is really the way to go and I promise, you'll use it over and over again.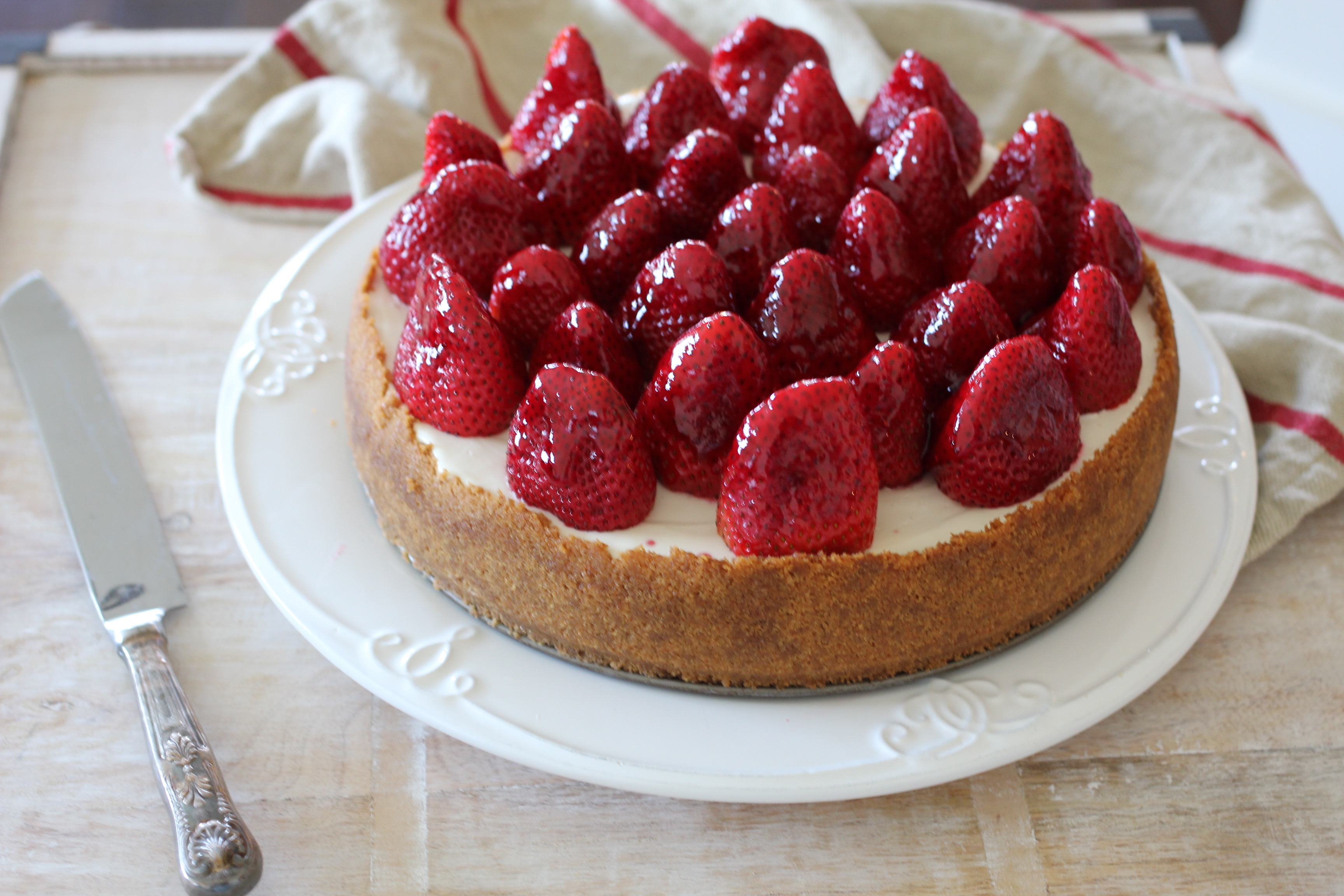 Happy baking and make sure to take a photo and tag @abountifulkitchen on Instagram and Facebook  I love to see your photos and share them on ABK's Insta stories!  If you love cream cheese desserts, take a look at these recipes on ABK: White Chocolate Ginger Cheesecake with Blueberries   or  Lemon Cream Cheese Tart with Coconut Cookie Crust 
Classic Strawberry Cheesecake
Adapted from Bon Appetite's famous cheesecake recipe, this recipe has been a favorite of our family for years. Very simple to make. The only difficult aspect of this recipe is the amount of time! I've broken it down into 5 easy steps.
Ingredients
Crust:

18

whole graham crackers

broken

1/2

cup

room temperature

unsalted butter

1/4

cup

packed golden brown sugar

1/2

teaspoon

cinnamon

optional

Filling:

4 8-

ounce

packages cream cheese

room temperature (temperature very important)

1 3/4

cups

sugar

3

tablespoons

fresh squeezed lemon juice

1

tablespoon

vanilla extract

Pinch

of salt

3

tablespoons

flour

5

large eggs

room temperature is best, but not required

Topping

2

cups

sour cream

not low fat

1/4

cup

sugar

1

teaspoon

vanilla or almond extract

Topping:

2 16-

ounce

baskets strawberries

washed, leaves removed and patted dry

1/3

cup

seedless jelly: raspberry

strawberry, currant anything with a red color is best
Instructions
Crust

Position rack in center of oven and preheat to 350°F. Wrap foil around outside of 10-inch-diameter Springform pan with 3-inch-high sides. Combine graham crackers, butter and sugar in food processor.

Pulse and blend until crumbs begin to stick together. Press crumbs onto bottom and 2-3 inches up sides of springform pan.

Bake crust 10 minutes. Transfer to rack and cool while preparing filling.

Leave oven on to 350 degrees.

Filling (make while crust bakes)

Beat room temp cream cheese, sugar, lemon juice, vanilla (or almond) and salt in large bowl until very smooth.

Beat in flour.

Add eggs and beat just until blended, stopping occasionally to scrape down sides of bowl. Make sure to scrape down sides and bottom of bowl so all of the cream cheese is incorporated!

Pour smooth batter into crust.

Bake cheesecake until outer 2-inch edge of cake is puffed and slightly cracked.

The center should be set and top is brown in spots, about 55 minutes. The cheesecake will should not be liquid in the center. It should be set and a toothpick inserted with come out with a bit of filling attached.The cheesecake may jiggle a bit still. It will continue to cook while cooling and will firm up in fridge.

Transfer cheesecake to cooling rack. Let sit in pan. Cool 10 minutes.

Leave oven on.

Make topping while cheesecake is baking:

Whisk sour cream, sugar and vanilla in medium bowl to blend until smooth. After cheesecake has cooled 10 minutes, spoon topping over cake, spreading to edge of pan.

Bake until topping is just set, about 5 minutes. Remove from oven. Run butter knife between crust and pan while the cheesecake is still warm.

Cool hot cheesecake in pan on rack, Chill overnight in refrigerator.

On day of serving:

Release pan sides from cheesecake. Arrange whole berries, bottoms up on cheesecake.

Completely cover the top of desert with berries.

Stir jelly in heavy small saucepan over medium-low heat until melted, or microwave.

Cool to barely lukewarm, about 5 minutes.

Brush jelly over berries to glaze generously, allowing some to drip between berries if desired. Reserve remaining glaze in saucepan to serve with dessert.

Cheesecake and glaze can be prepared 6 hours ahead.

Cover cake and refrigerate until ready to serve.
Recipe Notes
-The berries should be as uniform in size as possible. Without any green tips. Cutting the green tips off really doesn't work, because the tips are exposed.
-It is very important for the cream cheese to be at room temperature before mixing. If not, the batter will have lumps which will appear in your cheesecake.
-I haven't used low fat sour cream or low fat cream cheese in this recipe, but would love to know if you try it!
-The crust may be made up to a week before and stored covered in refrigerator (not necessary) or on counter top.
-Make sure to wash and thoroughly drain the strawberries before placing on top of cheesecake. I don't recommend topping the cheesecake more than 6 hours prior to serving.
-You may double the sauce (jelly) on top of the cheesecake and allow it to drip on the sides and or serve the extra sauce with the cheesecake. I'm not a huge fan of a lot of sauce, just berries with a small amount of sauce on this dessert is my favorite way to enjoy!