The Best Cherry Jello is exactly what the name states. Claudean's Cherry Jello is legendary in our home. I really only make one Jello recipe, and this is IT!
I know you're thinking, really, JELLO? In our part of the country, Jello is a staple at most family dinners, church gatherings, funerals, parties, etc. I'm not a big fan, but you can't hardly call yourself a good Mormon woman without having at least one good Jello recipe under your belt. This recipe for The Best Cherry Jello is my go-to Jello.
Have you ever heard of a person living in Utah who can't make at least 5 different tried and true Jello dishes without looking at a recipe? Call me to repentance. I don't know why, but I've never had good luck with Jello. It's always too runny, or not mixed up enough, with that rubbery layer on the bottom of the pan. Or the outside sets up, but not the middle. I was a failure in the J-E-L-L-O dept.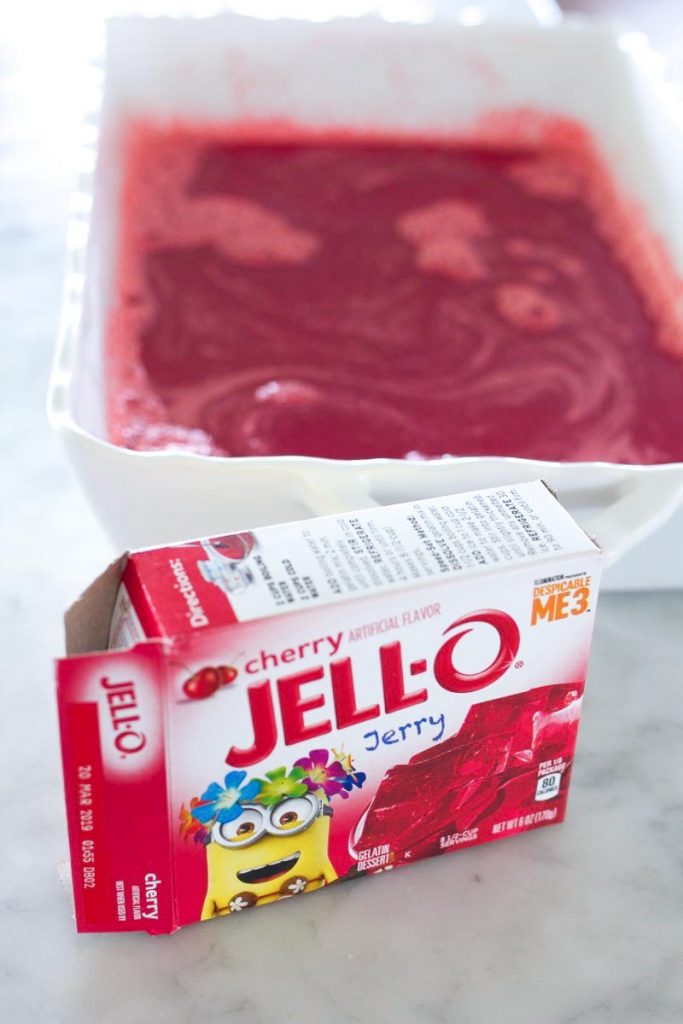 I had all but written off Jello, and my ability to be a perfect Mormon homemaker, and then a few years back, I found this recipe in a local school cookbook. Claudean is an expert at making anything sweet. She shared her recipe with the school when they were compiling a cookbook years ago. It's really a dessert of sorts, disguised as a Jello "salad". So it's totally legal to serve with dinner.  It sets up more quickly than just a plain pan of Jello because of the pie filling and crushed pineapple stirred into  the Jello, and is topped with a mixture of pudding and whipped cream all folded together.

Here's the deal:
No fail.
Sets up in two hours.
Fruity.
Sweet.
Creamy topping.
No carrots.
Jello Perfection, my friends. This is it.

Claudean's Perfect Cherry Jello
Ingredients
1

large

6 oz box strawberry, raspberry or cherry Jello

2

cups

boiling water

1- 21

oz

can cherry pie filling

low sugar or regular

1- 20

oz

can crushed pineapple

not drained

2

cups

heavy whipping cream*

1

cup

milk

1

small

3.4 oz box instant vanilla pudding
Instructions
Boil the water. While water is heating up, pour the large box of Jello into a 9×13 pan. 

Pour the 2 cups of boiling water over the jello in the dish. Using a whisk, slowly mix the jello and water together until all of the Jello is dissolved. Make sure to scrape up all of the Jello off the bottom of the dish. 

Pour the contents of the can of pineapple and the can of cherry pie filling into the pan with the Jello and water. Mix with large spoon.

Place pan into refrigerator. Let set up for about 2 hours. It's usually set after 1- 1 1/2 hours.

Whip the cream in a large bowl until stiff, set aside.In another bowl, whisk together 1 cup of milk and the box of pudding. Fold the pudding mixture into the whipped cream. Spread the whipped cream mixture over the set-up Jello mixture in the pan. Serve immediately, or return to fridge until ready to serve. 
Recipe Notes
You may sub any flavor of Jello. I've used anything from Strawberry to Cherry. Anything red works.
I've never tried using sugarless Jello or sugarless pudding in this recipe. Leave a comment if you experiment.
*The original recipe calls for Cool Whip. A medium size container works. I'm not a fan of Cool Whip. And since I'm not a huge Jello fan either, I use real whipped cream and it improves the dish in a big way. If after reading this you still want to use Cool Whip-mix the pudding in a bowl with 1 cup of milk. Then fold in the Cool Whip.