Coca De Trampo is what many people refer to as Spanish "pizza". It is a popular recipe on the island of Mallorca, Spain. This fresh dish made of tomatoes, peppers and onions is packed with freshness, flavor and is my all-time favorite Spanish recipe!
I've tried them all…
"Coca" (pronounced coke-ah) as it is affectionately called by the locals is an item sold in almost every bakery on Mallorca. I have tried the coca de trampo in too many bakeries to count. Some were delicious and some, not so good… Coca is sold in many parts of the Mediterranean, but in the Baleares it is mostly sold as a savory pastry, made without leavening. In other places it is sweet and also has more of a bread-like dough.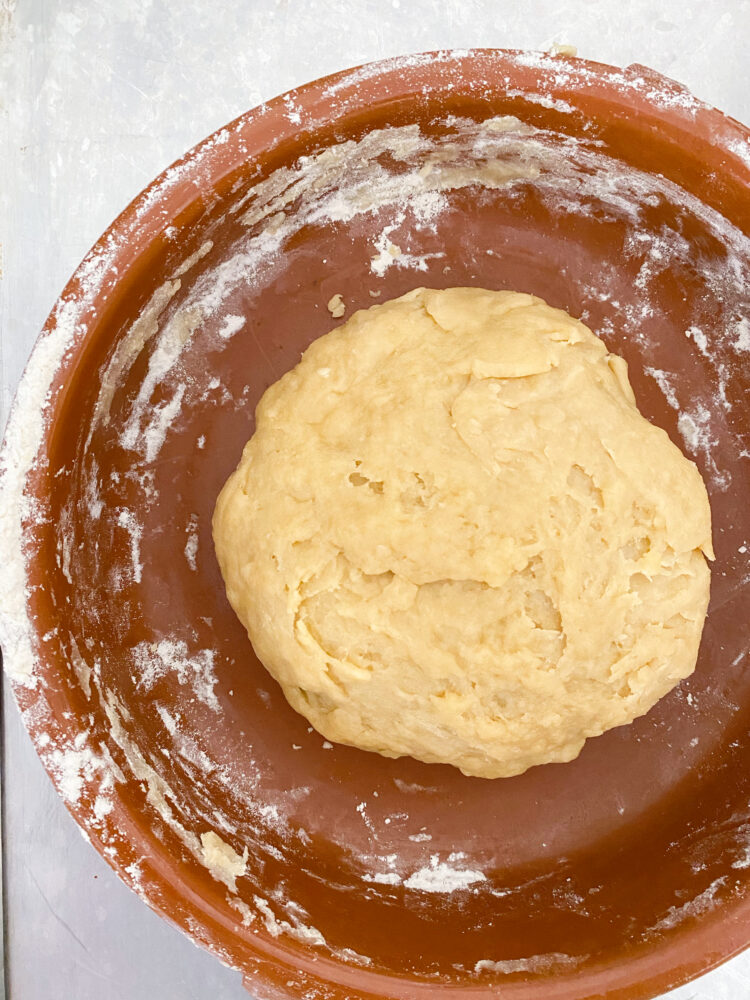 Learned from a pro
While living in Spain, I took a cooking class from a woman who has lived in the islas all her life and learned how to make coca from her grandmother. Paula taught me that simple is best, and the best coca is made with a few fresh, simple ingredients. This recipe comes straight from Paula's Mallorquine kitchen. 
In my opinion, the key to delicious coca de trampo is a crust with just the right amount of crunch and substance to hold up the tasty "salad". The veggie topping is called the "salad" on top of the olive oil based crust. A healthy drizzle of olive oil and a sprinkling of salt to top the fresh baked coca is the perfect way to serve this dish.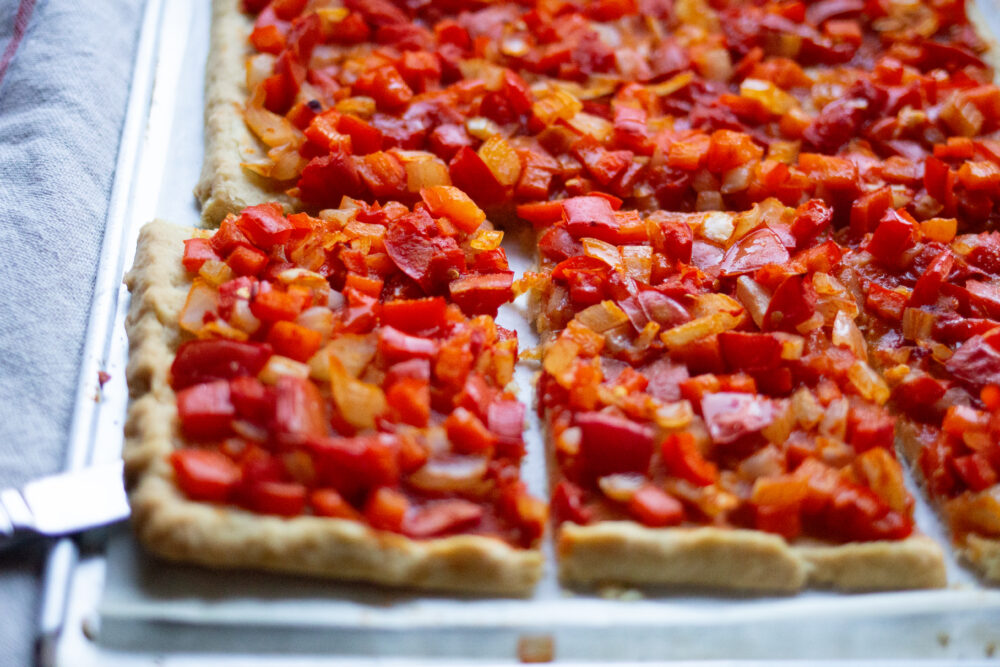 Fresh and easy
Coca takes about 20 minutes to prepare and about the same amount of time to bake. It's a fresh and easy appetizer or main dish if you are vegan, or if you're like me and love to eat lighter in the summer months! Coca is also considered to be a tapa or small plate in Spain and can be served as a side dish with dinner.
How to make Coca de Trampo:
Make the dough by mixing the olive oil, sparkling water and salt in a bowl.
Press the dough onto a parchment lined baking sheet.
Bake the crust.
While the crust is baking, chop the salad ingredients.
When the crust is baked, remove and top the hot crust with salad.
Bake for an additional 15-20 minutes.
Remove from the oven and enjoy hot or at room temperature.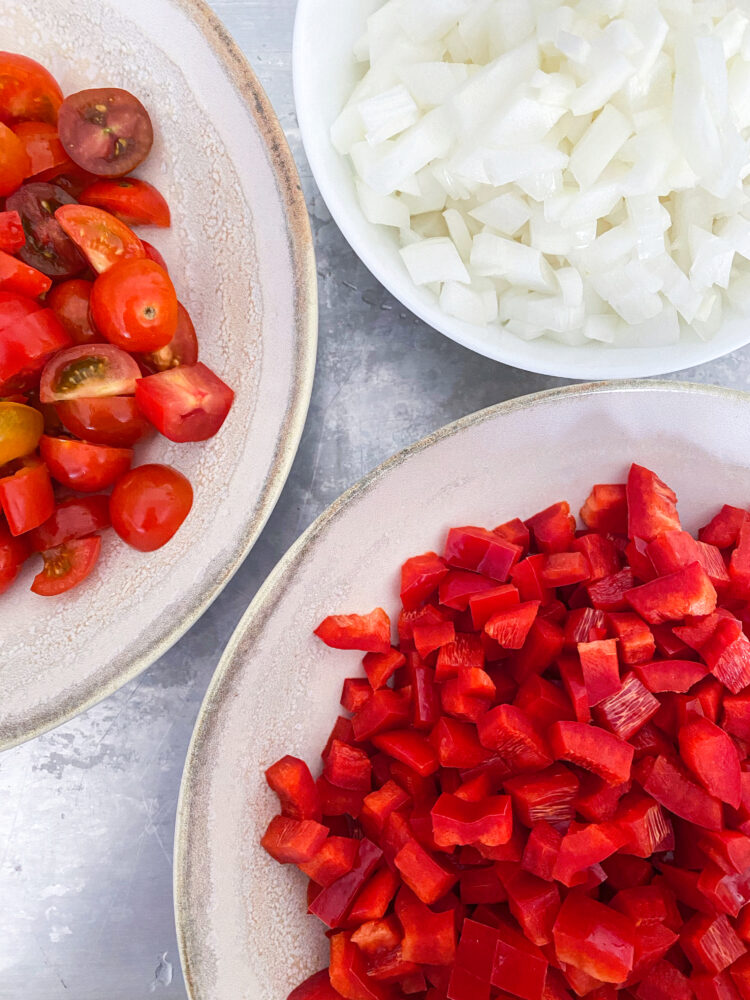 A few ingredient tips for making the best tasting coca de trampo include: Use extra virgin olive oil. Spanish olive oil is not a requirement, but recommended. Costco sells an excellent quality Spanish olive oil!
Paprika is a key ingredient in Spanish cooking. It is important to use Spanish pimentón in this recipe. Some US grocery stores sell smoked paprika, which is similar to Spanish paprika. This brand available on Amazon is one of my favorite brands sold in most grocery stores in Spain. The recipe calls for sweet (dulce) and spicy (picante) paprika, but you can just use sweet if you'd like. It's not super sweet, more of a smoky flavor than the paprika we are used to using in the States.
Coca de Trampo (Spanish Pizza)
This fresh and easy to make dish is found in every bakery on Mallorca! The olive oil based crust is topped with fresh Mediterranean vegetables available in most parts of the world.
Ingredients
Crust:
1

cup

olive oil

1

cup

water

sparkling ("augua con gas" in Spain) or seltzer water

1

teaspoon

sea or kosher salt

2-3

cups

all purpose flour

plus more for hands
Salad or Topping:
2 1/2

cups

tomato, chopped

3

cups

red pepper

seeded and chopped about 1 large in Spain or 2-3 in USA (you may also use a mixture of different colors of peppers)

2

cups

onion white

chopped

3-4

teaspoons

Spanish paprika

2 picante, 2 dulce or 4 teaspoons of a combination or smoked paprika

1

teaspoon

sea salt

2

tablespoons

olive oil for drizzling after baked
Instructions
Preheat the oven to 375 degrees and place the rack on the lower third of the oven.

Line a baking sheet with a piece of parchment paper.

Place 1 cup flour in a bowl. Add the olive oil, sparkling water and salt. Mix with your hands or a spoon until the dough starts to come together.

Add flour a little at a time, until the dough is no longer sticky. This may require a little more or less than the amount stated.

Press dough evenly onto parchment paper on cookie sheet in a rectangle shape. I use a 12×15 inch pan.

Bake crust at 375 for 15 minutes or until top starts to turn golden.

While the crust is baking, prepare the salad by dicing the veggies. Place in a bowl. Add 3-4 teaspoons Spanish paprika, 1 teaspoon salt and 2 tablespoons of olive oil. Toss until combined.

Remove the crust from the oven when golden.

Increase oven temperature to 400 degrees.

Top the baked crust with veggies or "salad" and bake for 15-20 minutes more. Remove from the oven.

Drizzle the baked coca with a little more olive oil , sprinkle with finishing salt.

Cut into slices, serve immediately or at room temperature.

Store any leftover slices wrapped in parchment paper. Refrigerate if not eaten after one day.
Recipe Notes
I don't seed the tomatoes. This dish is also perfect made with small grape or cherry tomatoes, cut in half.
Salt is an important ingredient in this recipe. If you can, use sea salt or kosher salt for the finishing step. A little goes a long way! 
There are as many variations to coca as there are stars in the sky. Some cooks leave out the paprika in the coca, others add more. Some always use leavening in the crust and some do not. Many cooks use lard in their crust as well. Many cooks do not precook the crust and only bake once. I like Laura's method for baking the crust to ensure the crust does not get soggy from the fresh baked veggies. The peppers also vary and many people use a green or yellowish pepper instead of red pepper. Experiment to see what you like best!