Winter blues got you down? Chase away the cold gray days with this Cream Cheese Chicken Casserole.  Turn on your oven and get out your favorite casserole dish, this is a dinner your whole family will love!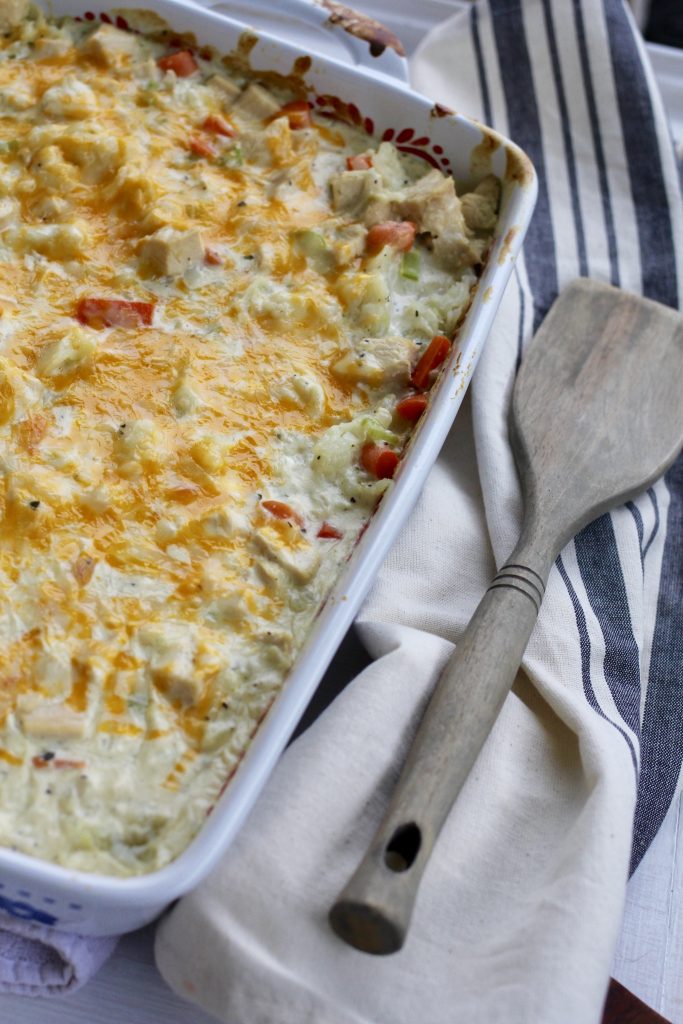 Cream Cheese Chicken Casserole is a  "stick to your ribs" hearty meal. It's loaded with chicken, cream cheese and sautéed vegetables over a layer of grated potatoes.  Savory white chicken gravy, flavored with tarragon and poultry seasoning  keeps the veggies and chicken moist and creamy.  Cream Cheese Chicken Casserole has been in my recipe archives for a long time. This recipe (origin unknown) is scribbled on a piece of torn paper faded from water marks and food stains.  Originally the recipe was made with Cream of Chicken Soup, but I've altered it to make the sauce from scratch.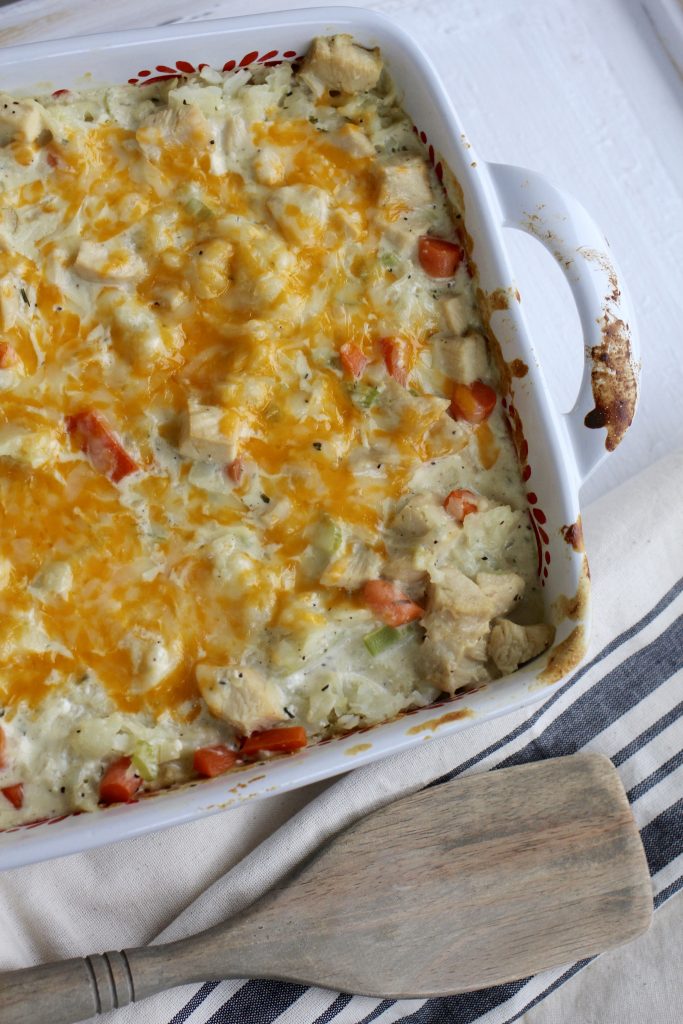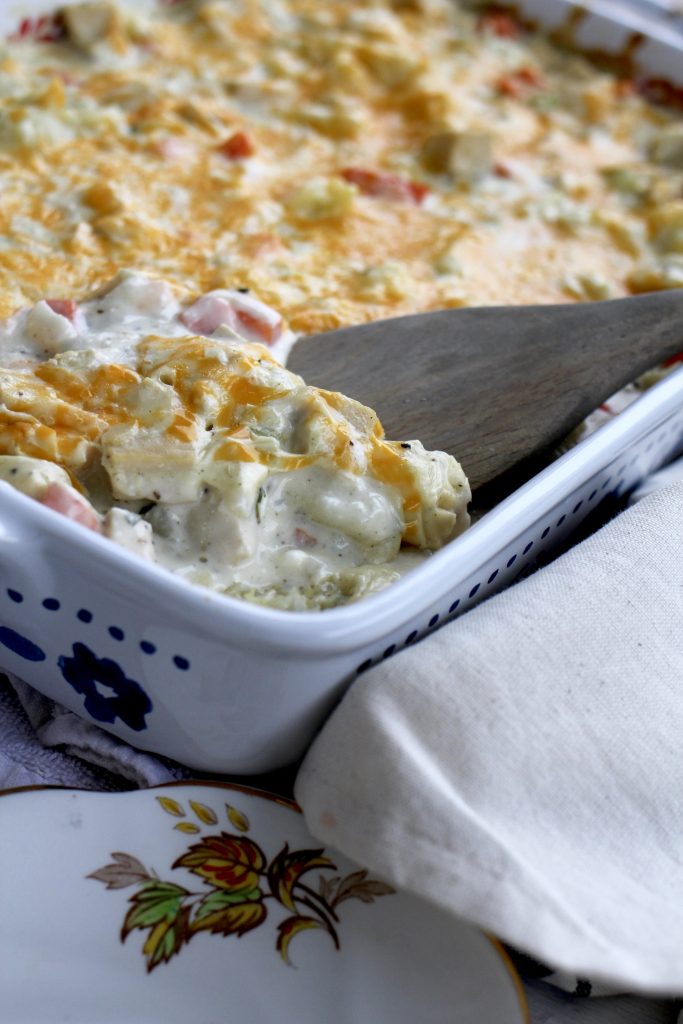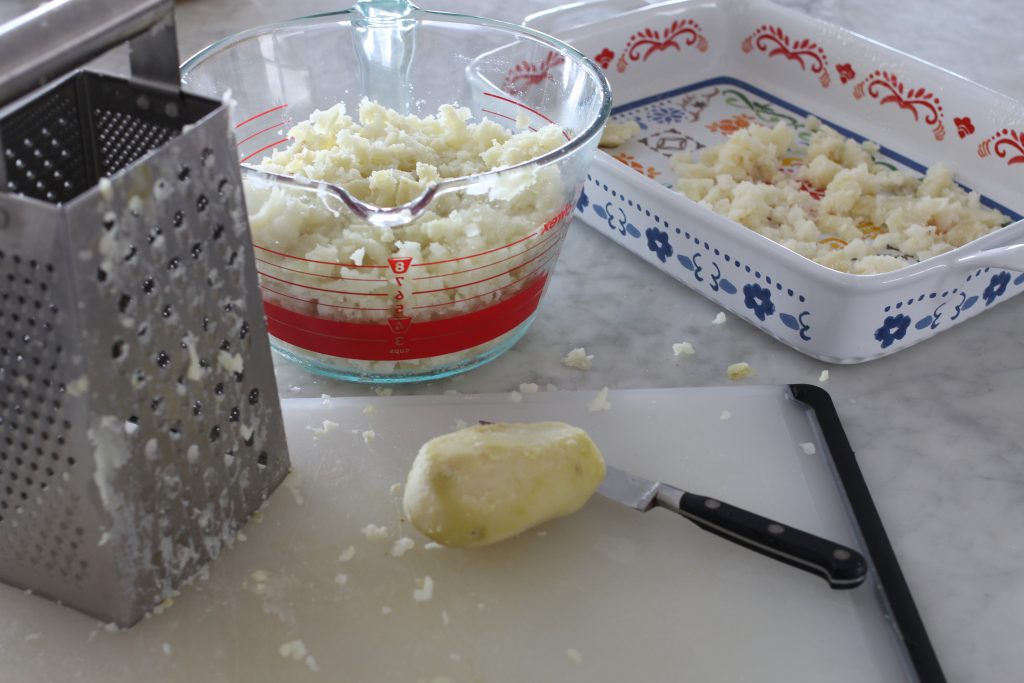 If you're looking for a dinner that will satisfy everyone from kids to grandparents, this is your dish! Cream Cheese Chicken Casserole,  served with a salad or a side of green beans or broccoli, will fill the heartiest appetite.  This dish is good for a make-ahead dinner. In a hurry?  Notes on the recipe give directions for making ahead and also substituting frozen hash browns and using soup instead of making the sauce from scratch.  Try this recipe with biscuits for the ultimate comfort meal!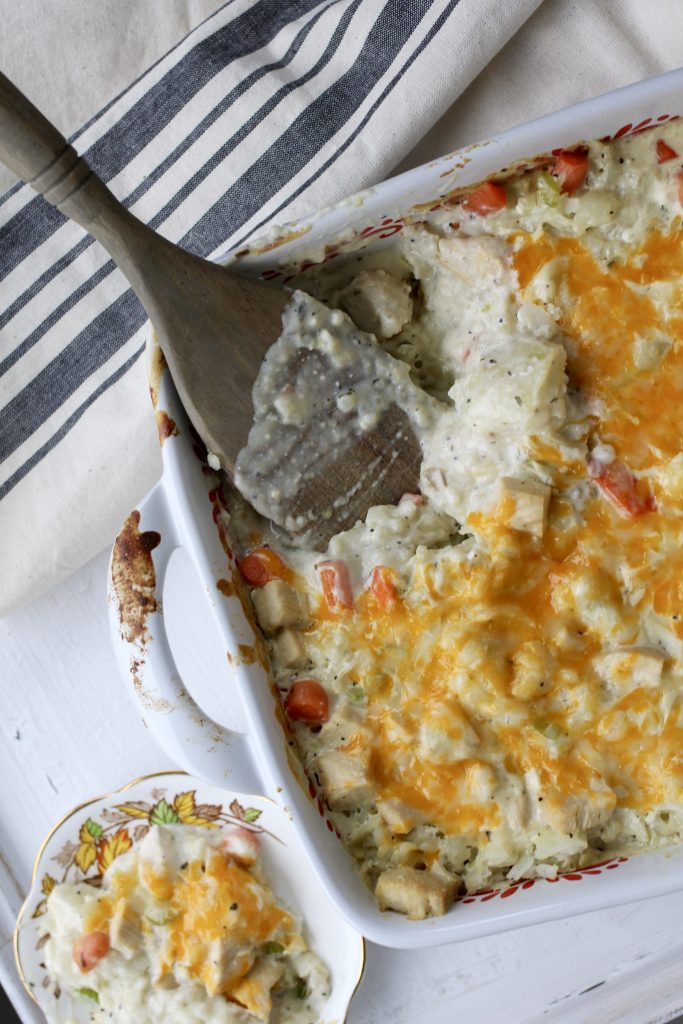 Creamy Chicken Casserole/Cream Cheese Chicken Casserole
Ingredients
6 -7

cups

cooked

shredded or cubed russet potatoes (skin off)

2-3

cups

cooked chicken breast

cooked, chopped

4

tablespoons

butter

1/2

cup

chopped celery

1

cup

chopped onion

2

cups

chopped carrots

1

teaspoon

salt

1

teaspoon

pepper

1

teaspoon

poultry seasoning

1

teaspoon

dried tarragon

1/4

cup

flour

8

oz

cream cheese

cut into cubes

21/2

cups

milk

I use 2 cups milk, 1/2 cup 1/2 and 1/2

2

cups

chicken broth

few dashes of hot sauce

Tabasco

2

cups

grated cheese

cheddar or Colby Jack
Instructions
Pre heat oven to 350 degrees and place rack in center of oven.

Grease a 9x13 or 4 quart casserole pan.

Place the grated potatoes into the pan. The amount of potatoes should equal about 6-7cups.

Sprinkle the chicken over the grated potatoes in the pan, set aside.

Melt the butter in a large saucepan. Add the chopped celery, onions and carrots. Cook over medium high heat for about 4-5 minutes or until the vegetables are tender.

Add the salt, pepper, poultry seasoning and dried tarragon leaves. Sprinkle with flour and mix well until flour disappears into the butter and vegetable mixture. Reduce heat to medium and cook for about 1-2 minutes.

Add cream cheese to pan. Mix until cream cheese melts.

Add milk, a cup at a time, waiting for sauce to thicken a bit after each addition. Use a large whisk to stir the sauce and smooth out any clumps of flour.

When mixture is thickened and bubbly, add chicken broth a cup at a time. Cook for an additional few minutes. Taste sauce and add salt and pepper if additional flavor is needed. Add a few drops of hot sauce.

Pour the sauce over the potatoes and chicken in the casserole pan and top with grated cheese.

Bake for 30 minutes, uncovered.
Recipe Notes
-This recipe can be made ahead in a few simple steps:1. Cook the potatoes, up to two days ahead, let cool, peel and grate into pan. Cover with plastic wrap by pressing closely to the potatoes to avoid browning. Store in refrigerator.2. Cook the chicken, chop and set in refrigerator until ready to use, up to four days ahead. 3. Chop the vegetables, place in a ziplock bag in refrigerator or saute in butter, cool and place in refrigerator until ready to make sauce. Or finish cooking the vegetables and making the sauce until ready to assemble casserole. -If you assemble the casserole ahead of time and don't bake immediately, reduce the amount of potatoes a bit ( I use about 6 cups of potatoes instead of 7-8 for make ahead). The potatoes absorb the sauce and the casserole dries out a bit to much if using 8 cups of potatoes. If you are making the casserole and baking immediately, 7-8 cups of potatoes works well. -If you would like to use cream of chicken soup instead of making your own sauce, reduce the butter to 2 tablespoons (for sautéing vegetables) and omit the flour and salt. Use 1 can soup, 1 cup milk, one can or about 14-16 oz chicken broth and salt to taste. Everything else stays the same. You may also use a 12 oz bag of frozen hash browns in place of the cooked and grated potatoes. The hash browns should be thawed before using. -This recipe works well in 2- 8x8 disposable pans. I make this ahead and take to friends or neighbors in need. Each pan serves about 4 adults.