Crunchy Coconut French Toast takes and old favorite and makes it a new classic! The crunchy outer crust of this French toast is addictive and so yummy it seems almost too decadent for breakfast!
For several years in the 90's, I went with Grant on business trips to Naples, Florida. Marco Island is a beautiful island south of Naples, on the Gulf side of Florida. Insider travel tip: If you visit after Easter, you practically have the beach to yourself on weekdays!
One year, we ate breakfast twice at a little place called Nene's Kitchen on Marco Island. First visit, the waitress talked me into trying the Crunchy French Toast. It was such a pleasant surprise!
The second time back, I ordered the same thing. Which I normally wouldn't do on vacation. But it complies with my "Food Rules" as Brooke calls them…
Rule #1: No ordering the same thing twice (while on vacay), unless it's unbelievably amazing, or you are trying to figure out how to make it at home.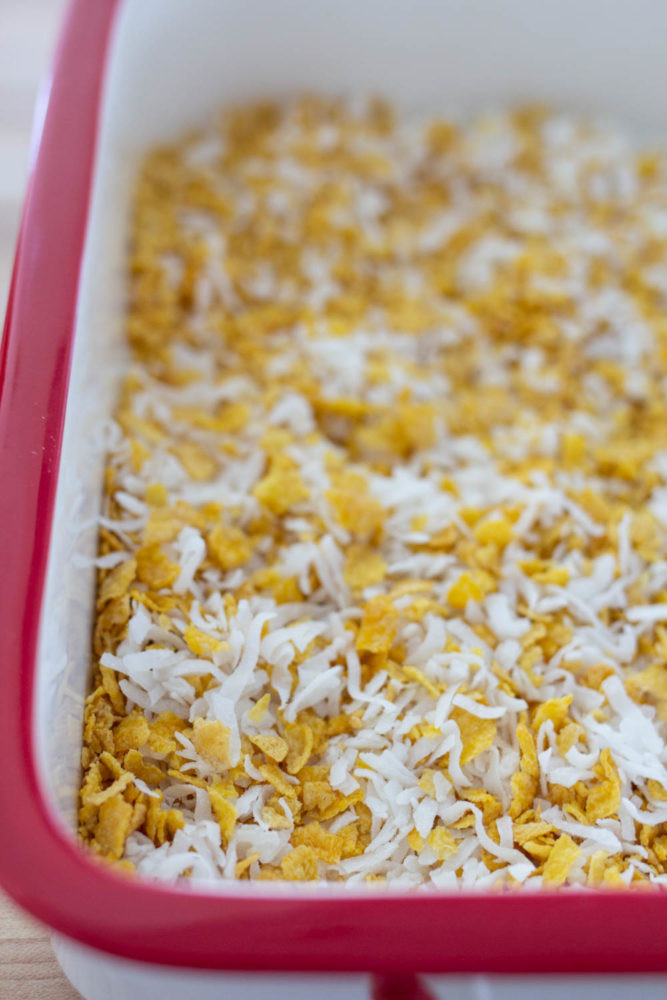 Rule #2 Absolutely NO ordering the same thing as your dining partner (EVER). I'll spare you and stop at rule #2.

Following rule #1, we tried about 10 different flavors of cupcakes at this delectable little cupcake shop- Simply Cupcakes of Olde Marco. My favorite? The Key Lime Cupcake.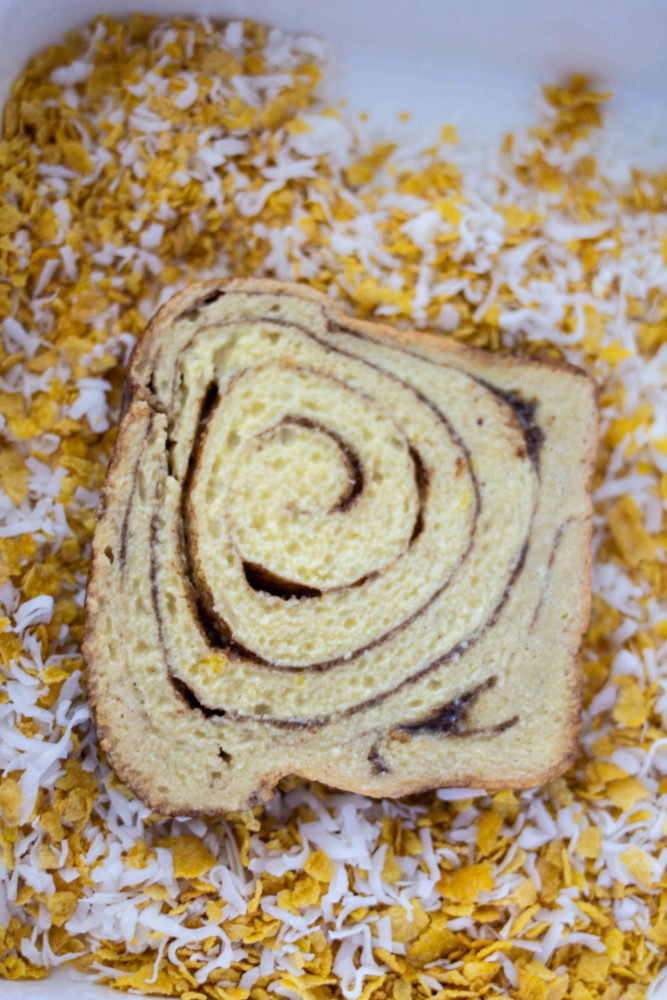 When I returned home, I wanted to re-create our favorite Crunchy Coconut French Toast. My friend Jo made this yummy stuffed french toast for a neighborhood breakfast not too long after we returned.
I'm not usually a fan of stuffed french toast, but this recipe was not too rich, and had the crunch I loved at Nene's!
Here is the recipe, revised a little. I'll print it as Jolene made it, and also with my alterations.
Crunchy Coconut French Toast
This easy to make coconut and cereal coated french toast is a fun change from ordinary French toast! Make sure to try the cinnamon syrup for an extra special treat.
Ingredients
For stuffed french toast:
1-8

oz

package cream cheese

softened

1/3

cup

powdered sugar

chopped pecans

8

slices

white bread

thick slice or dense white (Jo used Granny Sycamores)
For coating bread:
4

eggs

1/4 to 1/2

cup

milk

1

teaspoon

vanilla extract

1

cup

crushed cornflakes

1

cup

loose packed coconut
Instructions
Mix together and spread a little cream cheese mixture (1-2 tablespoons) between two slices of bread.

If you want to make the french toast without stuffing the slices of bread, simply cut out the step above.

Beat eggs, milk and vanilla in a pie plate.

Mix the crushed cornflakes and coconut in a separate dish.

Dip bread into the egg mixture and then the cornflake mixture.

Heat a griddle to medium – medium high heat and coat lightly with butter or spray with PAM.

Fry the bread pieces on griddle until lightly browned on each side. Do not pat down. Do not turn more than once. Watch carefully so coconut does not burn. Keep slices warm in oven till serving.

Serve with Cinnamon Syrup.
Recipe Notes
When I asked Jo for this recipe, she ran the recipe over with a loaf of Great Harvest Cinnamon Swirl Bread. I tried it with the Cinna-Swirl and loved it. As stated above, Jo used the Granny Sycamore White bread. I loved that as well. She made a tray of the stuffed version, and cut the pieces into triangles (fourths of a slice). Usually, I'm not interested in touching a piece of french toast that is not piping hot, but this was really yummy. If you are serving this to a crowd, double the recipe and place the slices in the oven until ready to serve. Slice the pieces in half or fourths, serve with a bowl of Cinnamon Syrup in the center of a platter.

You can also make this ahead of time and "stuff" the pieces of bread, dip and coat with crumbs, arrange in a single layer on cookies sheet or 9×13 pan. Cover dish with plastic wrap and refrigerate. When ready to cook, remove from fridge, and cook as directed.
Always serve with home made syrup, this will give your french toast, waffles or pancakes the WOW factor 🙂
Jo's Cinnamon Syrup
Ingredients
1

cup

sugar

1/2

cup

light corn syrup

1/4

cup

water

1

teaspoon

cinnamon

1/2

cup

heavy cream
Instructions
Stir together everything except the cream. Stirring constantly, bring to a boil over moderate heat and boil for 2 minutes. Syrup will thicken as it cools. Remove from heat and stir in cream.

Makes 1 1/3 cups, store in fridge.