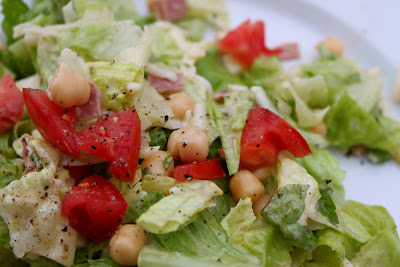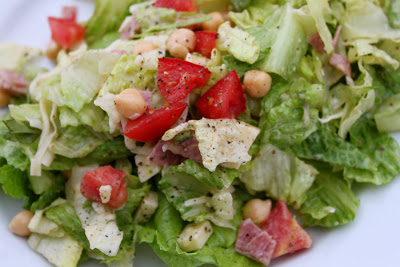 Are you a Chopped Salad fan? Every blue moon, I crave a chopped salad. Found this recipe for Cucina! Cucina! Chopped Salad a few days ago. It's from a restaurant we loved in Bellevue, WA . Lived there for two years and had two kids in that time. As my mom likes to say: "busy, busy". Anyway, this is a great side or main dish salad, depending on how much meat you add. I made it as a side for an Italian dinner last week, and omitted the chicken. Mamma Mia! You're gonna love it.
Cucina! Cucina! Chopped Salad
Cucina Cucina, Seattle, WA
Ingredients
Italian Vinaigrette
1

egg yolk

1

tablespoon

water

1

tablespoon

Dijon mustard

2

tablespoons

minced garlic

1/2

teaspoon

salt

1

teaspoon

coarsely ground black pepper

1/2

teaspoon

dry mustard

2

teaspoons

dried oregano

1/2

teaspoon

granulated sugar

1/3

cup

red-wine vinegar

2

tablespoons

lemon juice

1

cup

olive oil
Salad
4

ounces

cooked chickpeas

lightly chopped

1

head iceberg lettuce

chopped into 1/4- to 1/2-inch pieces

1

cup

fresh basil leaves

chopped

1

cup

coarsely grated mozzarella cheese

12

ounces

diced poached chicken breast

8

ounces

dry wine salami

diced

8

ounces

plum tomatoes

diced, divided

1/2

cup

grated provolone cheese

divided

3

thin green onions

thinly sliced, divided

8

lettuce leaves
Instructions
To prepare vinaigrette: Combine egg yolk and water in a small bowl; whisk well. Cover the bowl with a small plate and microwave on HIGH for 10 seconds or until the mixture starts to expand. Continue to cook 5 seconds longer. Whisk with a clean whisk. Cover, then cook on high for 5 seconds. Remove from the microwave, whisk with a clean whisk, cover and let sit 1 minute. (This process heats the egg enough to kill any harmful bacteria.)

In a food processor or an immersion blender, combine egg mixture, Dijon, garlic, salt, pepper, dry mustard, oregano, sugar, vinegar and lemon juice; process to blend. Slowly add olive oil, processing until emulsified. Set aside.

To prepare salad: Combine chickpeas, iceberg lettuce, basil, mozzarella, chicken, salami, half of the tomatoes, half of the provolone and half of the green onions. Toss with dressing. (You may not need all of the dressing. Refrigerate any that remains.) Divide evenly among 8 lettuce-lined plates. Garnish with remaining tomatoes, provolone and green onions.
Recipe Notes
-If you want to omit the egg yolk and water, use 3 tablespoons of half and half instead. After dressing is mixed, use water to thin. About 2-3 tablespoons of cold water total.