Cutler's Original Brownie Marshmallow Cookie Recipe is a brownie-marshmallow lover's dream! This is not a copycat recipe, it's Cutler's original recipe, available for you to make at home! It's no secret that brownies are my favorite! When I need a chocolate fix, and don't have time to bake, my car steers itself to Cutler's Cookies in Bountiful!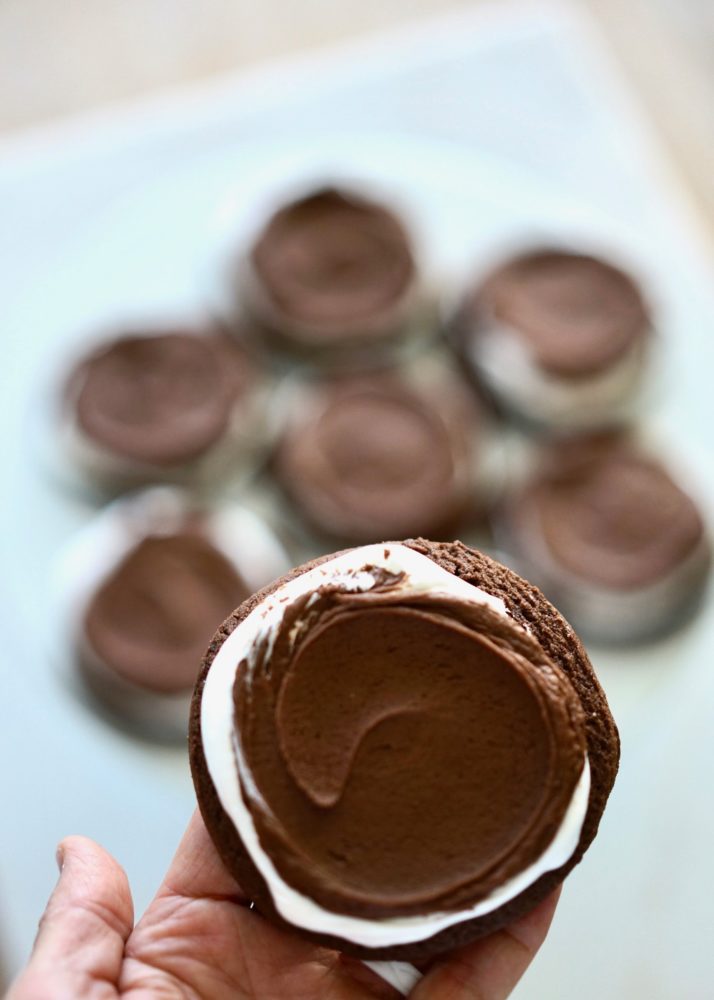 I've been buying cookies at Cutler's for almost 25 years and they are still one of my favorite cookie shops EVER! Cutler's is one of THE original cookie shops in Utah and has stood the test of time because of their quality products.
If you have lived in Davis County, Utah, you have probably been to Cutler's. And eaten a cookie or two! Cutler's is legendary in Bountiful. Their cookies are soft and delicious and taste like something your mom used to make back in the day! I collaborated with Curt to teach some baking classes years ago and he agreed to share his cookie recipes with A Bountiful Kitchen readers. These recipes are not copycat's, they are Cutler's original recipes.
Think soft chocolate cookie, under baked just a bit so it's like a brownie. Topped with homemade marshmallow creme. And then finished off with the best chocolate buttercream frosting. HEAVENLY!
Cutler's Original Brownie Marshmallow Cookie Recipe is easy to make and can be made using store bought marshmallow creme as well. Cutler's has used both prepared and homemade marshmallow creme in their store. They started out using prepared marshmallow creme on this cookie, then one time the supplier wasn't able to deliver, so Curt started making it from scratch.
He discovered how easy it is to make homemade marshmallow creme and then switched from buying a prepared product. It's so good and so simple too! We adjusted Curt's recipe and scaled it down to a make-at-home portion.
Curt uses cake flour in most of his cookie recipes to produce a tender cookie and also prevent cookie from going flat! Baking at our mountain elevation in Utah (4500 ft) and adding extra flour or using cake flour is a necessity to avoid flat cookies!
I love this cookie so much because it's the perfect marriage of cookie and brownie in one delicious treat! Do you love Cutler's cookies like I do? Try these other Cutler Cookie recipes!

This post updated with new photos and content in 2021. Originally posted in 2012.
Cutler's Brownie Marshmallow Cookies
Cutler's Cookies, Bountiful, Utah ** this recipe has been modified slighly for home baking**
cooking and frosting time
30
minutes
Ingredients
1

cup

butter

1 2/3

cups

white sugar

2

eggs

1

teaspoon

vanilla

¾

cup

unsweetened cocoa powder

1/2

teaspoon

salt

1 1/2

teaspoons

baking powder

2 3/4

cups

cake flour
Marshmallow Creme
1

egg white

1/3

cup

light corn syrup

1/2

cup

powdered sugar

1/4

teaspoon

sea salt

2

teaspoons

vanilla (clear or regular)
Chocolate Frosting
1

cup

butter, softened

3

cups

powdered sugar

3-4

tablespoons

milk, just enough to thin the frosting to spread

¼

cup

unsweetened cocoa powder

1

teaspoon

vanilla
Instructions
Preheat oven to 350 degrees.

Cream butter and sugar. Add eggs and vanilla and mix until blended well.

Add dry ingredients and mix just until blended.

Using a 1/4 cup measure or cookie scoop, place the dough onto a baking sheet and chill the dough for 20-30 minutes before baking. When ready to bake, place 6 per baking sheet and flatten each cookie ball slighly with palm of hand.

Bake for about 8-10 minutes.

Cookies are done when top is slightly cracked and no longer looks wet. Let cool completely.
For the Marshmallow Creme:
Beat the egg whites and corn syrup together in a clean bowl for 5 minutes until thick.

Add the powdered sugar, salt and vanilla. Beat on low speed until blended.

If marshmallow creme begins to soften, beat again for 1-2 minutes on high.
For the Chocolate Frosting:
Beat soft butter, cocoa, and powdered sugar together until smooth.

Add milk and vanilla, blend well.
Assembly:
After cookies are cooled, spread with about 1 tablespoon of marshmallow creme covering almost to edge of the cookie. Leave about 1/2 inch to the edge, the marshmallow will spread a bit depending on stiffness of creme.

Lightly drop a generous teaspoon of frosting in the center of the cookie; gently frost outward leaving a border of marshmallow creme showing around the edge. Frosting the cookie will push the marshmallow creme out further, so be sure to leave room for marshmallow creme to spread a bit.

This cookie is best served on the same day as baking!
Recipe Notes
-Be very careful to not get any of the egg yolk into the whites. It is impossible to beat the egg whites stiff if egg yolk gets in the whites! 
-For stiff egg whites, use room temperature eggs. Also make sure the bowl and beaters are completely clean and free of any oils for best results!
-When frosting the cookie with marshmallow, test one cookie to see how far the marshmallow spreads, then top with chocolate frosting. 
-Make the frosting while the cookies are baking. Make the marshmallow creme after the cookies have cooled. It tends to lose its shape if it sits on the counter too long. If you make the marshmallow creme and it loses its shape, beat again until it fluffs up a bit!
-The cookies may be made ahead and frozen. When ready to serve, remove, let come to room temperature, top with marshmallow and then frost.