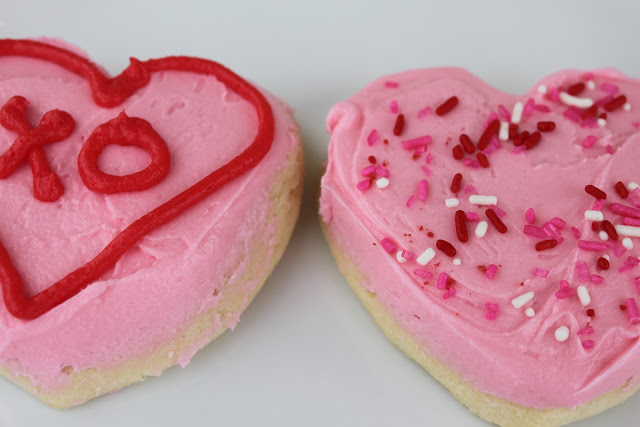 If you live in or near Btown, you've had a
Cutler's
sugar cookie. The secret to their puffy, soft cookies is (drum roll) Cake Flour.Yes, even though we are trained to never use cake flour in cookie recipes, that's exactly what Curt uses. He likes the texture and finished product. Apparently, we all love it too. Valentines Day is their single biggest cookies day of the year! If you want to make your own at home, here's the recipe. If not, run by Cutler's and buy a dozen or two. I buy them when I don't have time to make my own and place them in a cellophane bag with a pretty ribbon. Perfect treat for your Valentine.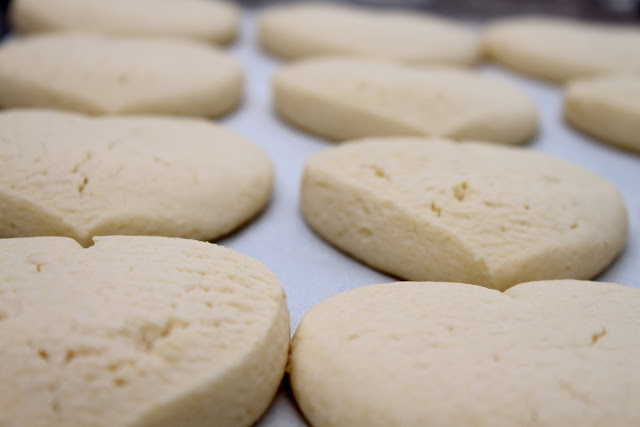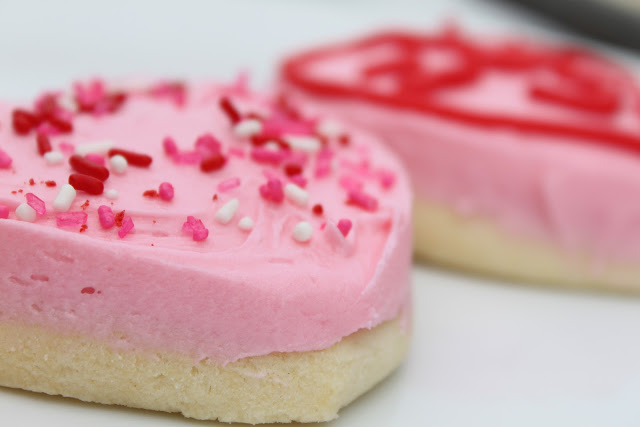 Cutler's Famous Sugar Cookies
Ingredients
1 1/2

cups

unsalted butter

3 sticks

2

cups

sugar

3

eggs

2

teaspoons

vanilla

2

teaspoons

baking powder

1/2

teaspoon

salt

5

cups

cake flour
Butter Cream Frosting:
1

cup

unsalted butter

4-5

cups

powdered sugar

milk

1

teaspoon

vanilla
Cutler's Glaze:
8

cups

powdered sugar

1

teaspoon

almond emulsion* or almond extract

1

teaspoon

meringue powder**
Instructions
Cream butter and sugar. Add eggs and vanilla and mix until blended well. Add dry ingredients and mix. To make dough easier to work with, chill before rolling.

Roll to about 1/4 inch thick and form (cut) cookies and bake at 350 for 10 minutes.

Cookies are done when top is slightly cracked and no longer looks wet. Edges may be slightly browned.

Top the cookies with either frosting or glaze.

Makes about 2 1/2 to 3 dozen, depending on the size of your cookie cutter.

Frosting: Beat soft butter and powdered sugar together until smooth. Add a splash of milk and vanilla, blend well. Tint frosting with food color as desired. Decorate with sprinkles immediately after frosting.

Glaze: Place powdered sugar in a large bowl. Add almond emulsion or almond extract to the powdered sugar, along with water, a little at a time whisking to combine. Continue whisking until smooth. Add just enough water to make a smooth glaze that stays on a knife when the knife is dipped in the glaze.

Glaze the cookies by dipping the cookie into the glaze in a bowl and removing quickly when coated.

Place cookies on rack or cookie sheet until glaze sets.
Recipe Notes
-*almond emulsion is sold at specialty cooking stores (Orson Gygi's in Salt Lake City) or stores where cake decorating supplies are sold.-** Meringue powder is also sold at specialty cooking stores. Cutler's uses meringue powder to create a shiny effect on their glaze. It is optional when making the glaze.-If the glaze starts to get too stiff, add a small amount of water until desired consistency.