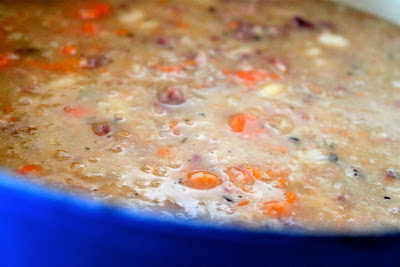 Do you ever feel totally guilty about throwing out the bone that is in the middle of your Honeybaked Ham after the holidays? I do. Not surprising, since Guilt is my middle name. My mom always made my Dad's Favorite Navy Bean Soup after Christmas and/or Easter with the leftover ham and of course, the bone. She made bean soup with her trusty pressure cooker. I remember watching that thing heat up, and was so afraid of the top popping off and exploding all over the kitchen. No idea where this fear came from…anyway, I make it on the stove in one of my stockpots. It's not quick, but really simple and inexpensive. If you are into food storage, and wondering (like me) what in the heck to do with all of those dried white beans, this is your chance to use up a few.
This was one of my dad's favorite foods- it's filling, and served with cornbread, feels like a meal. If you don't have a ham bone, (this sounds like an old Country Western song, doesn't it?) you can just chop up some ham and call it good.
Navy Bean Soup
Ingredients
pound

navy beans

picked over, rinsed and drained

10

sprigs parsley

2

sprigs fresh thyme or rosemary

1

bay leaf

2

large smoked ham hocks

about 1 1/2 pounds (or leftover ham bones)

1

medium onion

coarsely chopped

1

clove

garlic

coarsely chopped

4

cups

cold water

4

cups

chicken or vegetable broth

1 1/2

cups

carrot

coarsely chopped

Kosher salt and freshly ground black pepper at least 1 teaspoon of each
Instructions
Place the beans in a large saucepan and cover with cold water by about 2 inches (about 10-12 cups water). Bring to a boil and lower the heat to a simmer. Cook for 5 minutes; remove from the heat, cover, and let sit for one hour. Drain. Tie the parsley, thyme, and bay leaf together with kitchen twine.

In a large soup pot or Dutch oven combine the beans, herb bundle, hocks, onions, and garlic with the 4 cups water and 4 cups broth. Bring to a boil, cover, and adjust the heat so the soup cooks at a gentle simmer. Cook until the beans and hock are completely tender, about 1-1/2 hours.

Turn off the heat and remove the hocks. Cool slightly. Remove the meat from the hocks, discarding the bones, fat, and skin. Cut the meat into small cubes. Remove the herb bundle and discard.

Puree about 3 cups of the beans with a some of the liquid in a blender, or use immersion blender to blend some of the beans. (For a smoother soup puree all the beans.) Stir the puree and diced meat into the soup. Heat the soup and adjust the seasoning as needed with salt and pepper.