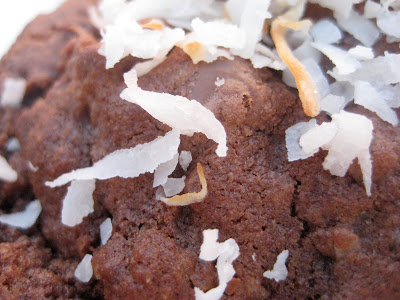 A couple of weeks ago, I was sitting at a baseball tournament in Ogden. It was a little cold. Ok, it was a lot cold. For the parents. The kids never seem to mind the weather. Last year(or maybe it was the year before?), we played at a tourney in Springville, UT, it was LITERALLY a blizzard. Snow blowing sideways, 10 PM, a school night. The spectators -which consist of only parents- bc who in their right mind would CHOOSE to come out and watch a game in this weather, at this time of the night- unless your kid is playing. Anyway, the kids are out there, in shirt sleeves, acting like it's summer! Hello, it's snowing. So, two weeks ago-there we were, trying to stay warm and dry, up in Ogden. Val, whose son Preston plays on the team starts handing out these:
Way to add interest to the game. Never tried a coconut M&M. I never knew they existed. If you love coconut, you have to try these. Not available everywhere. I did a little research- originally, they were made to be a limited edition item. But so many peeps complained after they were taken off store shelves, they are now being offered as a permanent item (as of January 2010). Val sent me an email earlier this week saying she spotted them in the case at Sam's club in SLC. Uh – yeah, if I bought a case, I would o.d. on these. I bought a few packages at Maverick (a chain of convenience stores in Utah) they were on sale- 4 for $2. If you are a coconut and chocolate person, this recipe is for you. Took a basic chocolate cookie recipe and added some coconut and coc M&M's. The coconut makes the cookie chewy and moist, almost like a brownie.
My verdict: Serious junk food, with class.
Double Chocolate Coconut M&M Cookies
Ingredients
1

cup

sugar

1

cup

brown sugar

1

cup

unsalted butter

softened

2

large eggs

1

teaspoon

vanilla

2 3/4

cups

flour

1/2

cup

cocoa powder

unsweetened

1

teaspoon

baking soda

1

teaspoon

baking powder

1/4

teaspoon

salt

1

cup

coconut M & M's

about 7 pkgs, green candy removed

1

cup

chocolate chips

1/2

cup

flaked coconut

unsweetened

coconut for top of cookies
Instructions
Preheat oven to 375°F

Beat butter until softened. Add sugars beat until smooth. Add eggs, one at a time. Mix in vanilla. Add rest of dry ingredients all at once into bowl with butter mixture. Mix just until dry ingredients are incorporated.

Scoop dough onto a parchment lined ( or ungreased) cookie sheet. After the cookies are scooped and ready to bake, pour some coconut onto a plate, and roll the top of the cookie dough ball into the coconut. Place back on pan.

Bake at 375 for about 8 minutes or just until cookies are set.

After cookie is baked, sprinkle with a little more coconut.
Recipe Notes
-I picked out the green M& M's …because I knew I wouldn't like the way they looked in the cookies. If green doesn't bother you, leave them in. You'll probably only need 4 packages.