Summer is the best time to break out the Dutch oven and make a pot of Dutch Oven Molasses Baked Beans. I've been making variations of this recipe for years. It's always a crowd favorite and a perfect accompaniment to any barbecue meal. You can make these while out camping or even in your backyard.
I've included a little step by step photo tutorial, because I know how much you love a good picture story. Have a Happy 24th of July (Pioneer Day in Utah) !
Things are heating up. Bacon and onions cooking…
From left to right…molasses, yellow mustard, brown sugar, ketchup. Measure them out. Get ready to dump.

Add the beans.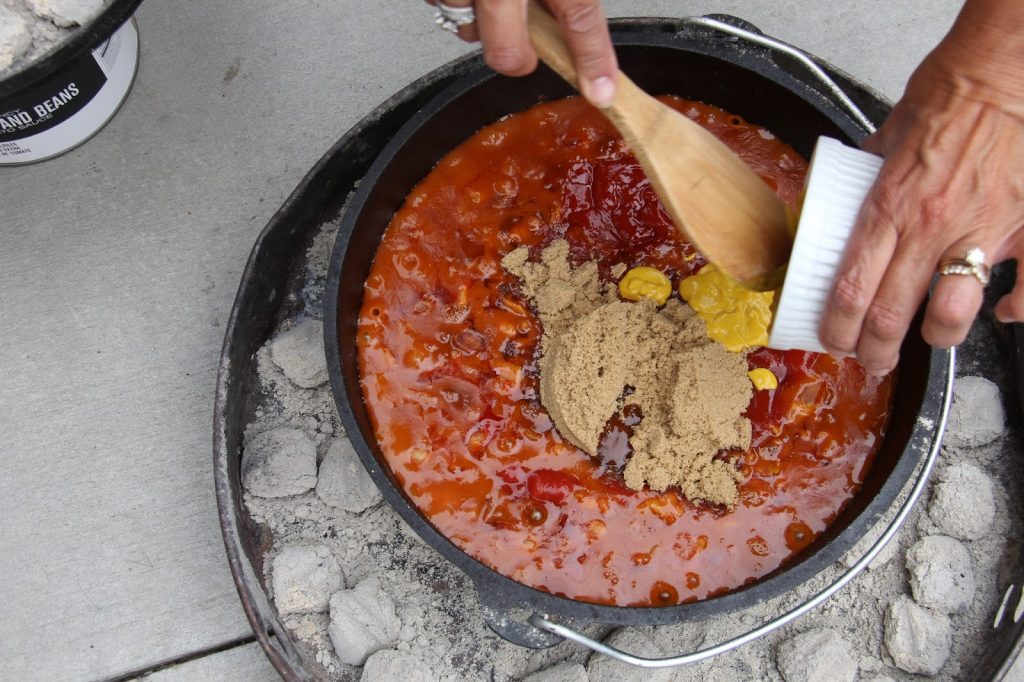 Mustard is key.
Pour in the molasses…

Dump in the brown sugar and ketchup.
Are you bored yet? My friend Melinda tells me she likes the step by step.
Don't forget the hot sauce.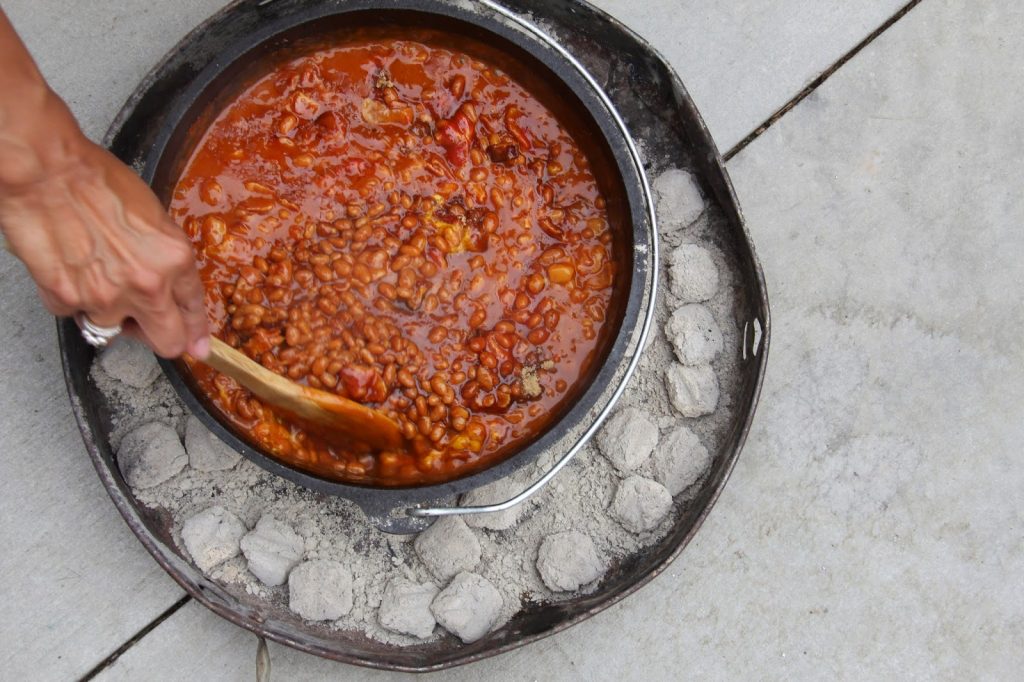 Place the lid on the pan. you don't need one of these fancy tools, but we bought one after many years of having dutch ovens and we think it's pretty useful. Large pliers also work. Gloves are good too.

Cook for about 40 minutes or until bubbly. this is how they'll look when done.
A side note to my story.
Some of you are very observant. You email or leave a comments about details in photos. Such as- why do there appear to be SO MANY COALS under the Dutch oven???? Because friends, this is why. My husband thinks that whenever we pull out the Dutch ovens, the cooking expertise shifts from me, to him. He insists on placing half of the bag of briquettes into the chimney we use to heat up the coals. Even if it's a 50 lb bag. Not really, but it seems that way.
You know how men are. Fire is good. More fire is twice as good!
Anyway. He is an out of doors expert, and I am not, that is a fact.
But I'm a cooking type of person, and he is not. Also a fact.
So we always have "words" when we attempt Dutch Oven cooking.
The convo usually goes like this.
G: I am doing this.
Me: okay. (as I watch him heat about 50 coals)
G: I've got this.
Me: You're using too many coals.
G: No I'm not.
Me: yes you are.
G: Who is doing this me, or you?
Me: I'm going inside.
So, yes. in the photos, you will see lots of coals. More than I tell you to use in the recipe. More than the Scouting Magazine article titled "Dutch Oven Cooking 101" advises you use. And also Brookie's toes in the photo above 🙂
But hey.
What do the Scouts know?
I've got to hand it to him.
That's one good looking pan of beans.