Easy Lemon Chicken Dinner is a dish that can be enjoyed year round. It's light enough for summer months, and hearty enough for cold winter days. We love this one dish meal that can be made in minutes!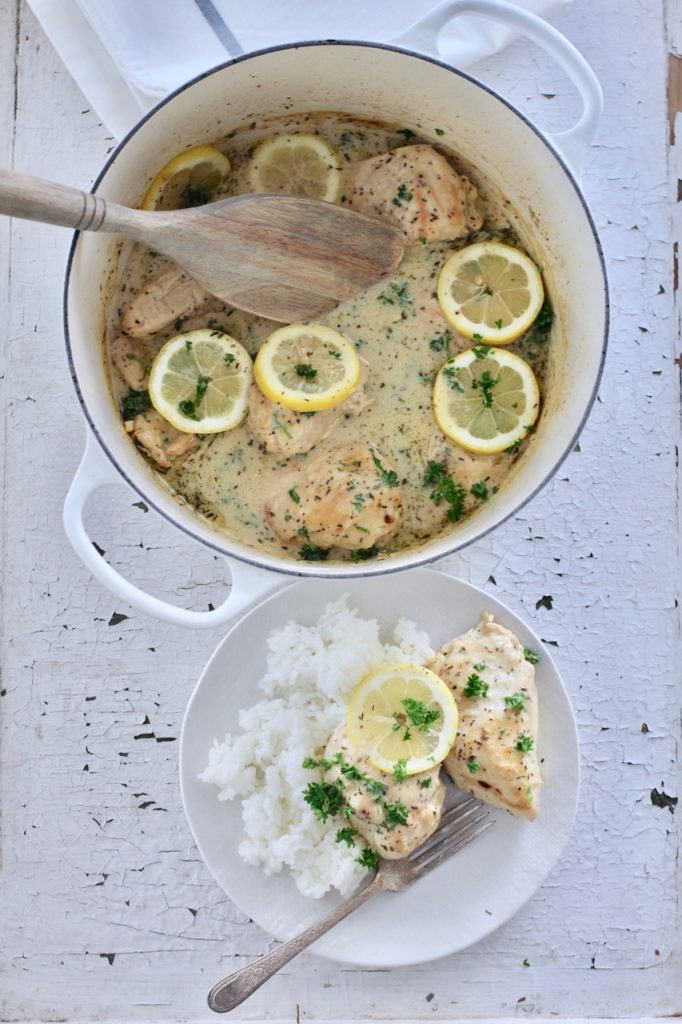 I'm always looking for ways to make dinner in less than 30 minutes.  This recipe combines chicken in a light, fresh lemon cream sauce in one delicious main dish. Perfect for weeknight, Sunday dinners or even when hosting company. Easy Lemon Chicken Dinner is the solution to creating a meal everyone will love in minutes.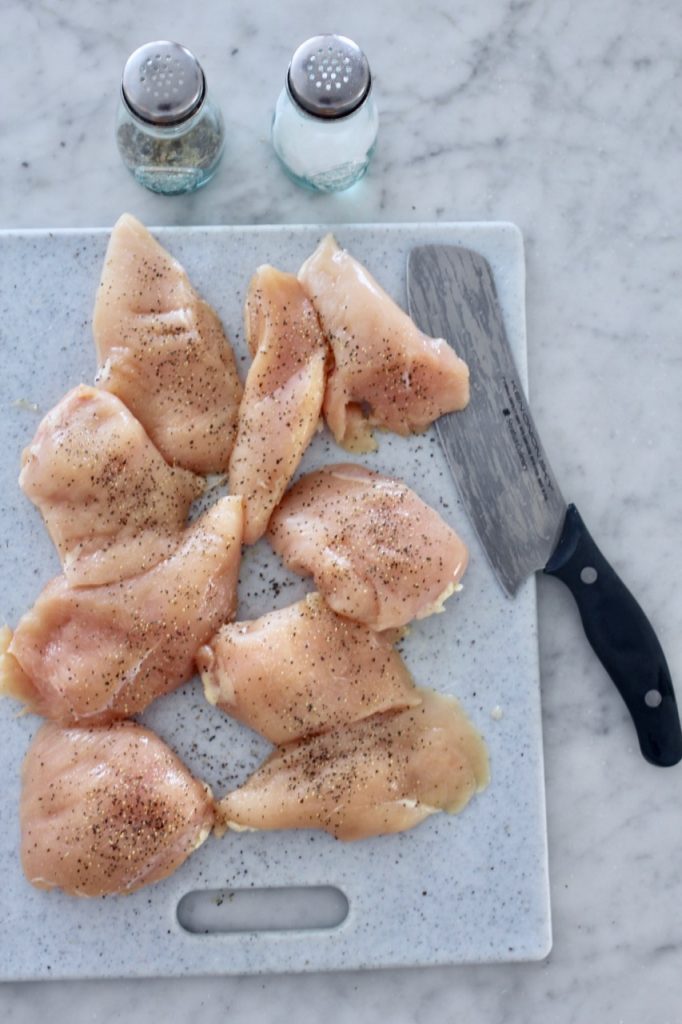 Cooking Your Chicken to Perfection
One of the most difficult tasks faced when cooking chicken (in my opinion) is how to cook chicken, without overcooking. After many, many tries, I use this simple method to insure my chicken is not overcooked when making this dish. It requires a watchful eye and just a few minutes. I've listed instructions in the recipe and notes attached to the recipe, but basically the method includes cooking on both sides over high heat for one minute,  then removing chicken from the pan and setting aside. The lemon cream sauce is made and the chicken is added back to the pan to finish cooking and then sits covered for 5 minutes. That's it! Really simple. Really easy.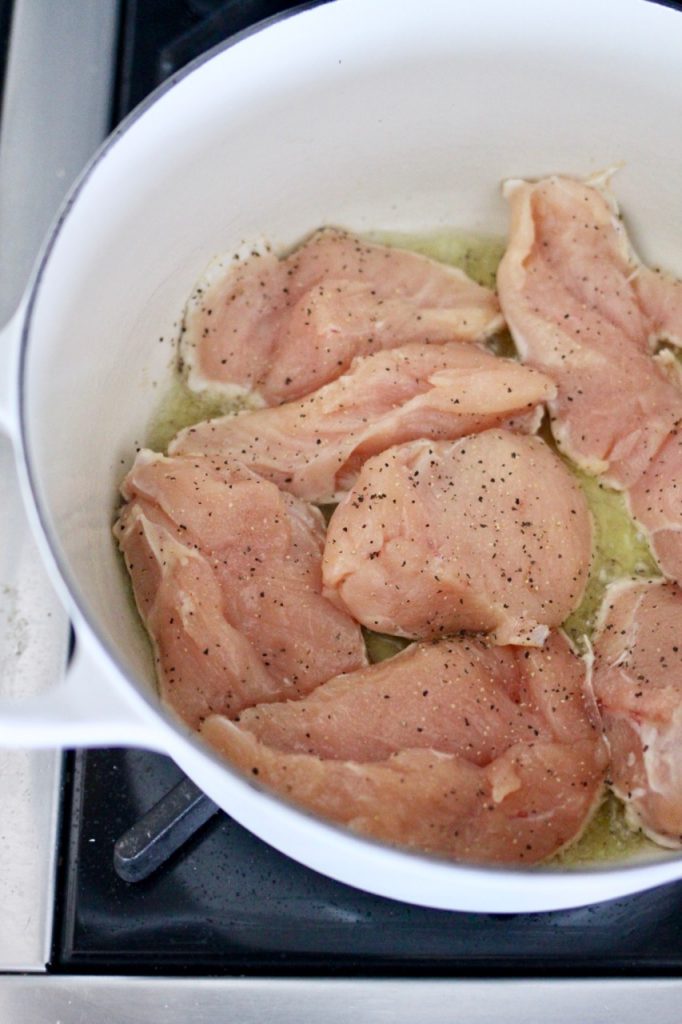 The key to not overcooking is to finish cooking the chicken just before serving. When I was developing this recipe, several times- (too many to count) I left the chicken in the sauce on medium or  low, while I hurried and finished cooking a side dish or made a salad. The sauce heated up and came to a boil again and which resulted in overcooked chicken. Removing the chicken from the pan after cooking for one minute on each side and then adding back to the pan when the sauce is finished is the best way to insure the chicken is perfectly cooked.   If you like to use the thermometer method, chicken breasts are cooked when they reach a temperature of 160 using an instant read thermometer. The temperature will continue to rise for a few minutes after it reaches 160, so I like to turn off the heat and remove from heat a bit before it reaches 160.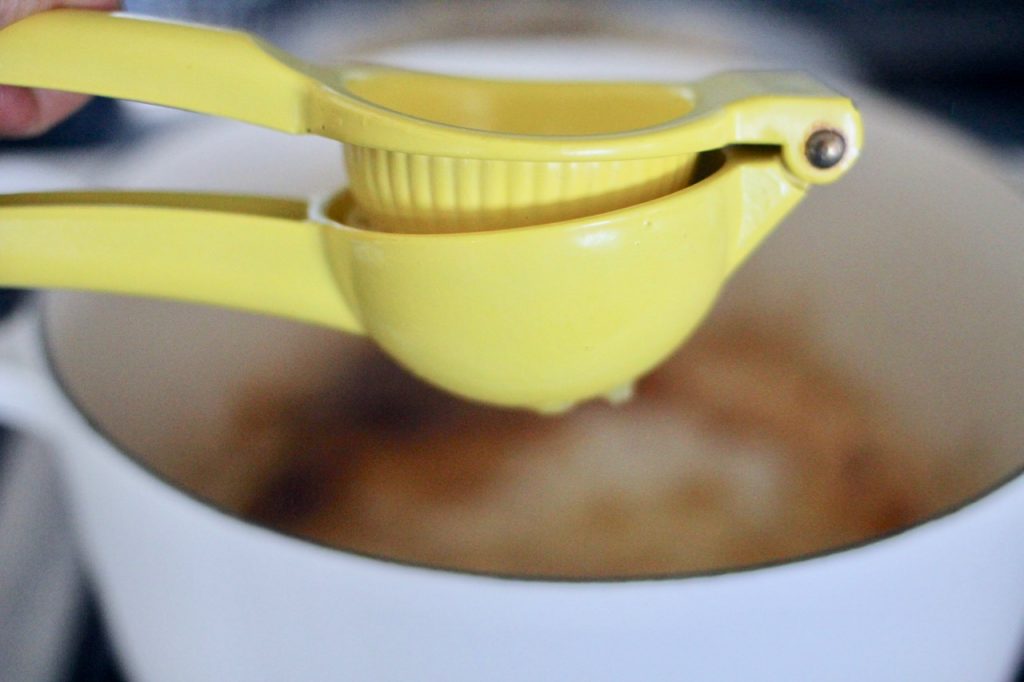 Serve it Up
This dish is best with a green salad or green veggies. We love it with white or brown rice, or pasta tossed with a  little olive oil or with some of the sauce drizzled over the top. Orzo, a rice shaped pasta is also a fun side to serve with this dish. I love this Orzo salad, but Orzo pasta can also be served alone as a side. It can be cooked ahead and mixed with a tablespoon of olive oil and then placed in a ziplock bag (squeeze out all air)  in the refrigerator until ready to eat for make-ahead convenience. When ready to eat,  break up the clumps of pasta a bit with your fingers while in the bag, place the bag of pasta in a bowl of hot water in the sink while making Easy Lemon Chicken Dinner. Instant Pot mashed potatoes are also a perfect side dish to this meal. I highly suggest preparing your side dishes before cooking the chicken. Hope you love this quick and easy dinner!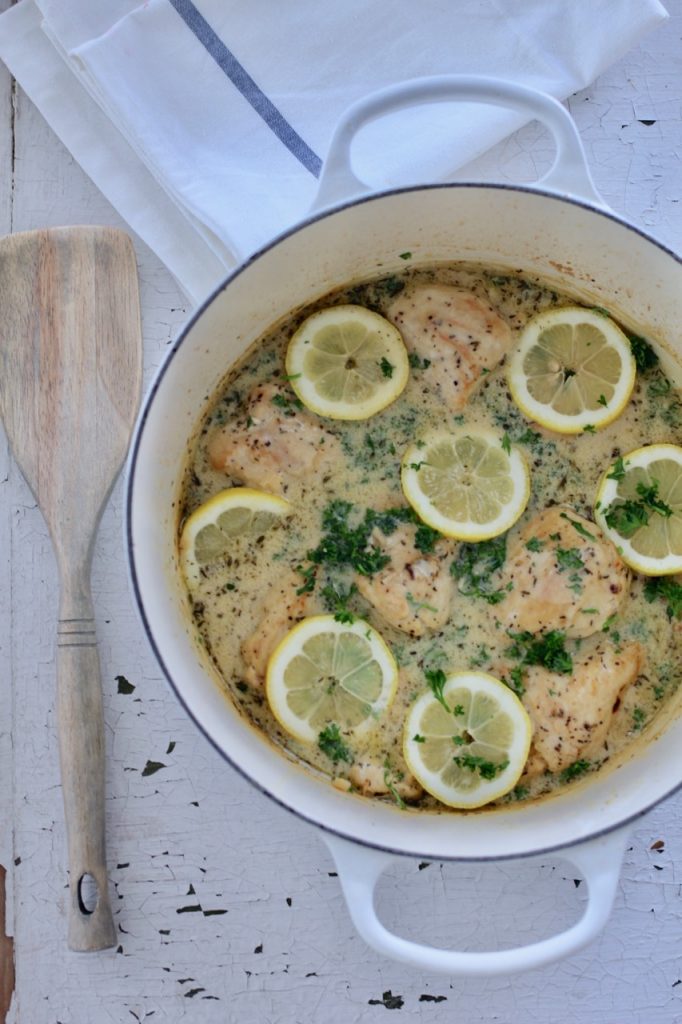 Easy Lemon Chicken Dinner
Ingredients
1

tablespoon

olive oil

3-4

chicken breasts

cut in half and pounded until about 3/4 inch thick, or sliced in half lengthwise

salt and pepper

other seasonings as desired

2

tablespoons

butter

2

tablespoons

flour or cornstarch*

juice of 2 lemons

about 1/4 cup plus 1 tablespoon,  free of seeds

1 3/4

cups

chicken broth

1

cup

half and half

2

teaspoon

dry tarragon or 3 tablespoons fresh tarragon leaves

chopped

1/2

cup

chopped fresh parsley

sliced lemon for garnish
Instructions
Cook pasta or rice to serve with chicken, set aside.

Heat 2-3 inch deep frying pan  or dutch oven over medium high heat* and add olive oil to pan. Generously salt and pepper chicken on both sides.

Carefully place chicken in pan with olive oil. Cook for one minute on each side. The chicken should start to turn golden in color. Remove to a plate or platter. Set aside.

Turn heat to medium. Do not clean out pan. Add 2 tablespoon butter to pan.

Add 2 tablespoons flour. Cook and whisk just until flour and butter are incorporated, scraping up browned bits from bottom of pan.  The mixture will most likely be a little lumpy. Add fresh lemon juice to pan.

Slowly add 1 1/2 cups of chicken broth, whisking while adding broth. Add 1 cup of half and half .  Add tarragon, salt and pepper to taste.

Heat until smooth and bubbly. Add chicken back to pan with sauce and cook for  5 minutes over medium heat. The sauce should gently boil while cooking chicken. If it is not a gentle boil, increase heat a bit. Cover pan with lid and remove from heat after cooking  and let sit, covered for 5 minutes.

Just before serving, garnish with lemon slices and fresh chopped parsley.  Serve with rice or pasta while hot.
Recipe Notes
Since stoves vary in temperature, medium high heat on my stovetop may be too high on your stovetop. To insure the chicken doesn't get burned, start out with one chicken breast over medium heat and see how it cooks. If after the one minute time limit it is not golden, remove the chicken breast and turn the heat to medium high and let heat for another minute or two. Then place the remaining chicken in the pan and proceed as directed. 
If you have a gluten allergy, cornstarch may be substituted in place of four. Add the cornstarch to the broth and whisk before adding to the pan. 
I usually cut the chicken lengthwise,  instead of pounding,  for less mess. 
The thickness of the chicken will vary.  I tested this recipe using chicken that had been cut to about 3/4 inch thickness, or pounded to 3/4 inch thick. 
Other herbs and spices may be added as desired. A clove of garlic may be minced and added when the lemon is added to the pan. 
If you like a heavier cream sauce, use cream in place of the half and half. More broth may be added to thin the sauce in the end if needed. 
To make sure chicken is cooked, remove one breast after following recipe instructions, and cut into thickest part of chicken. The chicken is cooked when the middle no longer has a fleshy appearance. An instant read thermometer may also be inserted into chicken while in the pan and should read 160.