Easy Lemon Chicken Dinner is a dish that can be enjoyed year round. It's light enough for summer months, and hearty enough for cold winter days. We love this one dish meal that can be made in minutes!
I'm always looking for ways to make dinner in less than 30 minutes.  This recipe combines chicken in a light, fresh lemon cream sauce in one delicious main dish. Perfect for weeknight, Sunday dinners or even when hosting company. Easy Lemon Chicken Dinner is the solution to creating a meal everyone will love in minutes.
Cooking Your Chicken to Perfection
One of the most difficult tasks faced when cooking chicken (in my opinion) is how to cook chicken, without overcooking. After many, many tries, I use this simple method to insure my chicken is not overcooked when making this dish. It requires a watchful eye and just a few minutes. I've listed instructions in the recipe and notes attached to the recipe, but basically the method includes cooking on both sides over high heat for one minute,  then removing chicken from the pan and setting aside. The lemon cream sauce is made and the chicken is added back to the pan to finish cooking and then sits covered for 5 minutes. That's it! Really simple. Really easy.
The key to not overcooking is to finish cooking the chicken just before serving. When I was developing this recipe, several times- (too many to count) I left the chicken in the sauce on medium or  low, while I hurried and finished cooking a side dish or made a salad. The sauce heated up and came to a boil again and which resulted in overcooked chicken. Removing the chicken from the pan after cooking for one minute on each side and then adding back to the pan when the sauce is finished is the best way to insure the chicken is perfectly cooked.   If you like to use the thermometer method, chicken breasts are cooked when they reach a temperature of 160 using an instant read thermometer. The temperature will continue to rise for a few minutes after it reaches 160, so I like to turn off the heat and remove from heat a bit before it reaches 160.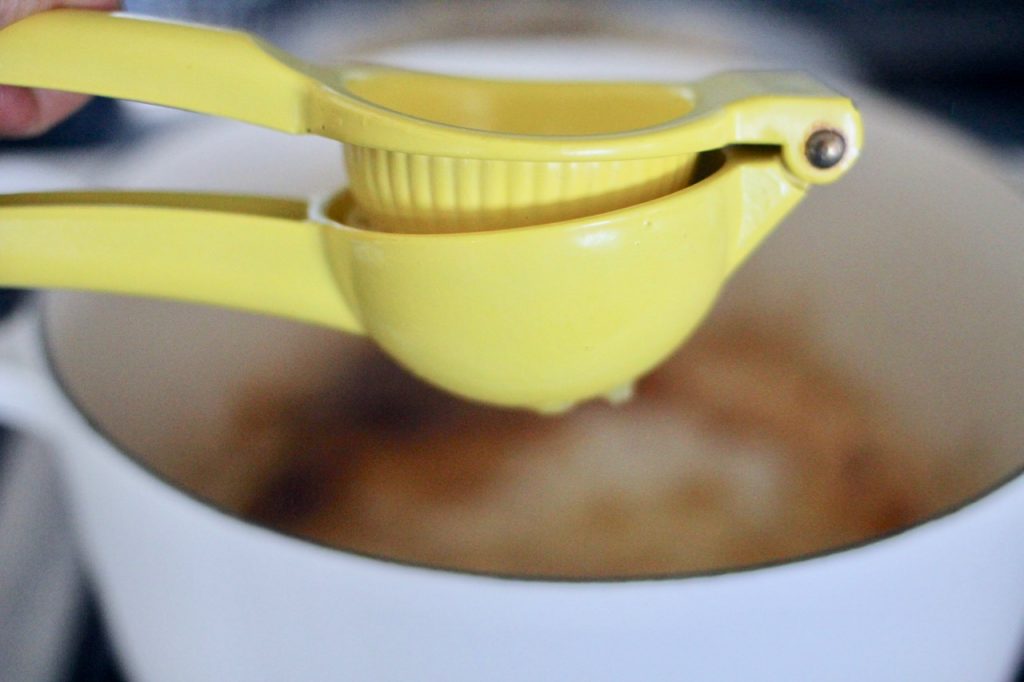 This citrus juicer is one of the most often used tools in my kitchen! Click on the photo for link to this handy tool.