Easy Roasted Cauliflower with Balsamic is a healthy, low carb alternative for your Thanksgiving table! Your guests will love this new family favorite at their feast, and you will love how quick and easy it is to put together this delicious savory dish!
Chef Secret: Roasting Cauliflower in Foil
I recently attended a women's retreat where I was surrounded by nature, great food and inspiring women. My soul was filled! We had a chef who prepared meals for us during this relaxing retreat. I found the chef in the kitchen one evening, wrapping the stems of cauliflower florets with foil, and roasting them stem side down on a tray.
He explained that cooking the cauliflower this way allowed the flavors to stay inside the "flower" portion of the vegetable. With just a few seasonings and the right timing, his foil-encased cauliflower became a healthy, flavor-packed side dish. I could not get enough of this side dish, even though I am usually not a big cauliflower fan!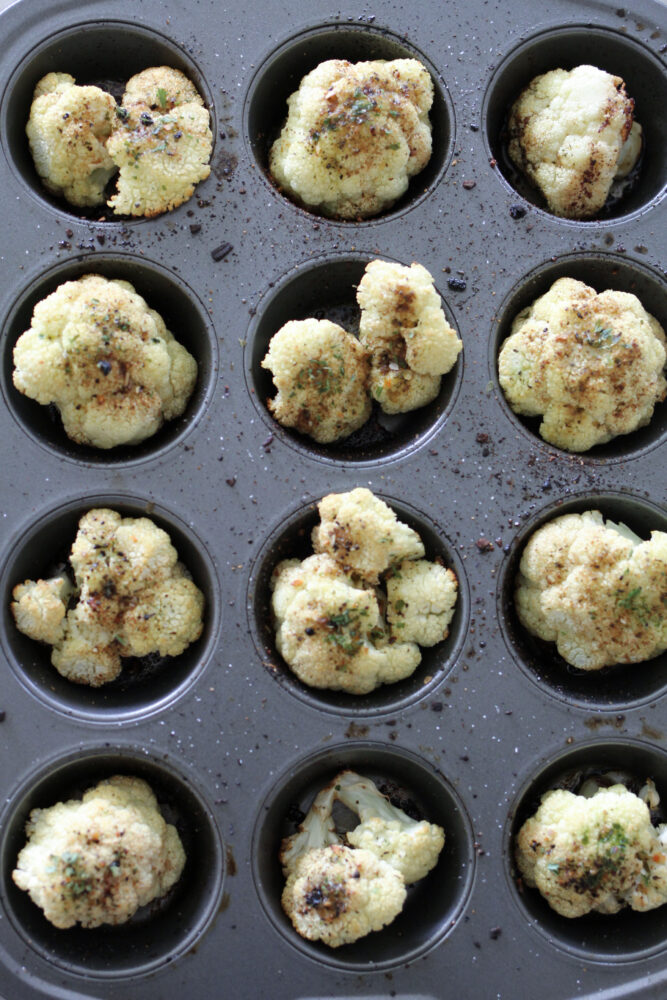 I've never found a method I loved for cooking cauliflower…until now. I knew wrapping each piece was too tedious for you and me. How could I replicate the Chef's dish without the hassle of wrapping cauliflower stems?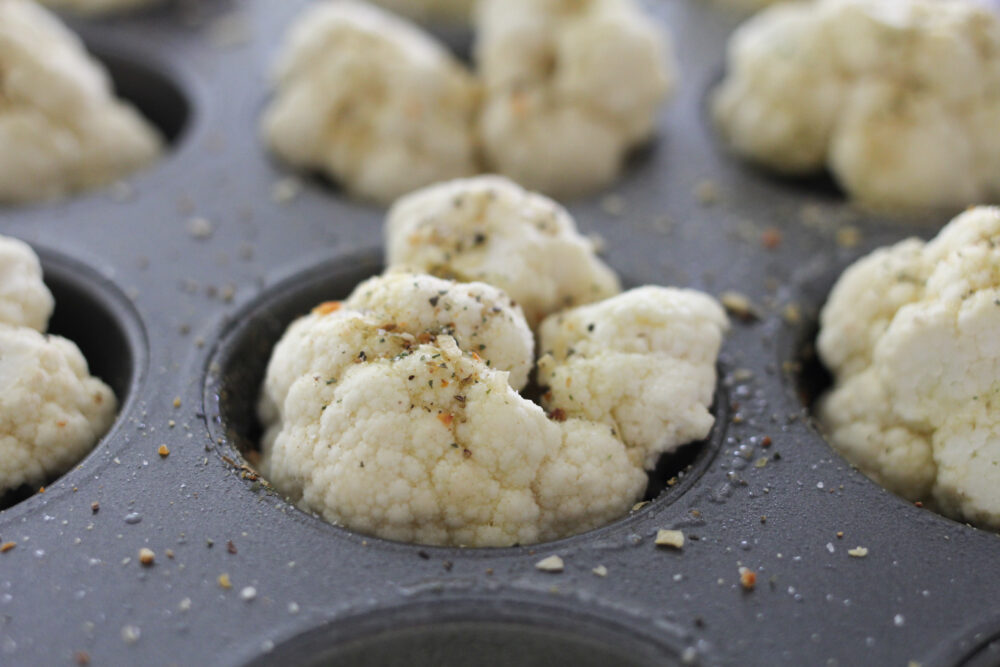 Muffin tins to the rescue!
By cutting the florets into smaller pieces and placing them stem side down in a muffin tin, I was able to produce the same wonderful recipe in a fraction of the time. The balsamic and oil stayed in the muffin cup and the vegetable stayed in place, allowing the top of the cauliflower to cook evenly.
Cauliflower is often frowned upon, because it's not necessarily quick and easy as far as preparation goes. There are so many health benefits to incorporating Cauliflower into your mealtime, here are a few…
What do you know about cauliflower? (Cauliflower 101)
Cauliflower is a cruciferous vegetable along with its cousins, broccoli, cabbage and brussel sprouts.
They are lower in calories and carbs than other cruciferous veggies and high in vitamins C and K in addition to vitamins B9 and B6.
Cauliflower is so versatile! It can be roasted, baked, grilled, stir fried, riced and eaten raw!
You may have seen many varieties of cauliflower in colors such as green, purple, orange and of course, white.
1 cup of cauliflower packs 2 grams of protein and 25 calories.
Cauliflower is a great substitute for people trying to reduce starchy carbs (such as breads and pasta) from their diet. Think riced cauliflower!
Simple way to cut cauliflower
Have you ever picked up cauliflower and wondered how to cut it up? Here are simple instructions for cutting cauliflower:
Remove leaves (leaves can be cooked and eaten as well!)
Hold stem side down
Cut in half from top through stem, Cut each half again
Place each quarter stem side down, cut the large stalk out.
This will leave larger florets than can be broken by hand into smaller pieces.
How to Cook Easy Roasted Cauliflower with Balsamic
Preheat oven to 425
Wash and trim head of cauliflower into smaller pieces – place head up in muffin tin
Drizzle each piece with olive oil and seasonings
Roast
Add Balsamic
Finish roasting
Enjoy!
Oven Roasted Cauliflower with Balsamic
Ingredients
1

head cauliflower

3-4

tablespoons

olive oil

21 Season Salute* or lemon pepper

2-3

tablespoons

Balsamic vinegar
Instructions
Preheat oven to 425 degrees.

Rinse and drain head of cauliflower pull off any leaves.

Cut into small florets (see instructions above).

Place florets stem side down (flower side up) in a muffin tin. More than one floret can be placed into each muffin cup.

Drizzle olive oil over florets. Sprinkle with seasoning of your choice; (21 Season Salute from Trader Joes or lemon pepper)

Sprinkle with salt.

Roast 15 mins at 425 degrees, remove from oven, drizzle generously with balsamic. Roast for another 5-8 minutes.

Remove from oven, and enjoy!
Recipe Notes
This dish can be made up to two days ahead and then reheated in microwave for 1-2 minutes before serving
*21 Season Salute is a delicious blend of spices found at Trader Joes. This seasoning can be used in a variety of dishes and with both meats and vegetables. Highly recommended!
This dish can also be served at room temperature.