Who can resist the smell of pretzels in a mall?? Not me! Golden and a bit crisp on the outside, warm and chewy on the inside. Our version of famous mall pretzels are all that and more! Did I say buttery, salty and soft too? Oh my. This Easy Soft Pretzels recipe is addictive and a crowd pleaser every time!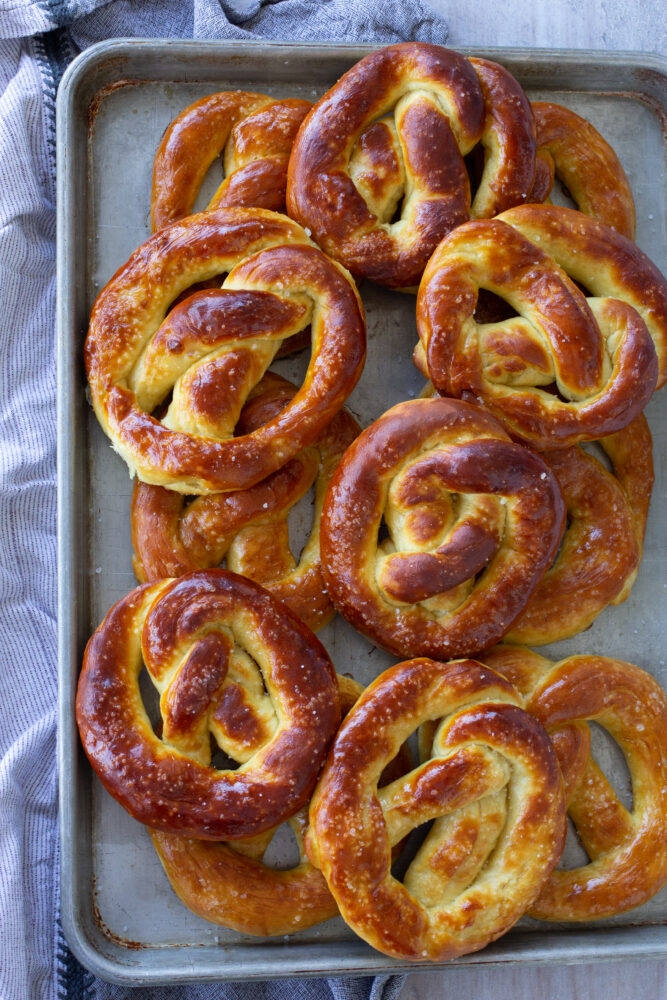 If you have ever eaten Auntie Anne's Pretzels at a mall, you know this is a seriously delicious treat. This is comfort food in a napkin! With the exception of popcorn, (with generous butter and a sprinkle of salt) I'm not sure there is another salty treat I love more! And now the good news, this homemade pretzels recipe requires just a few basic pantry-friendly ingredients and takes minutes to mix together.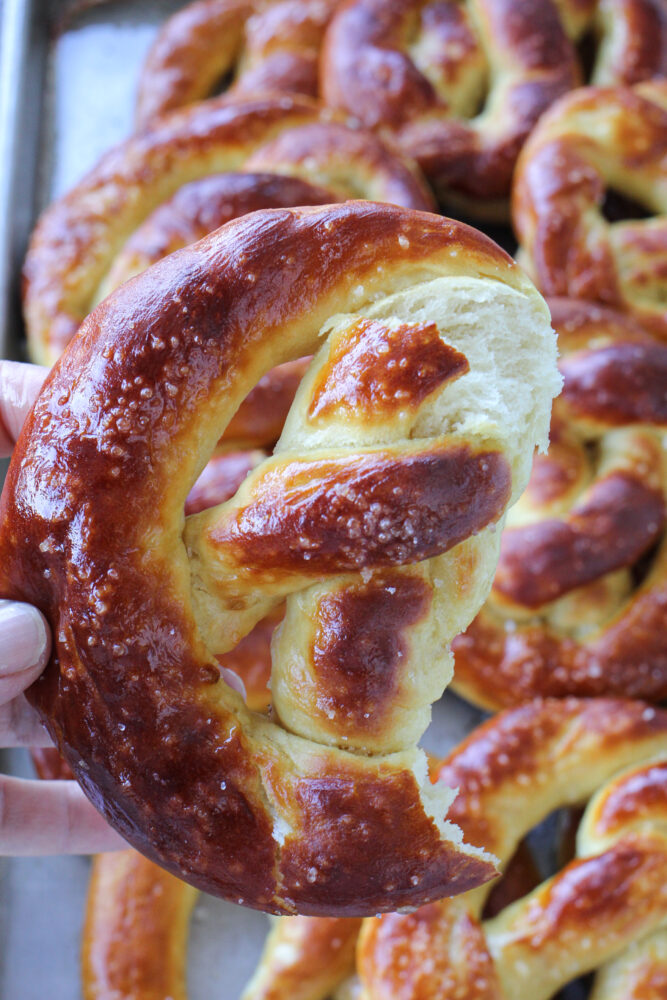 Are you wondering if you can really make a homemade pretzel that looks and tastes as good as the mall version? Guess what. You can. And you will with this easy recipe! Also, for the record, I like this pretzel recipe better than anything store bought!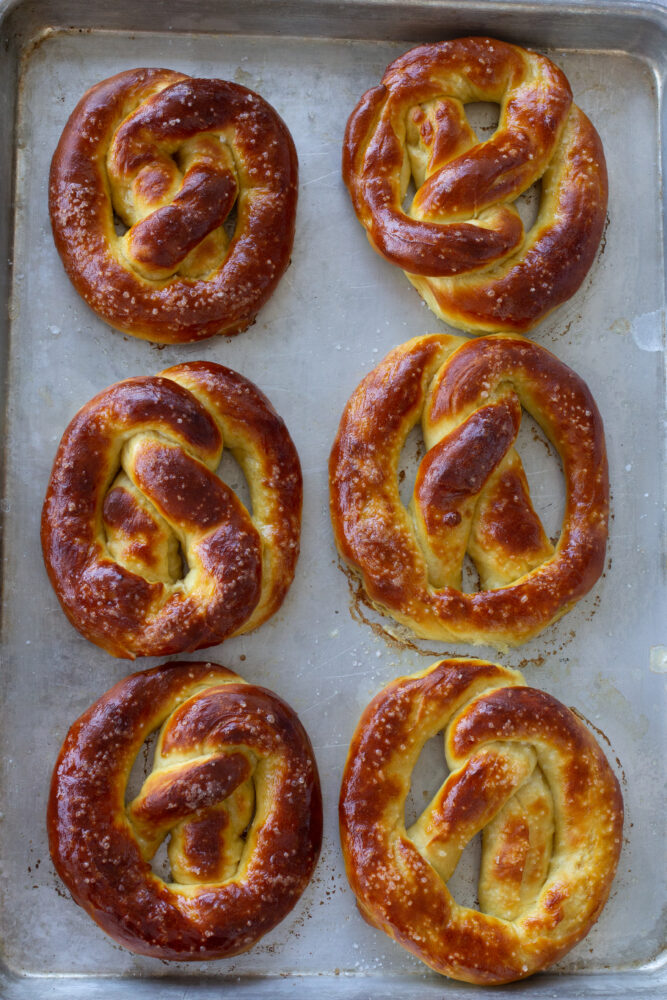 When my friend (and amazing assistant) Kathleen told me about her family tradition of making pretzels while growing up on Sunday nights, I thought what a great idea! Knowing how ABK readers love a good weekend recipe, I was positive you'd love a soft pretzel recipe to call your own.
This is such a fun recipe to involve young bakers! From young kids to a group of young adults, this is the perfect way to spend time in the kitchen together and enjoy a treat as well. Soft Pretzels are perfect for college students with tight budgets, large appetites and not a lot of cooking/baking experience!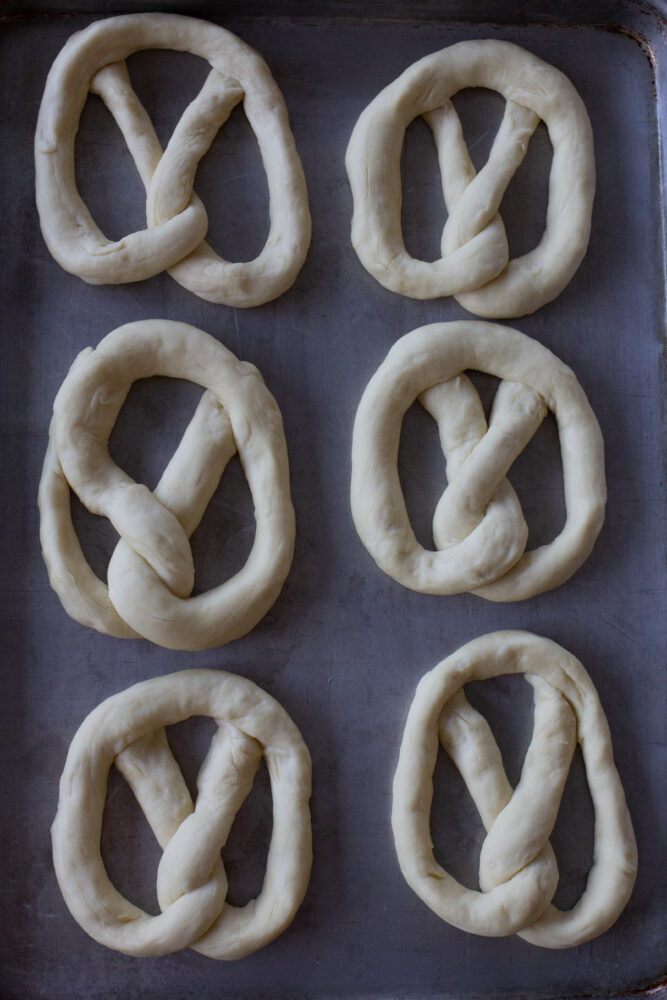 Do you have to boil pretzels?
Did you know: Baking soda is high in alkaline, and gives pretzels a distinctive color, sheen and flavor?! Pretzel companies use lye for this effect. You can purchase lye and do this at home, but lye is dangerous to splash or spill. That's why I just stick with basic baking soda. It is not necessary to boil pretzels, warm water and baking soda work well, without boiling! I just dip and place back on the cookie sheet.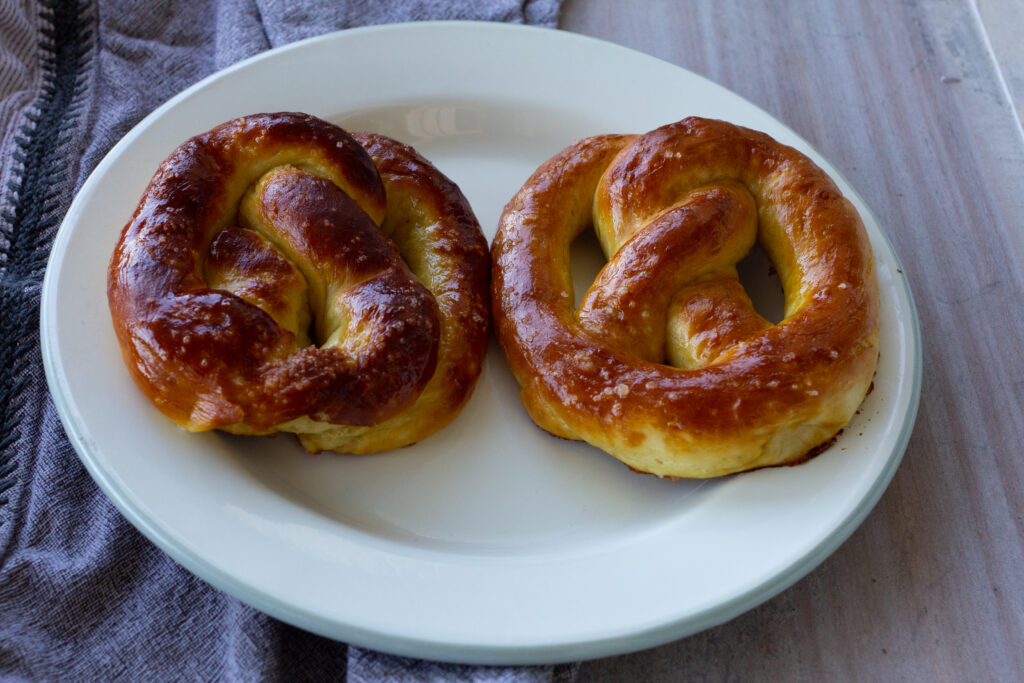 All purpose flour vs bread flour
We experimented with this recipe many, many times. I tried milk instead of water, all purpose vs bread flour, a combination of both. If you like extra chewy pretzels, use at least one cup of bread flour. This will increase the chewiness factor! Also, for added texture, punch the dough down every 10 minutes for an hour, similar to our favorite French Bread recipe!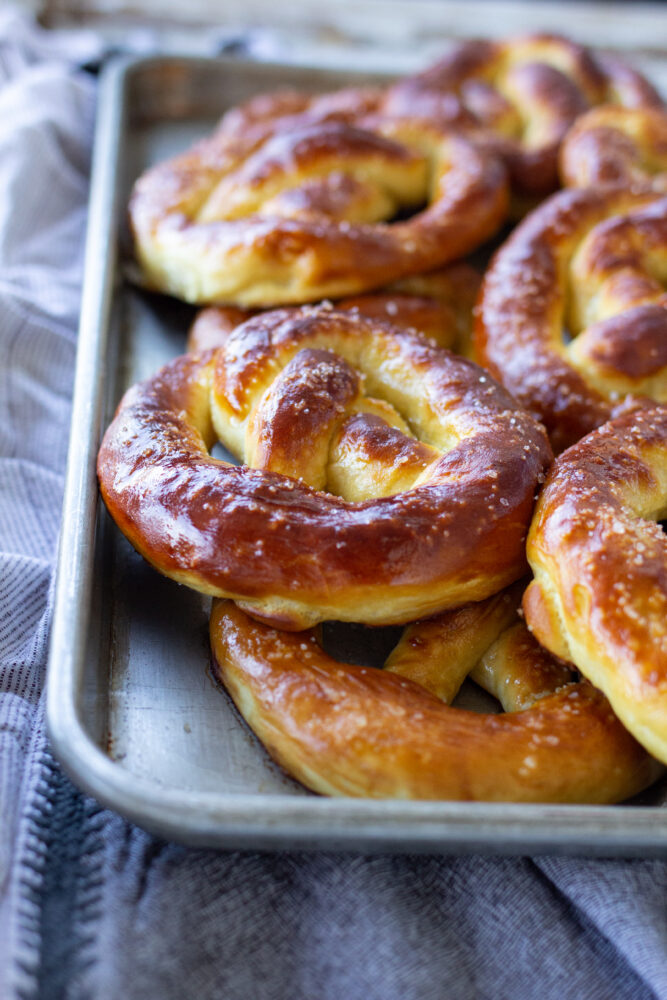 Fun fact about pretzels or where did pretzels come from?
In 610 AD an Italian monk used pretzels as a reward for students memorizing their prayers. The shape resembles arms folded in prayer and were called "pretiolas" or "little rewards". The three holes in the unique pretzel shape represent the Father, Son and Holy Ghost. Pretzels were considered a sign of good luck and spiritual Wholeness. Now you know!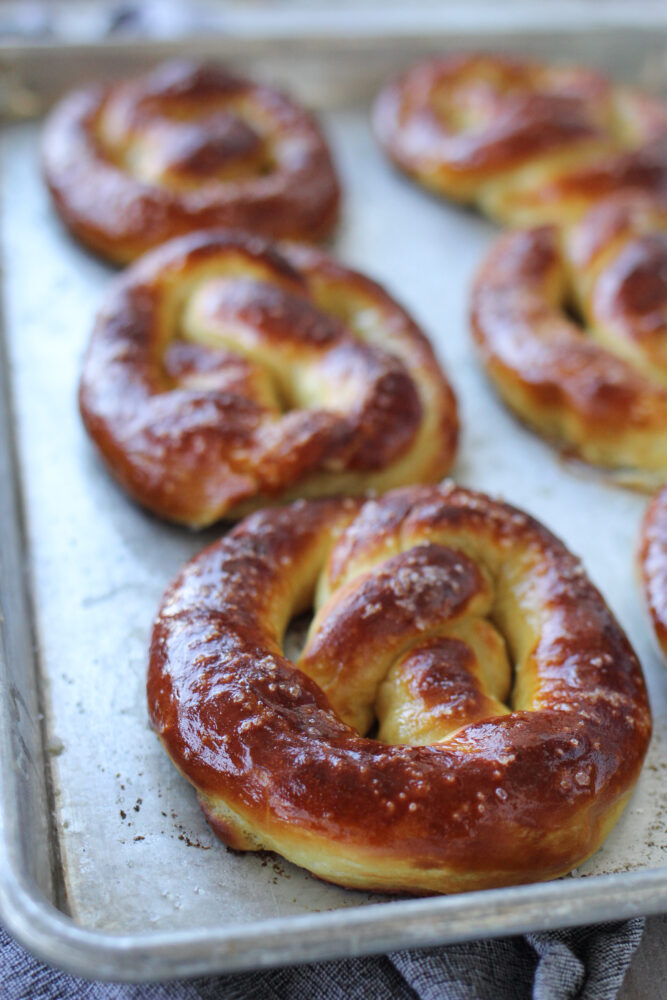 Step by step – How to shape pretzels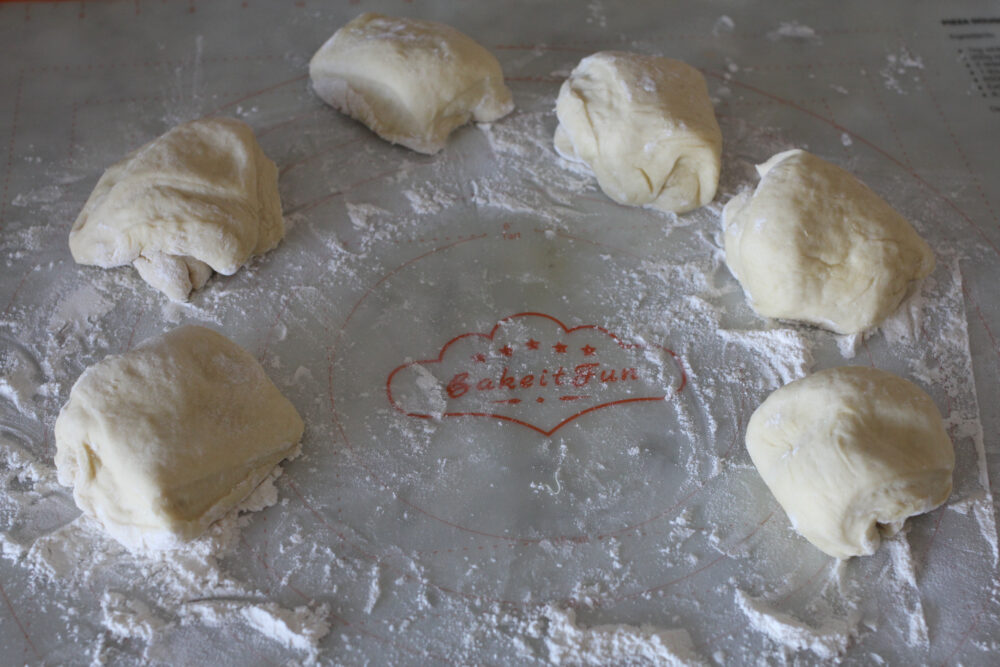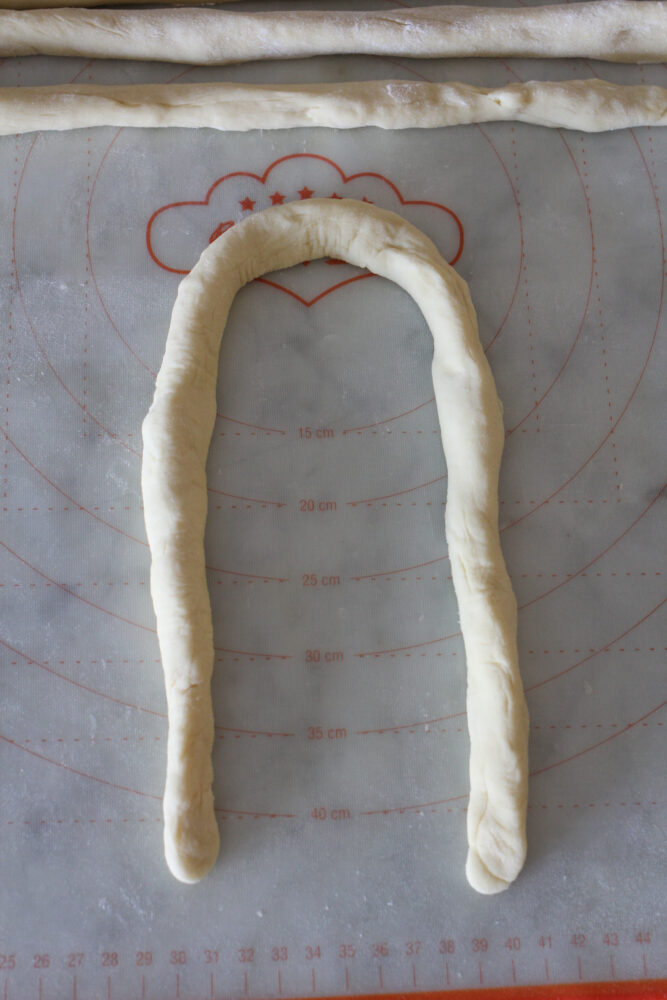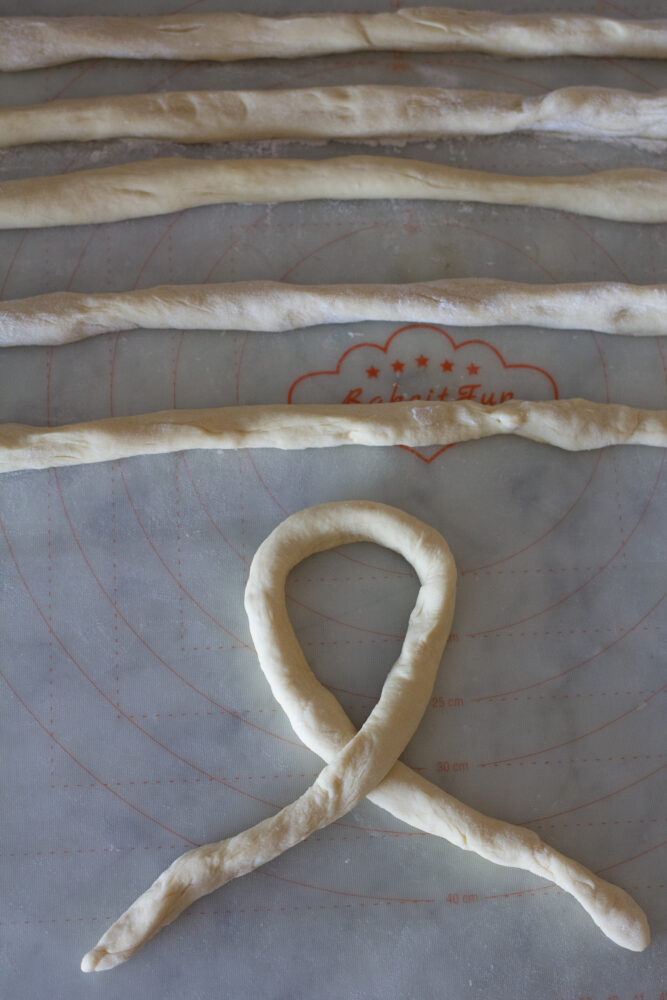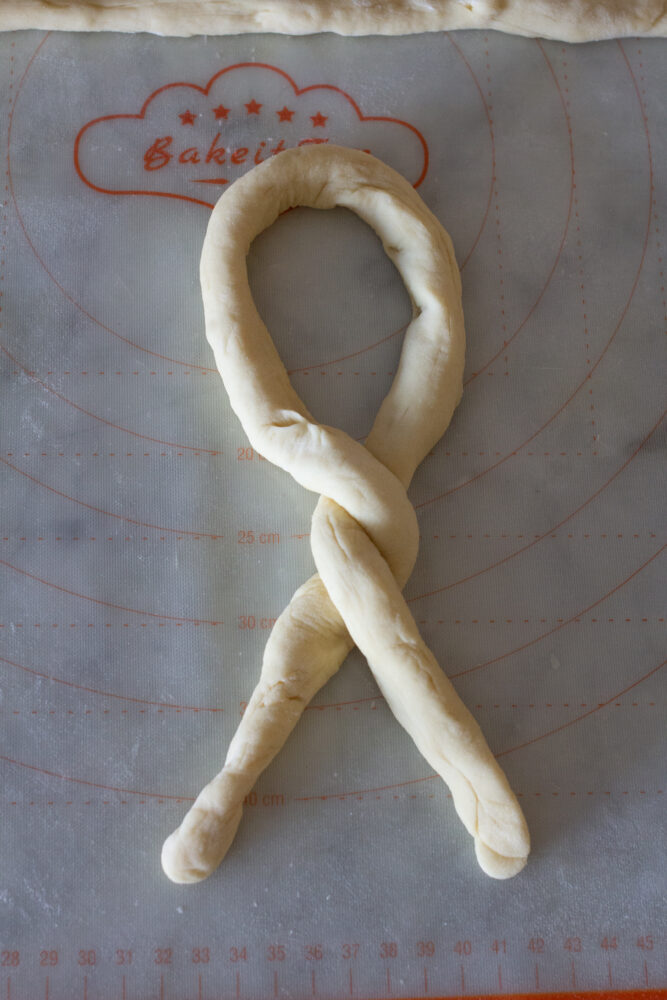 There SHOULD be another photo here, but somehow it was lost! I'll try to take a photo and place it here soon. For now, just imagine there is a lovely photo of the crossed ends being pulled to the top of the U, with the dough pinched together.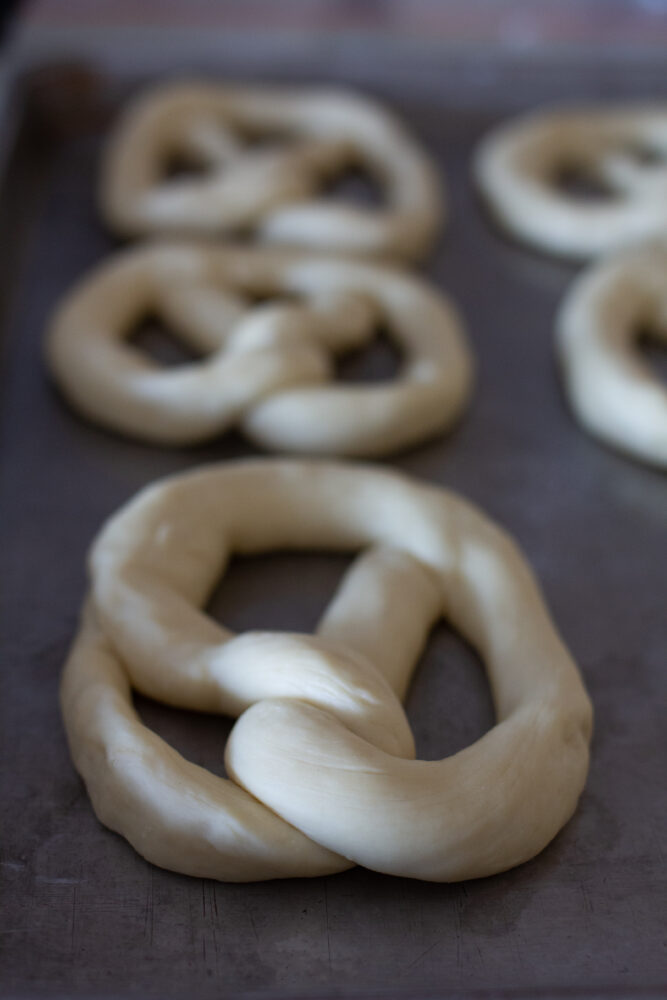 That was easy! Now you know all you need to make these big, soft, warm buttery pretzels in your own kitchen. Make sure to read the whole recipe before starting, and the recipe tips at the end of the recipe as well!
Ingredients you need for Easy Soft Pretzels Recipe:
Warm water
Yeast
Salt
Olive Oil
All purpose or bread flour
Brown Sugar
Granulated sugar
Baking Soda
Coarse salt or pretzel salt
Easy Soft Pretzels Recipe
I you love mall pretzels, you will love our Easy Soft Pretzels Recipe! Chewy inside with a slightly crisp outside. A favorite family night treat!
Total Time
1
hour
15
minutes
Ingredients
For pretzels dough:
1

cup

warm water

1

package active dry yeast or 2 ¼ teaspoons*

1

tablespoon

brown sugar

packed

1

tablespoon

granulated sugar

2

tablespoons

olive oil

2 1/4

cups

all-purpose flour (or bread flour see recipe notes)

plus more for the surface while rolling out

1

teaspoon

salt
For water bath:
1/3

cup

baking soda

3

cups

warm water
For topping pretzels:
coarse salt for top of pretzels

3-4

tablespoons

melted butter for top of pretzels
Instructions
Read all recipe notes before starting recipe!
Pretzel dough:
Pour 1 cup of warm water into the bowl of a stand mixer or large bowl and sprinkle the yeast on top of the warm water. Let sit for 5 minutes.

Add the brown sugar, granulated sugar and olive oil. Stir until dissolved.

Add 2 cups of all purpose flour and 1 teaspoon of salt and mix with paddle attachment or a bread hook, or mix by hand with spatula or large spoon.

Add the additional ¼ cup of flour and mix again for about 2-3 minutes on low speed. Or knead by hand for 5 minutes. The dough will still be slightly sticky. Shape the dough into a ball, place in a lightly greased bowl and cover with plastic wrap (or just use the same bowl and lightly spray the sides of the bowl with cooking spray). Let rise in a warm spot for 30 minutes, then punch down the dough ball or turn on the mixer for a few seconds. Cover and let rise again for 30 additional minutes.
Shape the dough:
Place the rack in the middle of the oven and preheat the oven to 450 degrees. Let the oven preheat for at least 15 minutes, 30 is best.

Place the dough onto a lightly floured surface. Divide the dough into 6 even pieces. Roll each piece with the palms of your hands into a 20-24 inch rope.

Form the rope into an upside down U.

About 2-3 inches from the bottom, Cross the bottom of the U shape once. Then cross again. Take the two bottom ends and pull up to the top part of the U shape and lightly pinch the bottom of the ropes into the top part of the U to form a pretzel shape, and flip the pretzel over so the side with the pinched portion is facing down.

Gently stretch the pretzel to give the dough room to rise while baking and hold its shape. Set aside on a lightly greased or parchment lined cookie sheet.
Prepare soda and water solution, dip pretzels:
Pour 3 cups of very warm tap water into a 9×9 pan or other shallow pan. Pour ⅓ cup of baking soda into the pan and stir with a spoon or whisk to dissolve.

Dip each pretzel in the soda solution, allowing extra liquid to drip back into the pan of water and soda. Place pretzel back on the baking sheet.
Bake and serve pretzels:
Sprinkle the pretzels with coarse salt.

Bake at 450 degrees until golden, 10 to 12 minutes. Or on convection bake 425 for 7-8 minutes. Watch carefully and look for a dark golden color.

Melt 4 tablespoons butter in a shallow dish. Brush butter on hot pretzels. Best served warm!
Recipe Notes
I like SAF brand yeast. It is an active dry yeast, which does not require proofing in liquid, but I always proof my yeast before adding it to recipes!
Bread flour may also be used in this recipe to add a bit of extra chewiness to the dough. Suggested substitution: 1 cup bread flour, 1- 1 1/4 cups all purpose flour. Remember bread flour contains more protein, which will also quickly soak up the liquid in recipes. You may need to add a bit more liquid when using bread flour. 
If doubling the dough for 12 pretzels, the water bath and soda solution does not need to be doubled.
Each dough ball (full recipe) will weigh about 20 oz total. If weighing the individual pretzels, I try to weigh each piece of dough to just over 3 oz.
Do not use too much flour to roll out the dough. The dough is much easier to roll out if it is a little sticky, vs too much flour, which will make the dough stiff and difficult to handle when forming the pretzel shape. 
If you want more of a deep color finish on your pretzel, brush the top of each pretzel with a mixture of 1 egg plus 1 tablespoon of water. This will also give your pretzel a shiny finish. Sprinkle with salt after applying the egg wash. I do not brush my pretzels with egg wash. All of the photos shown are without egg wash. 
I have baked pretzels in both regular and convection oven. I highly recommend using convection if available. Bake at 425 degrees for about 7-8 minutes or until dark golden.
The butter may be brushed on or melted in a dish and dip the pretzels into melted butter after baking. If you don't have a brush, the pretzels may also be coated with butter using a table knife. 
For sugar coated pretzels, brush baked pretzels with butter and sprinkle with cinnamon sugar just after baked.
If freezing the pretzel dough after shaping, do not dip in baking soda solution. Simply cover and freeze. About 2 hours before baking, remove and set on the counter in a warm room for about 2 hours. This will allow the pretzels to come to room temperature and rise a bit. Then proceed with the soda water bath and sprinkle with salt. Bake as directed.
Pretzels heat up well in the oven or air fryer at 325 for 5 minutes.