Shrimp and Avocado Salsa is probably my favorite appetizer of all time. I love shrimp,  and paired with salsa and tortilla chips, is a match made in heaven!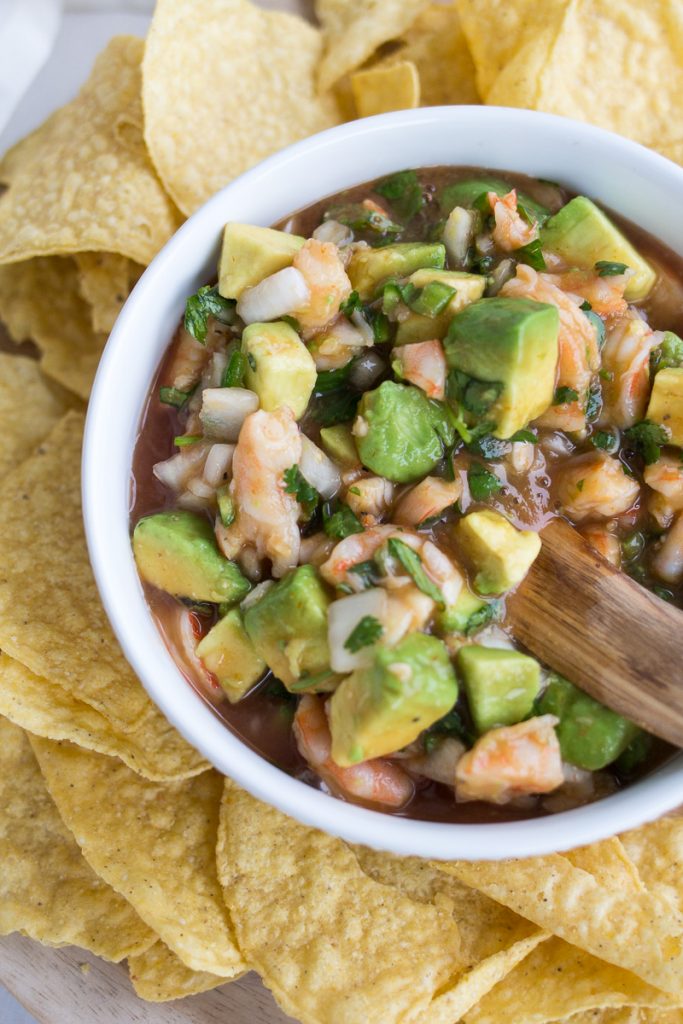 I just returned from spending a few days in the Pacific Northwest, one of my favorite places in the world. Bremerton was my childhood home, a ferry ride away from Seattle. I grew up among these beautiful sights but never really appreciated them until I moved away! A few days with family is always treasured time 🙂
I was also able to attend the International Food Bloggers Conference in Seattle. Yes, a conference just for FOOD bloggers. Since I haven't been to a blogger conference (ever) I was wondering what to expect? I was pleasantly surprised. It was: food food food, gifts gifts gifts, fun fun fun. Who wouldn't love that? Seriously, three days of 300 women, (and a few men) talking about food blogging, taking classes, collecting an IN-sane amount of gifts from vendors, eating from morn until night, and taking pictures of food. Want to hear the funniest part of the conference? Before eating, people were almost reverent about allowing the food to be photographed. If someone showed up after the initial photos were taken, and people were dishing up food, they would step aside and allow the food to be photographed again. No weird looks while photographing, or impatience while waiting in line to dish up a plate, just mutual understanding.Hell-o.
THESE ARE M Y P E O P L E!!!

Top l-r : Four cute food bloggers I met at lunch one day, trying out some fun new food products, the SWAG bags, and yes, it was bags. Plural. As in- I had to buy another suitcase to get everything home! Tasting before dinner one night from Alaska Seafood featuring Alaska Halibut Corndogs, Buffalo Alaska Cod Quesadillas, Sockeye Salmon and Bacon Wrapped Scallop Sliders.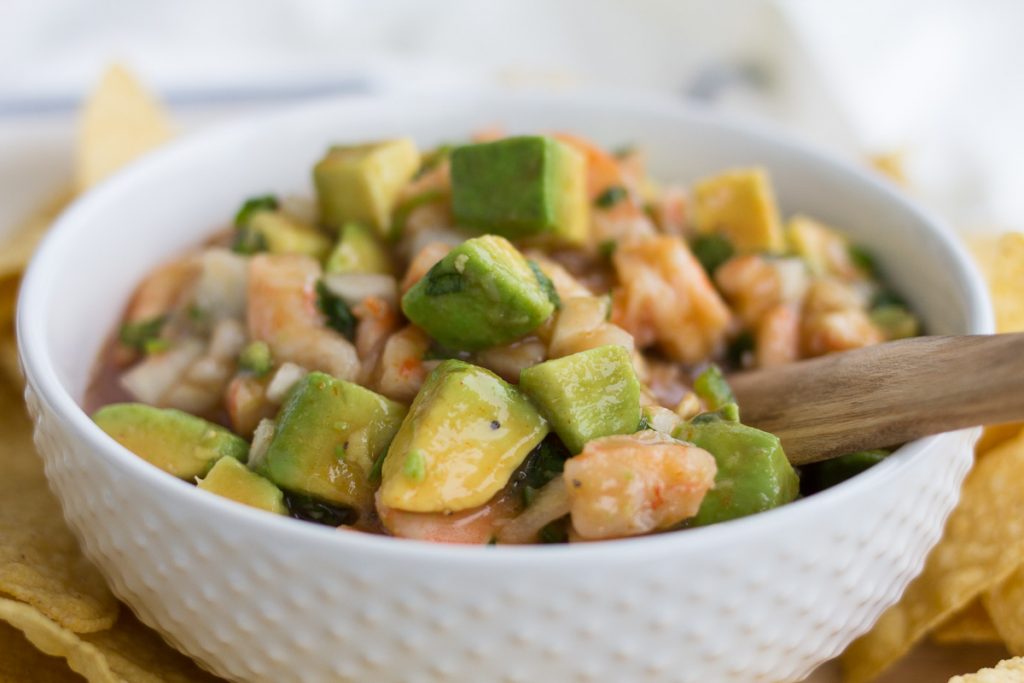 In honor of my recent visit to Seattle, I'm sharing (my daughter Corrine's) Shrimp and Avocado Salsa. This is one of our family favorites.
Corrine
has been making it for a few years and it's become one of
those
recipes. You know the dish that you make once and then get assigned to make for EVERY party from that time forward because it's just So. Darn. Good.
Yup. This is that recipe. I've had people text, email and call me for this recipe.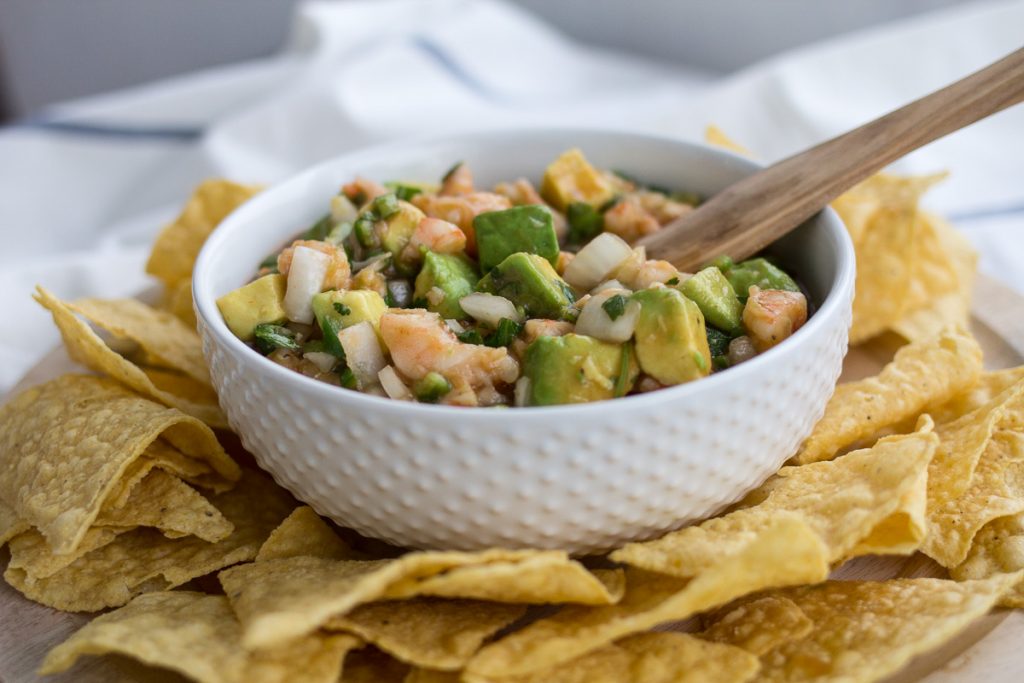 If you're not a seafood fan,you may want to reconsider, even seafood haters tell me they love Shrimp and Avocado dip!
Everyone's Favorite Shrimp and Avocado Salsa
Servings
15
-20 as an appetizer
Ingredients
1

lb

cooked shrimp

thawed, tails removed and rinsed*, medium to large in size

juice of 6 limes

1

large white or sweet onion

chopped ( about two cups)

two bunches of cilantro

stemmed and chopped coarse, reserving a little for garnish

2

Serrano chilies

seed the chilies if you don't like spice and chop fine

4-6

medium avocados

slightly soft, chunked

1

large red pepper

seeds removed, diced (optional)

Several dashes of hot sauce

to taste

1-1 1/2

cups

ketchup

a few dashes of Worcestershire Sauce

Sea salt and fresh ground pepper
Instructions
The day before serving, remove shrimp from freezer and thaw in refrigerator in bag (see note below).

The next day-

Pull the tails off shrimp and devein the shrimp if needed. Chop the shrimp into large chunks, place in large bowl. Squeeze the fresh lime juice over the shrimp.

Place the chopped onion, cilantro, chilies, avocados, red pepper, hot sauce, ketchup and Worcestershire into bowl with shrimp.Season with salt and pepper.Gently fold the ingredients together. Chill until ready to serve.

Serve with tortilla chips.
Recipe Notes
-Plan ahead when making this dip. The best way to thaw the frozen shrimp is to leave it in the fridge overnight. If you forget and try to run it under cold water to thaw, the shrimp can take on a water-logged texture.-If you like your dip more saucy, add another 1/2 to 1 cup of ketchup.-This can be made up to about 6 hours ahead of serving.