Fall is the best time to enjoy our Favorite Apple Crisp! What's not to love about this classic dessert? Fresh apples, brown sugar, cinnamon, all topped with a winning combination of butter, oats and more brown sugar. It is H E A V E N L Y!
Apple Crisp is the ultimate timeless classic fall treat. It's easy to make, uses seasonal fruit, and is best served warm! I love fruit desserts, especially desserts that can be served without a long cooling time after baking. It is essential to wait for apple pie to cool off so it will set up properly, but our Favorite Apple Crisp can be served a few minutes after baking!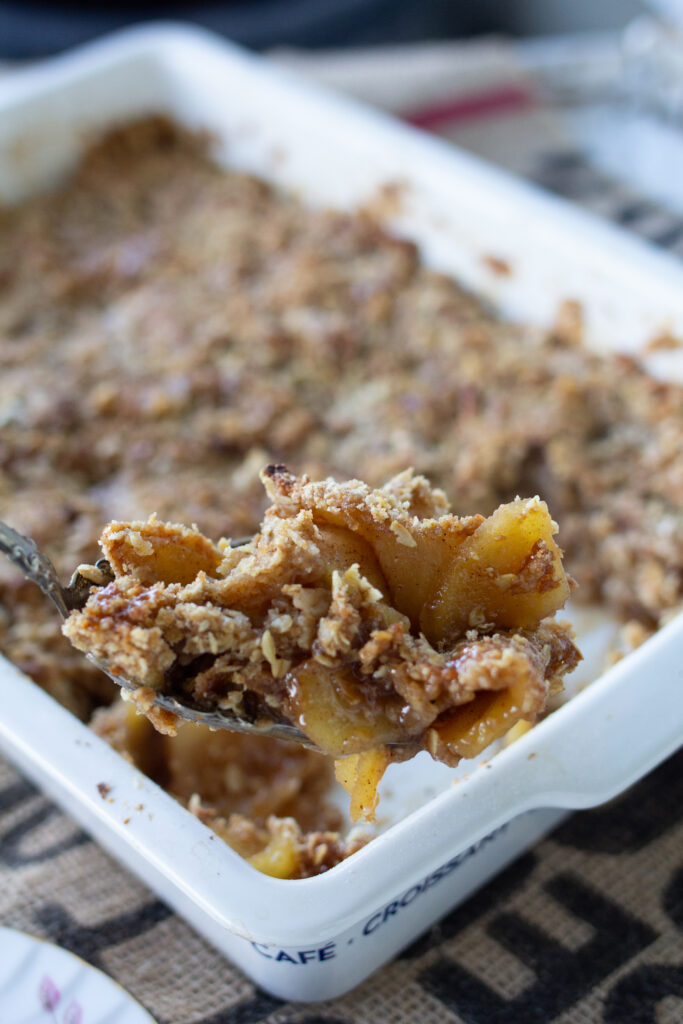 This dessert, along with any other dessert made with fresh apples is significantly easier to make with the right tool in hand! That tool is the Apple Peeler Corer Slicer, aka Best Tool Ever for cooking with apples. It makes peeling, coring and slicing apples a simple task, and I use it every time I make a dessert requiring peeled and sliced apples!
I was digging through a folder of dessert recipes the other day and found an article on the closing of the Red Apple restaurant, an old SLC institution. It was housed in the basement of a building in the middle of the block on 100 South between State and Main, across from what is now City Creek Center.
They made delicious sandwiches and Apple Crisp! The Red Apple was one of the only places where you could order house-made apple crisp any time of the year, whether it was October or April. Sadly for SLC, after years of being in business, they closed their doors and moved on to other adventures.
You probably have your own family favorite take on this classic dessert! Ours comes from years of testing out different recipes and then coming up with a recipe that is sweet, salty, caramelly and heavy on the crisp.
Who doesn't love a good amount of topping on apple crisp? When I set out to create the best recipe, I wanted the crisp to be as satisfying as the filling. The oats add a bit of crunch, which is why this recipe includes oats and flour in the "crisp" portion of our Favorite Apple Crisp! You will find double the amount of apples and topping in this recipe as compared to most other apple crisp recipes. The reward? A big forkful of apples and topping in every last bite!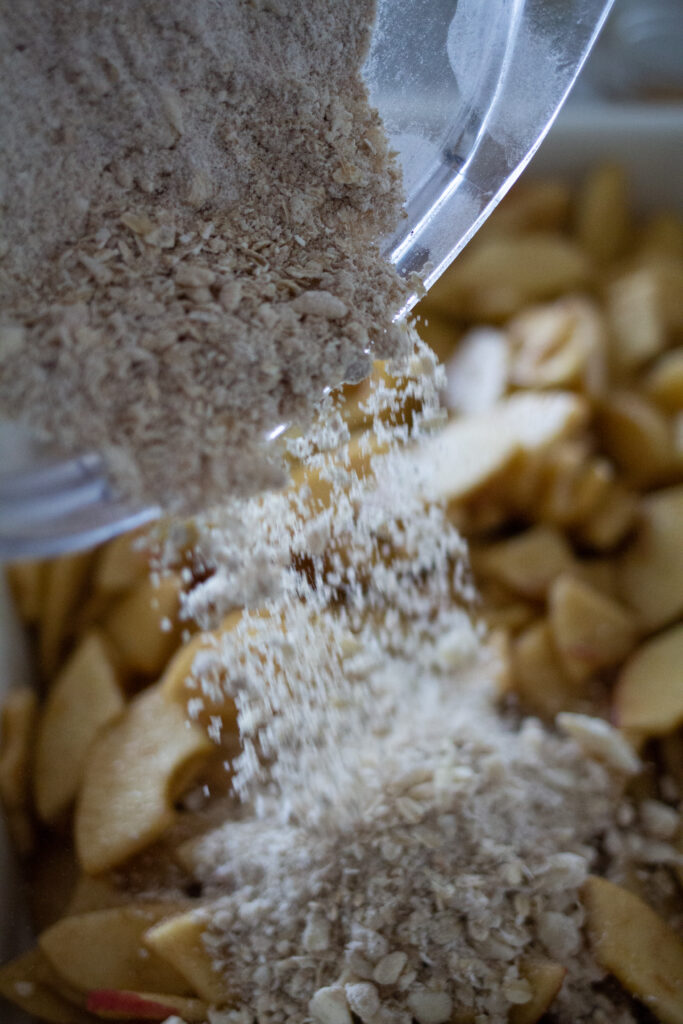 If you haven't ever made apple crisp, it is one of the easiest recipes you will ever make! Minimal time and mess, maximum reward.
How to make our Favorite Apple Crisp:
Preheat oven to 375 degrees.
Grease a 9×13 or two pie plates.
Place sliced apples in a bowl. Top with vanilla, sugar, salt and spices. Toss together.
Place apples in prepared pan. Mix together topping ingredients, pour onto apples.
Bake for 45 minutes or until bubbly and golden.
Let sit for 15 minutes (not necessary, but will give the dessert time to cool a bit and solidify).
Favorite Apple Crisp originally posted in 2010. Recipe post updated in 2021 with content and photos.
Favorite Apple Crisp
cool (optional)
15
minutes
Total Time
1
hour
10
minutes
Ingredients
4

lbs

apples, Granny Smith or Honeycrisp, peeled, cored and sliced

about 5-7 medium size apples

1

tablespoon

vanilla

3/4

cup

dark brown sugar (or light)

1

teaspoon

cinnamon

1/4

teaspoon

nutmeg

dash of salt
Topping:
1 1/4

cup

old fashioned oats

3/4

cup

all purpose flour

1/2

cup

brown sugar

dark or light

1

teaspoon

cinnamon

1/2

teaspoon

salt

1/2

cup

butter, unsalted

I remove this from fridge about 30 mins before making so it is slightly softened
Instructions
Place rack in center of oven and preheat oven to 375 degrees.

Lightly grease a 9×13 pan or two-9 inch pie plates.

Place apples into a large bowl. Sprinkle the apples with one tablespoon of vanilla. Top with brown sugar, cinnamon, nutmeg and dash of salt. Pour apple mixture into prepared pan(s).

In same bowl, Place all dry topping ingredients. Using fingers or a pastry cutter, cut butter into dry ingredients. Spread/sprinkle topping on top of apple mixture. A food processor may also be used.

Bake for about 45 minutes or until apples are bubbly and topping is golden brown.

Remove and let sit for 15 minutes. Serve warm with vanilla ice cream or whipped cream.
Recipe Notes
Regular brown sugar may be used, but dark will produce a more caramelized filling.
Apple Crisp is best served immediately after baking. If you need to make this ahead, you may put the dish together and bake the dessert for about 30 minutes. Remove, but do not cover or topping will get soggy. Let sit on counter to cool. Before serving, preheat oven to 425 and finish baking dessert on top third of oven for about 15-20 minutes, or until heated through and bubbly.