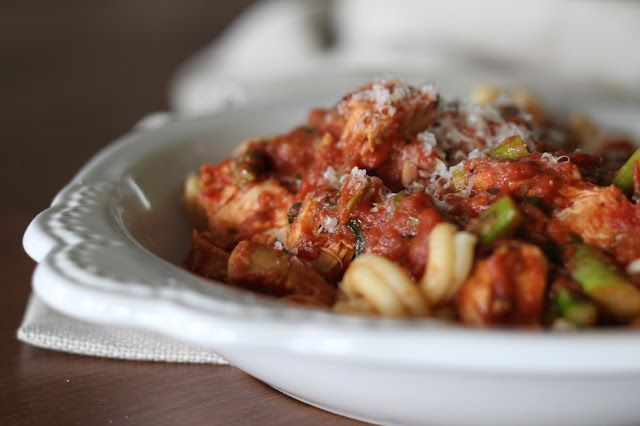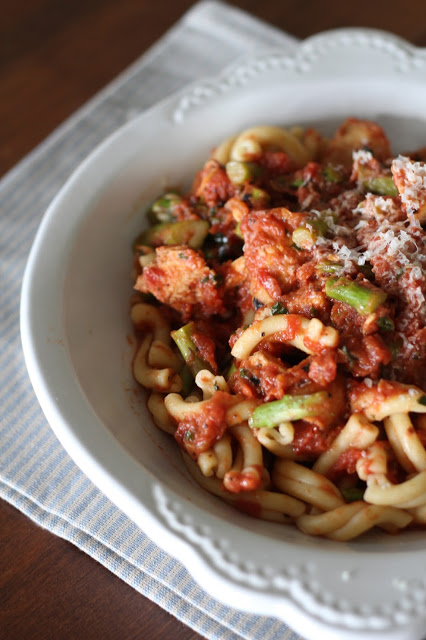 You know those nights when you just cant bring yourself to cook, but the thought of eating drive thru makes your stomach turn?? This is my simple solution. It's called Favorite Summer Pasta (and anything you have in the fridge) Dinner.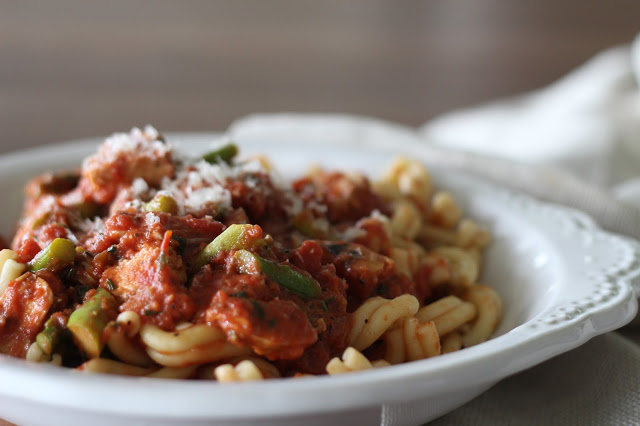 Here's the deal. Look in your fridge or freezer. Pull out any type of vegetable. It can be broccoli, carrots, peppers, spinach, green beans, asparagus. You'll need about 2 cups. Then some protein. Chicken goes well in this dish. Or you can use just about anything you have. I'd probably pass on Spam, but almost anything else goes. Shrimp, turkey, bratwurst, leftover steak, pork, even ground meat. Or if you're not a meat lover, you can simply add more veggies. Tofu (a firm texture) folded into this would be wonderful too!
I used Harmons brand of pasta, which I highly recommend. It has a comparable quality to that of pasta made in Italy. Trust me on this, I've carried home bags full of dried pasta from Italy on past trips. Once I realized for about the same price I could purchase the imported items here, I filled my carry-on with other items.
If you have access to fresh tomatoes, use them! If you don't have any fresh tomatoes, use boxed or canned. And the fresh herbs? If you don't already have an herb pot, vow to grow one next summer.
In the amount of time it takes you to run to In and Out you can make this at home!
You're going to love it.
Promise.
Favorite Summer Pasta
A Bountiful Kitchen
Ingredients
1/2

lb

Harmons pasta

any shape will do, I used Casarecce pictured above

2-14

oz

or one 26.46 oz carton Pomi brand chopped tomatoes

or about 28-30 oz chopped fresh tomatoes in their own juice

2

cloves

fresh garlic cloves

minced

1/2

cup

fresh basil

2-3

tablespoons

each fresh chopped oregano

rosemary, thyme

1

tablespoon

olive oil

1

teaspoon

salt or to taste

fresh ground pepper

1/2

teaspoon

sugar

1/4

cup

cream

optional

2

cups

chopped fresh vegetable such as asparagus

broccoli, green beans, peppers, etc

2

cups

chicken

or other meat, chopped into bite size pieces and cooked

1/2

cup

grated Parmesan or Romano cheese

additional for topping pasta
Instructions
Cook the pasta according to package directions until al dente, drain and set aside.

Pour the chopped tomatoes in a large saucepan. Simmer over medium high heat. Add garlic, herbs, olive oil, salt and pepper and sugar. Simmer for about 15 minutes or until reduced a bit.

Meanwhile, chop vegetables and place on plate and microwave for about 2 minutes, covered or until the veggies are barely cooked and bright in color. Toss into sauce and add chicken as well.

Add cream and cheese and cook for another minute. Remove from heat. Toss sauce with cooked pasta. Serve immediately with additional grated cheese on top.

Serves about 4 as a main dish or 6 as a side dish
Recipe Notes
-This recipe is easy to double. Simply double the sauce and cook the entire package of pasta. Doubled, it will serve 8.
-It is best to use fresh vegetables and fresh herbs in this recipe. Although, the Pomi brand (purchased at Harmons) chopped tomatoes work very well in place of fresh tomatoes. if using fresh tomatoes, make sure to use a variety that will yield a lot of juice. I do not recommend using fresh Roma's in this recipe, they don't typically yield enough juice.
-I found the Harmons brand pasta needed a bit more cooking than the package directions. I cooked the pasta for about 10-11 minutes total for a perfect al dente texture. Make sure to test this in your kitchen. Depending on size of pot, how much water and pasta are in the pot, how hard the water is boiling will all be factors in how quickly pasta cooks. Do not over cook!