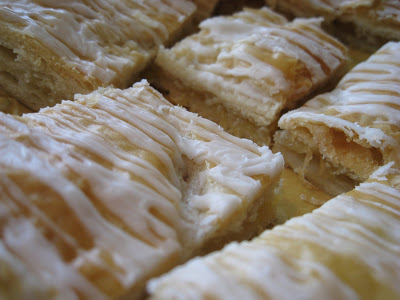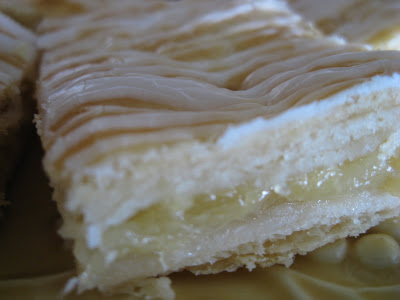 About 25 years ago, I found this recipe in the Salt Lake Tribune. Over the years it has become a favorite Easter treat. It's a really yummy flaky pastry with a not-too-sweet pineapple filling. I'm not going to lie…
My friend Val- a talented and ruthlessly honest decorator, who once told me a light fixture I had in my entry was "truly heinous" AND who should have her own show on HDTV, loves to use that phrase. We laugh because one time, she told a client "I'm not going to lie" when they asked her opinion about a piece of furniture, and the client said- "saying that implies you are lying to me about everything else you say to me without the ' I'm not going to lie' preface". Uhhh, that was a long side note.
Anyway, back to the NOT lying. This is not one of those recipes I am going to tout as being simple. You can't throw it together in a few minutes. The dough is a little hard to work with. It has a few- make and refrigerate or cook and cool steps. But TOTALLY worth it in the end. I mean, it's not brain surgery, but it's also not super simple. You know how much I love pies and pastries. I'm not gonna lie, this one is at the top of my favorite list.
That's what I call golden.
Flaky Pineapple Pastry
Ingredients
4

sticks butter

2 cups

4

cups

flour

1

cup

sour cream

1

teaspoons

vanilla

3

cups

crushed

drained pineapple (about 2 large cans)

1 1/4

cups

sugar

3

tablespoons

cornstarch

1

egg

for top of pastry
Glaze:
2

cups

powdered sugar

1

teaspoon

vanilla

4

tablespoons

water

milk or cream (cream is best)
Instructions
Cut butter into flour until mixture resembles coarse crumbs. Add sour cream and vanilla, mix well. Refrigerate for at least 2 hours.

Heat pineapple and sugar over medium to medium high heat in saucepan until bubbling. Add cornstarch a tablespoon at a time, stirring well until dissolved into pineapple and sugar. Cook over medium heat stirring until mixture is thick. Takes about 5 minutes total. Chill.

Roll out half of dough and place in bottom of an un greased jelly roll pan (10×14). I like to over lap the edge a little, then fold back over the top crust.

Preheat oven to 325 degrees.

Spread cooled pineapple mixture over dough, leaving a 1/2 inch border.

Roll out remaining dough and place carefully over top of crust and filling. Crimp edges to seal. Cut slits in top crust to allow steam to escape.

Beat egg in bowl, brush over top of pastry.

Bake at 325 degrees for about 55 minutes on lower half of oven, until light golden brown. Remove from oven and let cool.

Mix glaze and drizzle over top of pastry. When completely cooled, cut into squares.
Recipe Notes
-The pastry dough does not freeze well. You can make the dough a day ahead, and refrigerate until ready to use.