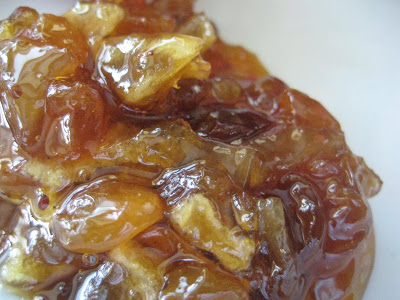 I have a big basket of assorted apples in my garage, courtesy of friends and neighbors who love to share. You know how I love fruit and meat together, so I thought, what would go better with Sara's Sunday Pork Tenderloin, than a little fresh apple and pear chutney? Fresh Apple and Pear Chutney Oh joy! Only 7 weeks till the Big Day. I'll try to contain myself.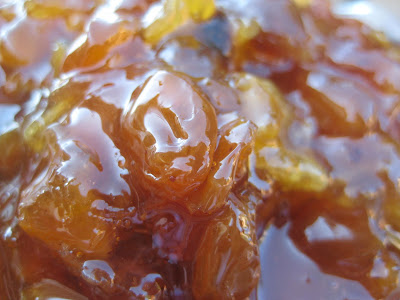 Fresh Apple and Pear Chutney
Ingredients
2

cups

apple cider

2

cups

sugar

1 1/2

pounds

assorted apples

preferably tart, peeled, cored,

chopped into 1/2 inch pieces

2

ripe pears

peeled, cored, chopped

1 1/2

cups

golden raisins

3

tablespoons

fresh lemon juice

1

teaspoon

fresh grated ginger

1 1/2

teaspoons

salt

1

teaspoon

grainy mustard

or 2 teaspoons mustard seed

3/4

cup

brown sugar

dash cayenne
Instructions
Bring vinegar and sugar to a boil in a large saucepan, stirring until sugar dissolves. Reduce heat and simmer for 10 minutes. Remove from heat.

Combine all remaining ingredients into sauce pan with cider mixture. Simmer until apples are tender and chutney thickens, stirring occasionally, about 45 minutes. If you have a immersion blender, place the blade into the pan and pulse quickly about 2-3 times. Just until about a fourth of the mixture is blended.

Place in serving bowl or canning jars, cover and refrigerate. Will keep for about 2 weeks refrigerated.
Recipe Notes
-This could be made with lots of different fruit combos. Some people like to add nuts to their chutney, or even fresh garlic cloves.