Can you feel it?? Fall is in the air. The leaves, pumpkins, school back in session, crisp air, football.
FOOTBALL.
I love football.
Especially UTE football. Went to the craziest game.
Ever.
Lasted four hours. Yes, FOUR HOURS. Without OT. A person sitting with our family asked if I was feeling sick. Jake said, "No, my mom always acts like this (covering or closing my eyes, head down, peeking through my hands) at the Utah/BYU game." Such a great game. Read about it here. This pic was taken after the field was cleared twice, and rushed three times.
24-21.
Like I said, crazy.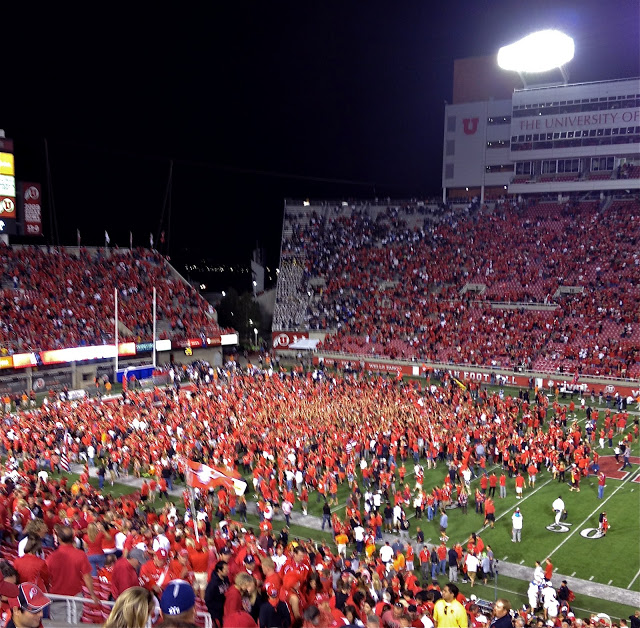 I found this recipe in one of my favorite home magazines, House Beautiful. The author calls this a "no-shop" dessert. Meaning, every ingredient is one you should have in your kitchen at all times. I think it's wonderful served at breakfast too.
Apple cake= the perfect fall treat.
Try it, I know you'll love it.
Fresh Apple Cake
Ingredients
2

tablespoons

unseasoned bread crumbs or graham cracker crumbs

1/2

cup

granulated sugar

1/2

cup

packed light brown sugar

2

Granny Smith

or other tart apples

1

teaspoon

ground cinnamon

4

tablespoons

unsalted butter at room temperature

1

large egg

1 1/4

cups

unbleached all-purpose flour

2

teaspoons

baking powder

2/3

cup

half-and-half

I used 1/3 skim milk, 1/3 half and half

2

teaspoons

confectioner's sugar
Instructions
Pre-heat oven to 350°. Butter a 9" spring form pan and coat with graham cracker crumbs.

Toss together the granulated sugar and brown sugar. Set aside.

Peel and core the apples, then slice one apple into 16 wedges. Combine the cinnamon and 1/3 cup of sugar mixture in a medium bowl. Add the apples wedges and toss to coat. Roughly dice the remaining apple.

In the bowl of an electric mixer fitted with a paddle attachment, beat together the butter and the remaining sugar mixture on medium speed until light, fluffy, and lemon-colored, about 2 minutes. Add the egg and mix until combined. Reduce the speed to low and add the flour and baking powder. Slowly add the half-and-half and mix until combined. Fold the diced apple into the batter.

Pour the batter into the prepared pan and spread evenly. Arrange 14 of the apple wedges fanned along the outer edge of the pan and place the two remaining wedges in the center. Bake for 35 to 40 minutes, or until the center is golden brown.

Remove from the oven to a wire rack to cool completely. Run a small offset spatula around the edges to release the cake from the pan and remove the spring form. Sprinkle with confectioner's sugar, then cut into 12 wedges.