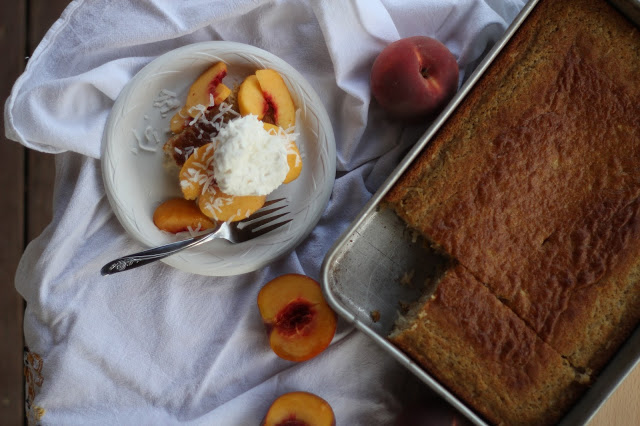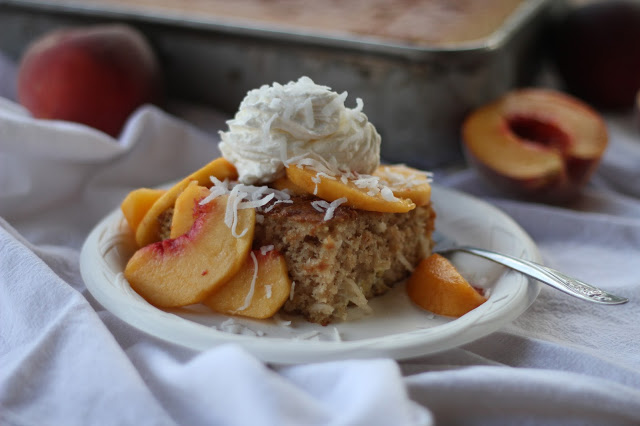 Our Labor Day weekend started with a stop at one of my favorite breakfast spots, Left Fork Grill in SLC, a drive to our cabin for football watching, hiking, fishing, a little archery practice, swinging on the swings and of course a bit of cooking before returning home on Monday.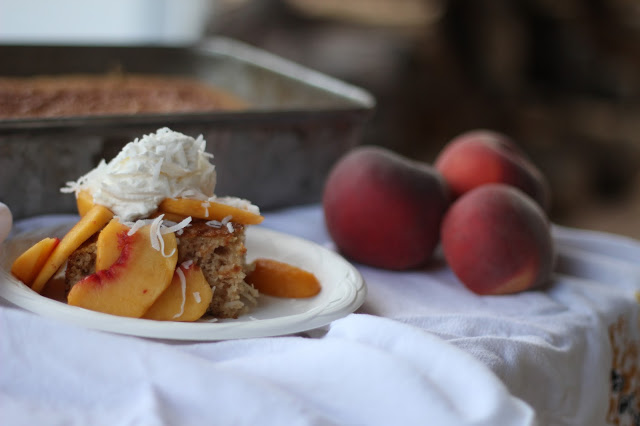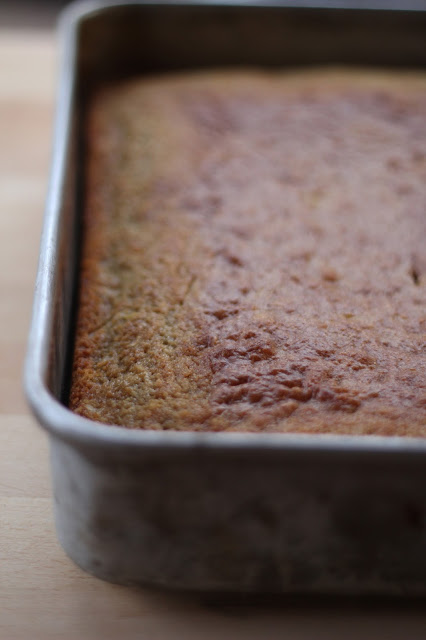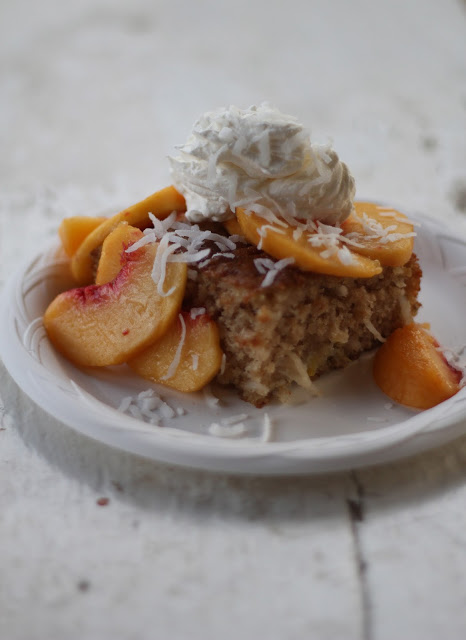 When at the cabin, I try to simplify and make things that we can enjoy with little time in the kitchen. I baked up this Fresh Peach and Coconut Cream Cake to celebrate the end of summer and highlight one of my favorite fruits. This recipe is a one bowl, mix, pour and bake dessert. Really simple, fresh and delicious. If you've got peaches sitting on your counter, this is one dessert you have to try.
Happy Baking!
Fresh Peach and Coconut Cream Cake
Ingredients
1 1/2

cups

sugar

3/4

cup

butter

room temperature

3

eggs

2

teaspoons

vanilla or 1 teaspoon almond extract

2

cups

peaches

peeled and chopped (about 2 small peaches)

1

teaspoon

lemon juice

3/4

cup

buttermilk

2

cups

flour

2

teaspoons

baking soda

1

teaspoon

salt

1

cup

coconut sweetened

flaked (optional)

additional peaches for topping cake

3-4 more

2

cups

heavy whipping cream

1/2

cup

powdered sugar
Instructions
Preheat oven to 350 degrees.

In a large bowl, cream the butter and sugar. Add the eggs and beat until smooth. Add vanilla, peaches and lemon juice, beat until the peaches are broken up into small pieces, about 1-2 minutes on high. Add the buttermilk, flour, baking soda and salt. Continue beating for an additional two minutes, fold in coconut.

Generously grease a 9×13 pan or two 9 inch round cake pans or pie plates. Bake on middle rack of oven, about 30-35 minutes for 9 x 13, about 20-25 minutes for round cake pans or pie plates.

Remove and let cool.

Whip cream until stiff, add powdered sugar, whip until blended well.

Peel, pit and slice additional peaches. Slice cake and top with peach slices, top with whipped cream.

Sprinkle with additional powdered sugar or coconut.
Recipe Notes
-I baked this at a high altitude (about 6,700 ft) and used 1 cup buttermilk and 2 1/4 cups flour. Baked at 375 for 30 minutes in a 9×13 pan.