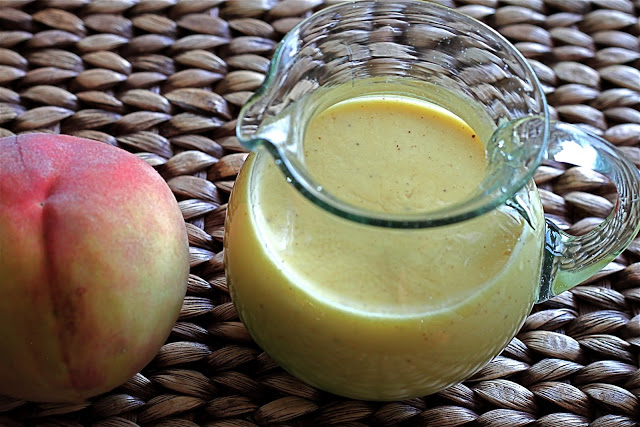 Sunday night I threw together a little salad to go with dinner. Spinach, lettuce, grated mozzarella, fresh peaches, pine nuts. I had an extra peach on the counter and decided the peaches in the salad would be delicious topped with a Fresh Peach Vinaigrette.
Never made your own dressing? It's really simple. I like tart and sweet, so I usually try to incorporate the two. The general rule when making dressing at home is: 3 to 1. Three parts oil to one part vinegar. I always cut the oil amount, since I'm not into oily dressing. Be careful not to cut the oil too much, or you will have a dressing with too much liquid (ingredients that are water or liquid and not oil based) and not enough oil, and your greens will get soggy. Here it is- my super fresh and simple Peach Vinaigrette.
Fresh Peach Vinaigrette
Ingredients
1

large fresh peach

1/2

cup

oil

1/3

cup

white balsamic vinegar

3

tablespoon

sugar

1/2

teaspoon

nutmeg

salt and pepper to taste
Instructions
Whirl all of the ingredients in a blender. Serve over fresh greens. Store any leftovers in refrigerator for up to a week.