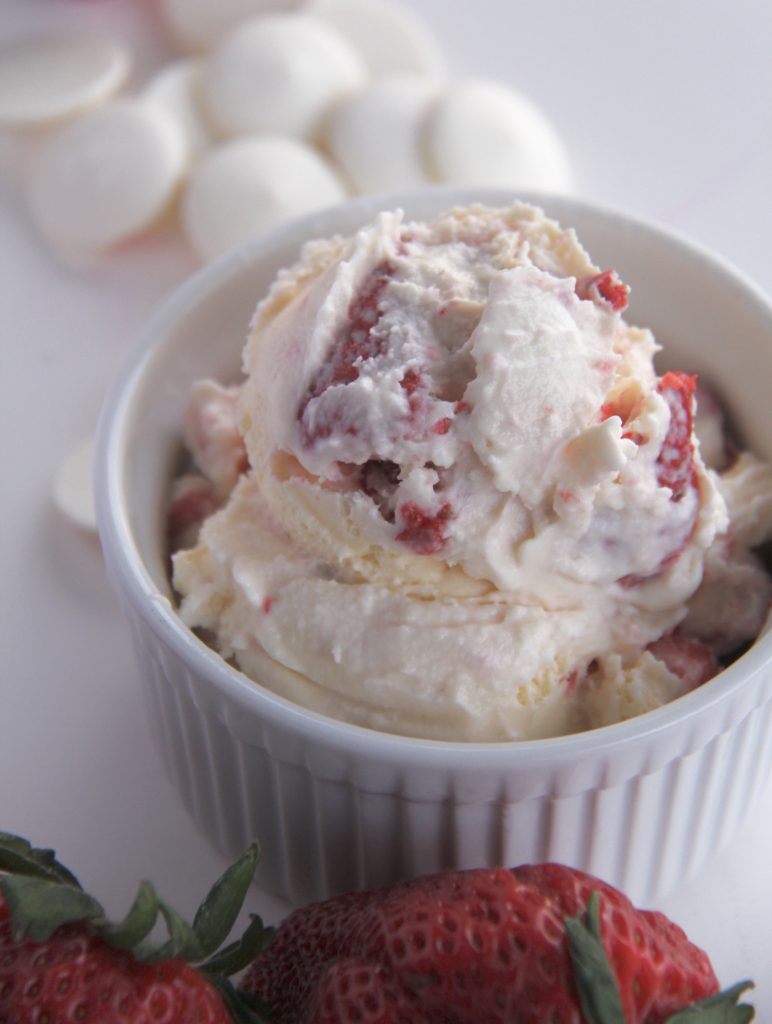 A sure sign of the long winter ending and spring arriving is STRAWBERRIES at your grocery. If you love strawberries, you're going to love this recipe. The best way to enjoy strawberries is fresh, and Fresh Strawberry White Chocolate Chunk Ice Cream features my favorite fruit in the best way, surrounded in cream!
There's nothing like strawberry season, a couple of our favorite strawberry  jam recipes are  Strawberry Freezer Jam and  Strawberry-Coconut Freezer Jam… definitely making a batch or two now that strawberries are on sale!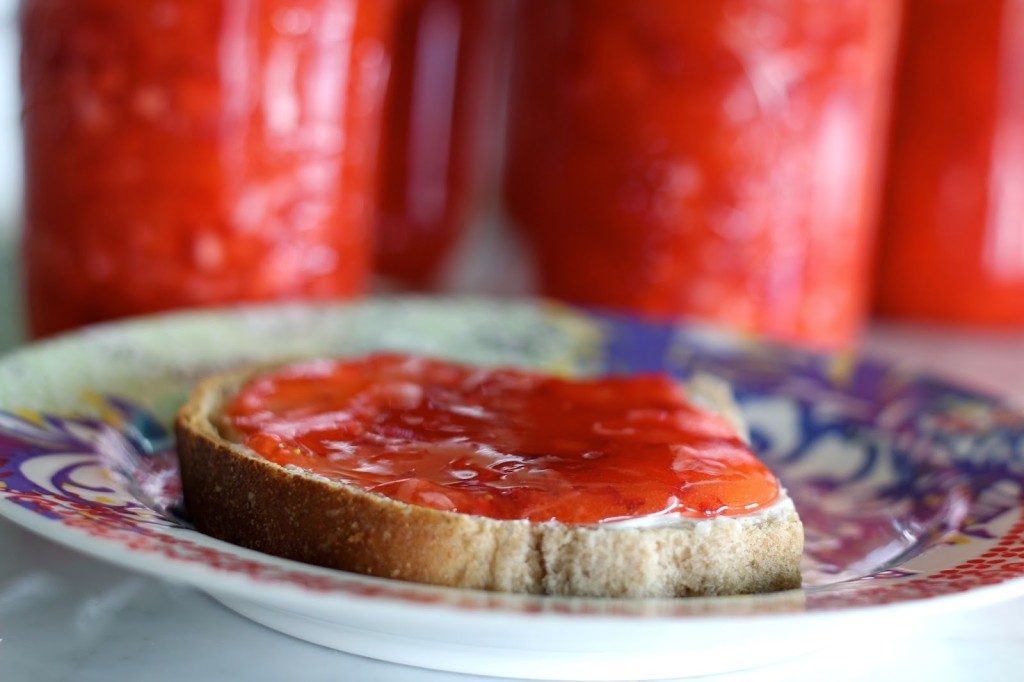 Homemade ice cream is just about one of the easiest things you can make if you're a novice in the kitchen. You need an essential tool, an ice cream maker. I have two and they serve different purposes.  This White Mountain Ice Cream Maker  (one of my all time favorite Mother's Day gifts)  in my opinion is the granddaddy of ice cream makers!  It's sturdy and has a rustic look to it. I love this 6 quart size, mine is a 4 quart, but for just a few dollars more you can get the 6 quart (which I highly recommend if you have a big family or like to throw parties). There's  nothing like mixing up a batch of homemade ice cream and listening to it churn away. The White Mountain model uses ice and salt and you have to tend it a bit. Like I said, really fun for parties. To me it's more of an heirloom piece of equipment. I've had mine for years and we love it.
My second, go-to for small gatherings is this Cuisinart Ice Cream Maker. It's no fuss, no adding ice, salt, etc.  Just remember to freeze the inner canister (I store mine in the freezer so it's always ready to go), fill and plug in. A few minutes later, you're enjoying a bowl of Fresh Strawberry White Chocolate Chunk Ice Cream!
I love this base for ice cream, which I've been using for years, it's straight out of the Ben and Jerry's Ice Cream and Dessert Book, which has been on my shelf and been used for so long that it is now just a collection of loose pages!  If you want to get into ice cream making, this book is the bible of fun flavors.
Enough about ice cream makers and recipes. If you haven't ever made ice cream at home, you need to try this recipe. It's the perfect time of year to try out your ice cream making skills. When Mother's Day and summer barbecues roll around, you'll be a pro!
Fresh Strawberry White Chocolate Chunk Ice Cream
Ingredients
1

pint

fresh strawberries

plus one cup, hulled, chopped and divided (1 1/2 pints total)

1/3

cup

sugar

2

tablespoons

fresh lemon juice

2

large eggs

3/4

cup

sugar

2

cups

heavy cream

1

cup

milk

whole is best

3/4

cup

white chocolate

cut into chunks
Instructions
Combine 2 cups fresh strawberries, 1/3 cup sugar and lemon juice.

Set aside in refrigerator for one hour.

Set aside the last cup of chopped berries without sugar to add at end of freezing.
Prepare base of ice cream:
Whisk the eggs together in a medium size bowl until light and fluffy using an electric mixer or stand mixer for about 1-2 minutes. Whisk in sugar a little at a time, until mixed well, about 1 minute.

Pour in the cream and milk, and whisk to blend.

Pour the ingredients into the prepared ice cream mixer, along with the fruit.

Add the fruit and juice collected in bowl all at once with the cream base and let freeze in mixer. Plug in and let churn. Follow manufacture directions for your specific mixer.

After the ice cream has set up in the mixer, toss in an additional 1 cup of chopped berries and the chopped white chocolate and let mix for about 1 more minute.

Store in freezer. Can be made ahead.

Cover bowl with saran wrap or foil and store in freezer until ready to eat.
Recipe Notes
-Very important! If you are using the smaller Cuisinart or similar ice cream maker, make sure the canister is frozen well. Leave in the freezer for at least a day, two is better, don't take the canister out until you are ready to pour the mixture in. Also, I have found if you are using a larger ice cream maker, such as the White Mountain which I describe, it helps to chill the canister in your fridge, and the dasher as well. Or simply rinse with cold water and dry. Avoid setting the ice cream makers in the sun as they are churning, less heat exposure is better when you are churning.