I have been eating Fried Rice Omelets since I was a little girl. I always thought my mom or dad made up this recipe! This recipe is by far, my kids' very favorite recipe that my mom makes. It is, in our family, a heritage recipe. It's easy to make fried rice and making excellent fried rice is a matter of following a few simple rules…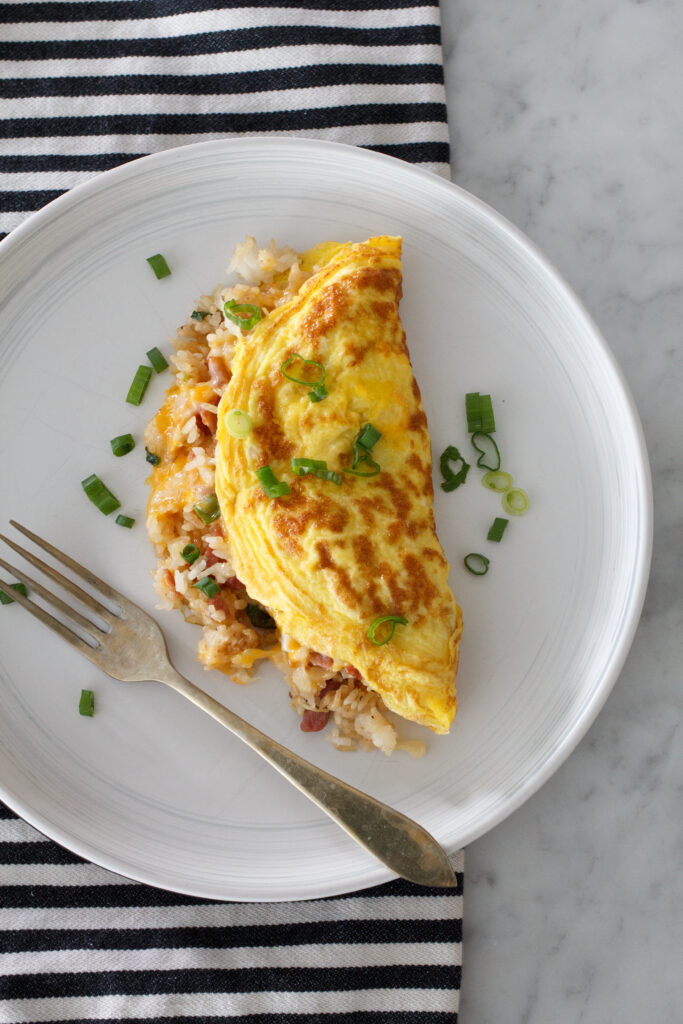 I was surprised to read this "Omurice, sometimes spelled "omu-rice" (オムライス, Omu-raisu), is a contemporary Japanese dish consisting of an omelet made with fried rice. It is a popular dish both commonly cooked at home and can be found at many Izakaya restaurants in Japan. It is also a popular dish in many restaurants in South Korea and Taiwan."

Even though fried rice is a Chinese dish, we loved it growing up. My kids still beg my mom, a.k.a . "Grandma Japanese" (yes they all call her that) to make them Fried Rice Omelets whenever she visits. It sounds weird, but is really so good.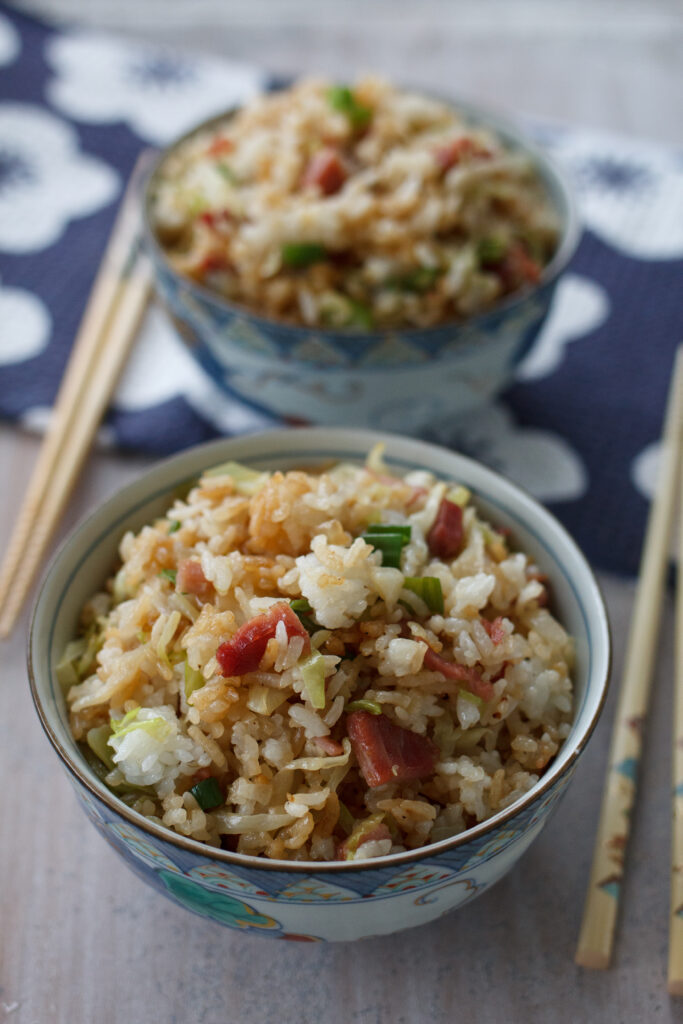 When cooking the ingredients- vegetables, meat, etc., do so- one ingredient at a time. Mom tried to teach me this in the beginning, but I resisted, and wanted to throw everything in a pan together, mix it all up and expected it to taste like her fried rice. It never did. Something was always "off". She would shake her head and say "You HAVE to cook each ingredient one at a time, not mix all up."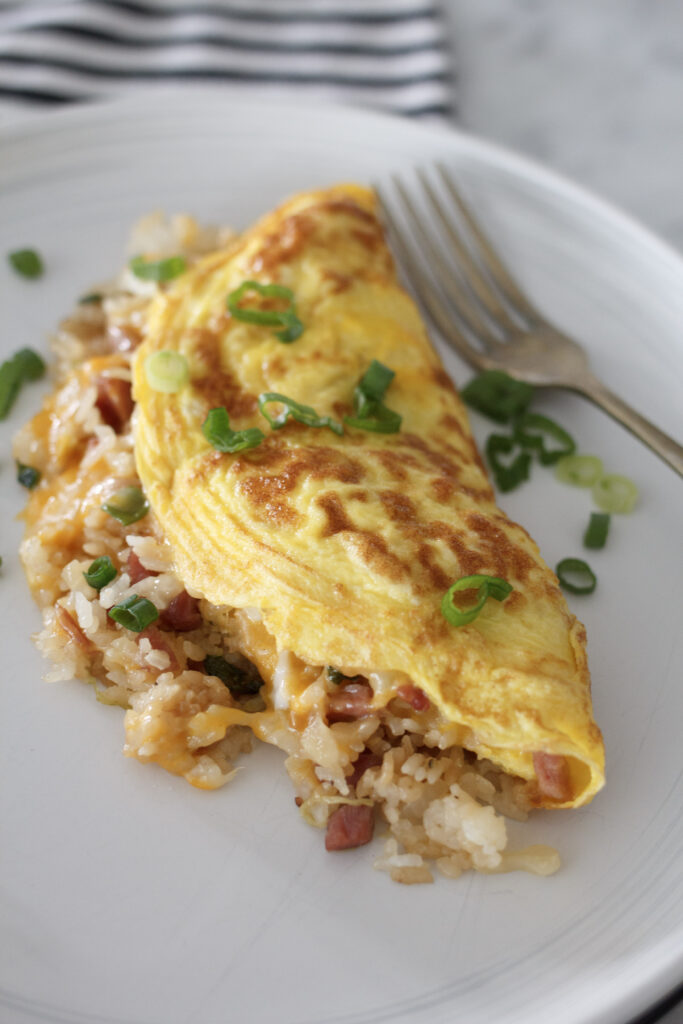 So, I finally listened, and now, after 40 years, can say my gohan is ALMOST as good as hers.
You know what is really funny? We love this, but she would be embarrassed to see that I posted this recipe. Kind of like an American posting a recipe for, say, Grilled Cheese sands made with Kraft Singles!
Fried Rice Omelet
A Bountiful Kitchen
Ingredients
7

cups

cooked sticky Japanese

pearl rice, cooled completely (see tips below)

1

cup

chopped onion

yellow or white

3/4

lb

chopped ham

about 2 cups or two thick deli slices

2

cups

green cabbage*

sliced thin

4

tablespoons

butter

separated

2

tablespoons

vegetable oil

salt

pepper

soy sauce

1

bunch green onions

chopped white and green parts

16

eggs, 2 per person for making omelets

grated or thinly sliced cheese

any type, cheddar, gouda, swiss, American
Instructions
The day before, or early in the day make rice and set aside to cool completely before making fried rice.
To Make Fried Rice:
Using a large non stick pan, cook each of the vegetables, separately*, in a small amount of oil and butter. I use about 1 teaspoon for each vegetable/meat. Salt and pepper each vegetable.

Transfer to a bowl or plate. It's OK to let the vegetables and meat inter-mingle at this point on the plate.

After cooking all of the vegetables and meat, add about 2 tablespoons of butter to the pan. Over medium heat, add the cooked and cooled rice a little at a time, breaking apart clumps with two wooden spoons until the rice is evenly distributed in the pan, and the butter is mixed in well.

Add all of the vegetables and meat to the rice. Toss lightly in pan. Season again with fresh ground pepper.

Add the soy sauce, a little at a time. We don't like to drown the rice in soy sauce, so I only use about 2-3 tablespoons to 7 cups of rice. Taste, add salt and more pepper, if desired. After heated through, add fresh chopped green onions. Turn the heat off. If you continue to leave the heat on, your beautiful fried rice will end up as gummy rice!
To make omelet:
Scramble/whisk eggs in a bowl with a fork. I allow about 2-3 eggs per person or about 1/2 cup of eggs. Heat a non stick pan over medium heat and place a little butter into the pan.

When butter is melted, pour 2 eggs scrambled into the pan. Let the egg cook for about 1-2 minutes, then begin to pull the egg away from the edges of the pan and allow uncooked egg to spread to the edge of the pan until the egg is almost cooked.

When the egg is almost completely cooked, place fried rice (about 1- 1 1/2 cups) onto one half of the cooked egg. Sprinkle cheese on the other half. . Gently fold the cheese covered side onto the fried rice side of the omelet. Let sit in pan for about a minute to finish cooking and to allow the cheese to melt. Carefully slide onto a plate. Enjoy!
Recipe Notes
This recipe is easily halved. It looks like a huge recipe, but in our home EVERYONE loves Fried Rice Omelets,  so we always make a large amount. There are never any leftovers! 
Make sure the rice is cooked and cooled completely before starting to make fried rice. It is best to make the rice the day before. If you use hot rice when making fried rice, your dish will turn out to be a sticky, gluey mess.
Try to use Japanese, or pearl rice, which is short and plump, not a long grain rice if available. This recipe will work with long grain rice, but the consistency will not quite be the same. 
When "mixing" the rice and other ingredients together, do not stir this like it's a cake batter- toss the ingredients, like you would a salad. Now for the omelet part: Mix eggs just as you would with a regular omelet. Sprinkle cheese over one side of the egg mixture, just before adding the fried rice. Fold over the top of the omelet. Slide on to a plate and enjoy.
Green cabbage is the most commonly sold cabbage. It look pale green and the inside is white. It is round and looks like a ball. I try not auto use the very middle section of this cabbage for fried rice.