There are two types of people in the world. Those who love Nutella, and those who do not. Frosted Nutella Chocolate Chip Cookies are for the Nutella lover in your life!
(Nutella) Love at first sight
I still remember the first time I ate Nutella. I was with my daughter Corrine, in Europe. She was performing with the University of Utah on a piano performance tour in Austria. It was 1998 and the first time either of us had traveled to Europe. The first morning at the hotel the buffet was loaded with the usual continental breakfast offerings, including breads, jams, and Nutella. The students on the tour went crazy for the chocolate hazelnut spread. It was all new to us, and it was love at first sight!
It's everywhere
Years later, it seems like Nutella is EVERYWHERE. Grocery stores, gas stations, restaurants, breakfast buffets, and everyone's favorite, Costco. I recently made a trip to Costco where I saw a 6 lb tub of Nutella ( I shared it on Insta Stories and received dozens of comments). Which begs the question, Who needs SIX POUNDS of Nutella? Oh my. Not me. I did recently buy a double pack of Nutella at Costco, because it was a good deal and I thought it would be fun to develop a cookie recipe using Nutella. Frosted Nutella Chocolate Chip Cookies are perfect for your favorite Nutella fanatic!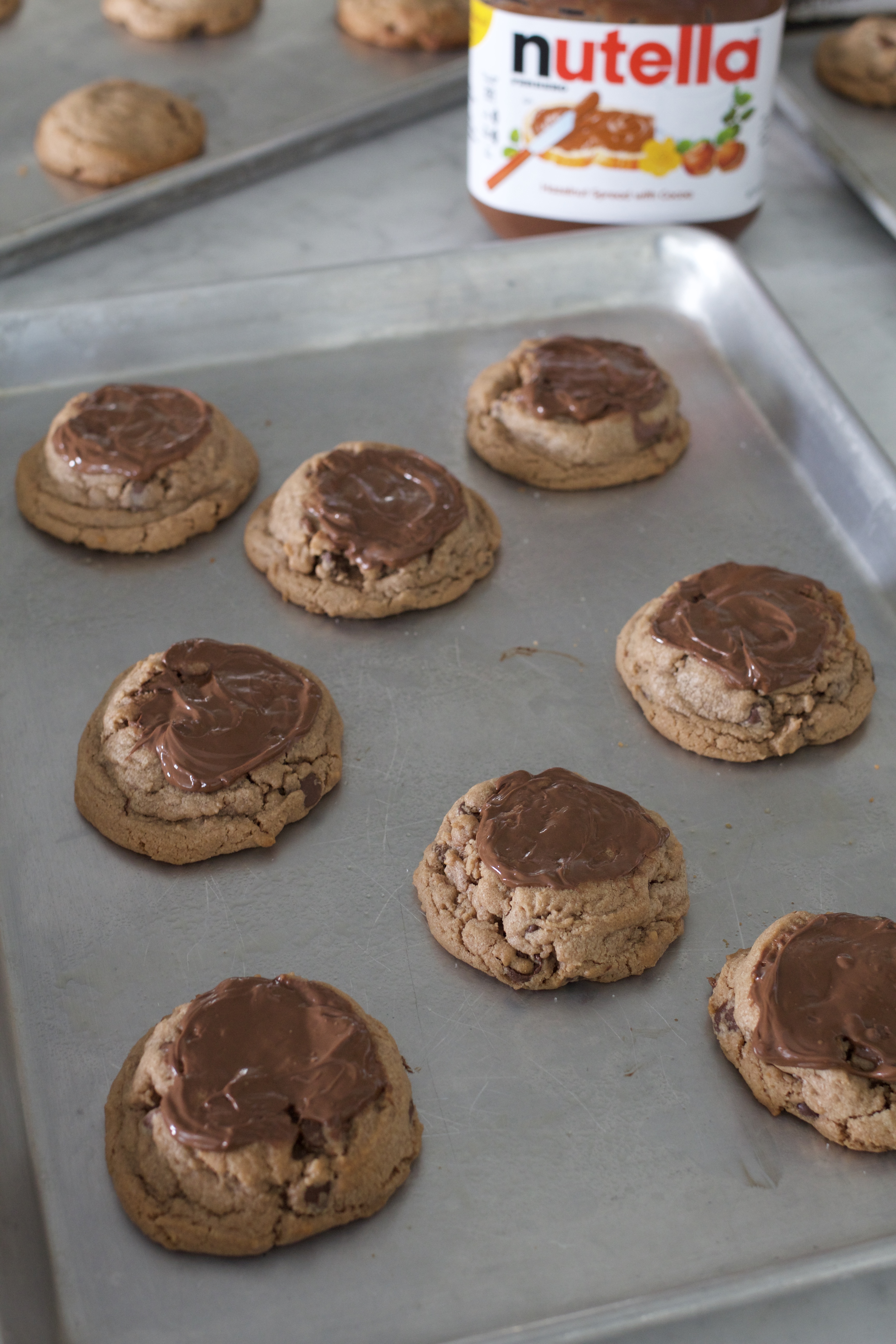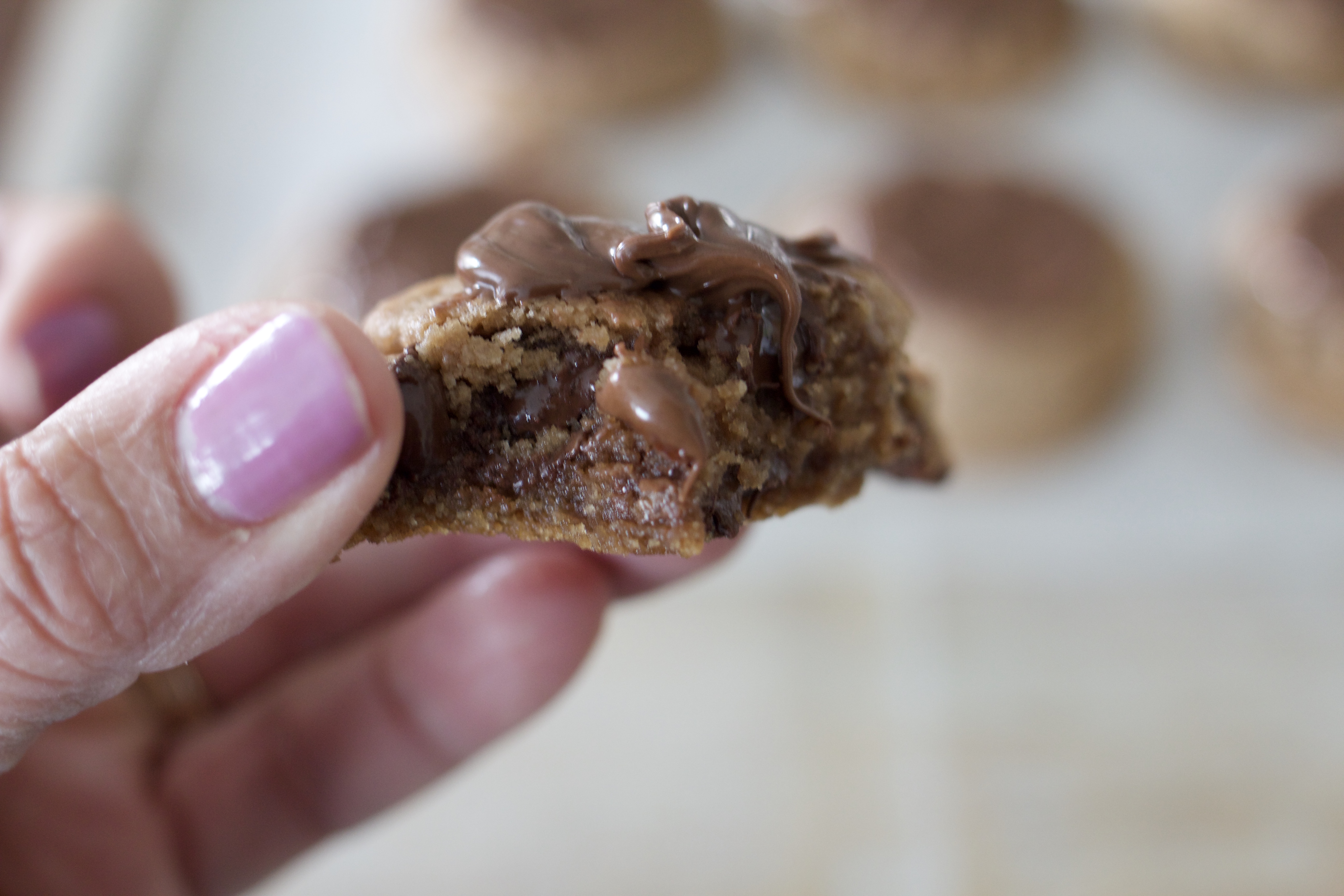 What to do with 66 oz of Nutella? Frosted Nutella Chocolate Chip Cookies
Are you a Nutella lover? After I purchase the double pack of Costco  Nutella, which is, btw,  2-33 oz containers (which is more, ironically than the 6 lb container I was mocking)  I wondered what got into me??!  I mean, I like Nutella, but I'm not obsessed. What better way to use up two huge jars  of Nutella sitting in my pantry besides develop a recipe or two, or three.  And where better to start than with a cookie. Since Nutella mixed with butter, sugars and flour is not a rich dark color, dark chocolate chips had to be in the cookie for flavor and for contrast of color. Even with the dark chocolate chips,  I felt the cookie needed a layer of frosting or glaze. I made some of the cookies with a coating of Nutella and some topped with a creamy layer of Chocolate Nutella Frosting. This is a cookie to celebrate!  Even if you're not a Nutella lover… yet.
Happy baking!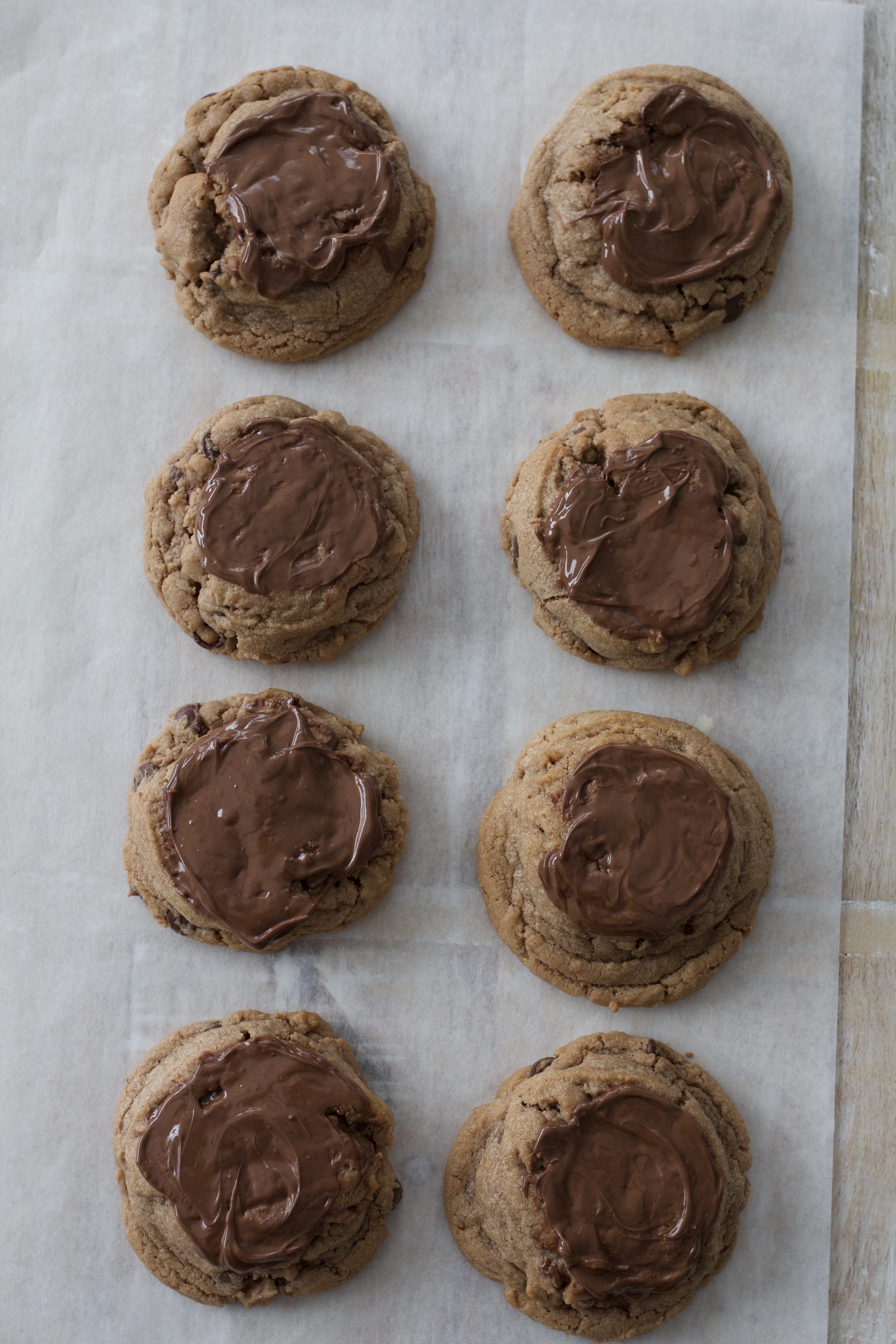 Frosted Nutella Chocolate Chip Cookies
Ingredients
1

cup

unsalted butter

softened in microwave for 10-12 seconds*

1/4

cup

brown sugar

3/4

cup

white sugar

2

eggs

1/2

cup

Nutella

1/2

teaspoon

almond extract

optional

1

teaspoon

vanilla

2 3/4

cups

all purpose flour

1

teaspoon

baking soda

1/2

teaspoon

baking powder

1

teaspoon

salt

2

cups

semi sweet chocolate chips
for frosting:
1/4

cup

butter

1/4

cup

Nutella

2

tablespoons

unsweetened cocoa

2 1/2

cups

powdered sugar

milk to thin frosting
Instructions
Place rack in center of oven. Preheat oven to 375 convection bake or 375 regular bake.

Cream butter and sugars in bowl until smooth on medium-low speed.

Add eggs, Nutella, almond and vanilla extract. Mix until blended.Turn off mixer.

Add flour, baking soda, baking powder, salt, and chocolate chips to bowl. Mix just until flour disappears using a pulsing motion with the mixer.

Scoop dough onto cookie sheets. Flatten dough balls slightly with palm.

Bake for 7 minutes or just until set on convection, or 8-10 minutes on regular bake.

Remove from oven and let cool.
Make frosting:
Cream 1/4 cup butter, 1/4 cup Nutella, 2 tablespoons unsweetened cocoa and powdered sugar until smooth.

Add milk if necessary to spread consistency. Beat for 2 minutes until light and fluffy.

Before frosting cooled cookies, mix frosting with a spatula to remove any air bubbles.

Top cookies with prepared frosting or simply spread with additional Nutella out of the jar.
Recipe Notes
-*microwaving the butter will help the butter to blend better with the sugars. Do not overheat the butter. It should still be firm to the touch. You should be able to make an indent with your finger if applying pressure to the butter, without having the cube of butter collapse. Alternatively, you may remove the butter from the refrigerator about 30-45 minutes before making cookies. -The eggs should be cold when adding to the dough mixture. -Do not refrigerate the Nutella. It should be stored at rom temperature, similar to peanut butter, even after opening the container. -If you have a convection oven, make sure to use the convection setting to bake cookies. If you do not, you can refrigerate the dough before baking to help the cookies hold their shape. After shaping the cookies and placing on cookie sheets, place the sheet in the refrigerator for at least 30 minutes. When the dough is cold, bake at 375 for 10 minutes or until the dough is set and does not appear to be wet on top. You may also add an additional 2 tablespoons of flour to the dough if you do not have a convection oven this will also help the cookies hold their shape while baking. Bake the cookies as directed at 375 for about 10 minutes.