What sounds better than a cold, creamy dessert in the middle of a heat wave? No baking- just whip, chop and layer this simple Frozen Strawberry Dessert for the best treat you've eaten all summer!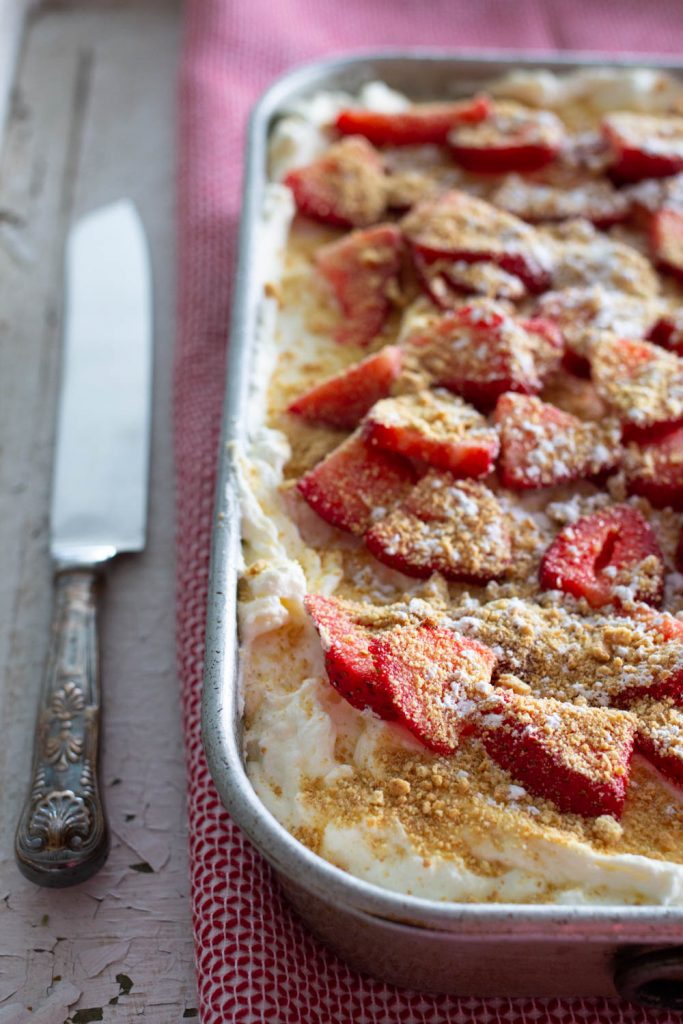 Remember ice box desserts? Ice box desserts can be whipped up in minutes, without the use of an oven and were a popular way to satisfy a sweet craving in days gone by. Now it seems, if we need to turn on the oven, the air conditioning gets bumped up and we bake away. If you want to avoid turning on your oven, this dessert should be on your list of must try treats!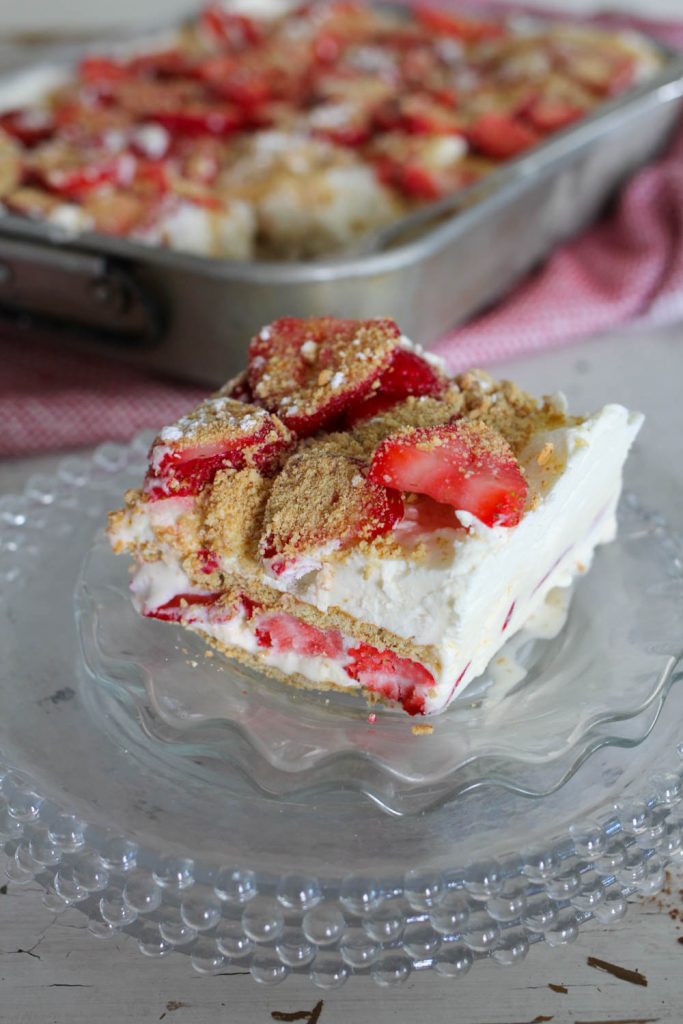 I love the simplicity of this dessert and the convenience of assembly early in the day or the day before (or a couple of days before) serving. Whenever we entertain, it seems like there's always a shortage of time the day of the gathering, so any ability I have to prepare ahead is greatly appreciated! I love the idea of lazy summer days with simple meals, prepared before meal time. I'm often asked about meals that are make-ahead, and this dessert definitely is at the top of the list if you want to serve something cool and refreshing!
You'll need a few simple ingredients, and a bowl, a mixer, a 9×13 pan and a strainer to make this Frozen Strawberry Dessert! I promise you've never made a dessert that is so easy to put together and tastes so good. It's the perfect dessert for everyone from toddlers to your great-aunt and feeds a crowd as well. Think backyard, shady tree, lawn chairs and Frozen Strawberry Dessert you prepared the day before. All you have to do when it's time to serve,  is pull the pan out of the freezer 15-30 minutes before serving (if frozen solid).  Let sit on counter, cut and enjoy!
Frozen Strawberry Dessert
Ingredients
1

Pint

heavy whipping cream

1 1/4

cups

powdered sugar

1

teaspoon

vanilla

8

oz

cream cheese- room temperature

regular sets up better than light

1/2

gallon

vanilla or strawberry ice cream

1 - 14

oz

box graham crackers

I like Nabisco Honey Maid brand

2

lbs

sliced or chopped strawberries

drained well and divided
Instructions
In bowl of a stand mixer or large bowl, whip the cream with 1/4 cup powdered sugar until cream is stiff. Scrape into a separate bowl, set aside.

Using the same bowl, beat room temperature cream cheese, 1 cup powdered sugar and 1 teaspoon vanilla on low until powdered sugar is mixed into cream cheese and vanilla and is smooth, about 1 minute.

Fold whipped cream mixture into cream cheese mixture. Set in refrigerator until ready to assemble.

When ready to assemble dessert, Spread about 3 tablespoons of cream cheese mixture in bottom of 9x13 pan.

Add one layer of graham crackers, in a single layer over thin bottomcream cheese layer.

Scoop vanilla ice cream onto graham crackers, let sit until softened slightly and barely able to spread. Do not let melt! Spread the ice cream over the graham crackers with a spatula when softened to smooth out the scoops.

Add a layer of sliced chopped strawberries

Add layer of graham crackers on top of strawberries.

Spread the remaining cream cheese layer over the berries.

Spread the remaining strawberries (1 lb) on top.

Let sit for at least 6 hours before serving.

Just before serving, sprinkle 2-3 crushed graham crackers over top of dessert if desired, dust with powdered sugar. See recipe notes for simplified layers!
Recipe Notes
-If you don't like frozen chunks of strawberries you may chop the berries into smaller pieces.
-Make sure to drain the berries well to insure the juice form the berries does not bleed onto the ice cream or cream cheese layers.
-This dessert must be stored in freezer because of the ice cream layer!
-The layers of the dessert are as follows:
thin layer of cream cheese mixture
graham crackers
ice cream
1/2 strawberries
graham crackers
cream cheese layer
remaining strawberries
crushed graham crackers
powdered sugar