If you love brownies as much as I love brownies, you're going to love this pie. Fudge Brownie Pie is a rich chocolately brownie, baked in a flaky pie crust. Making a pie doesn't get much easier than ABK's Fudge Brownie Pie!
Last summer I was daydreaming about pie and my thoughts turned to new pie creations for Thanksgiving. I have my traditional pie favorites, but every year I like to experiment with at least one or two new ideas to mix up the expected. If you've been reading this blog for any amount of time, you know how much I love brownies. There are probably at least a dozen different brownie recipes on ABK. But no brownie pie recipe until now!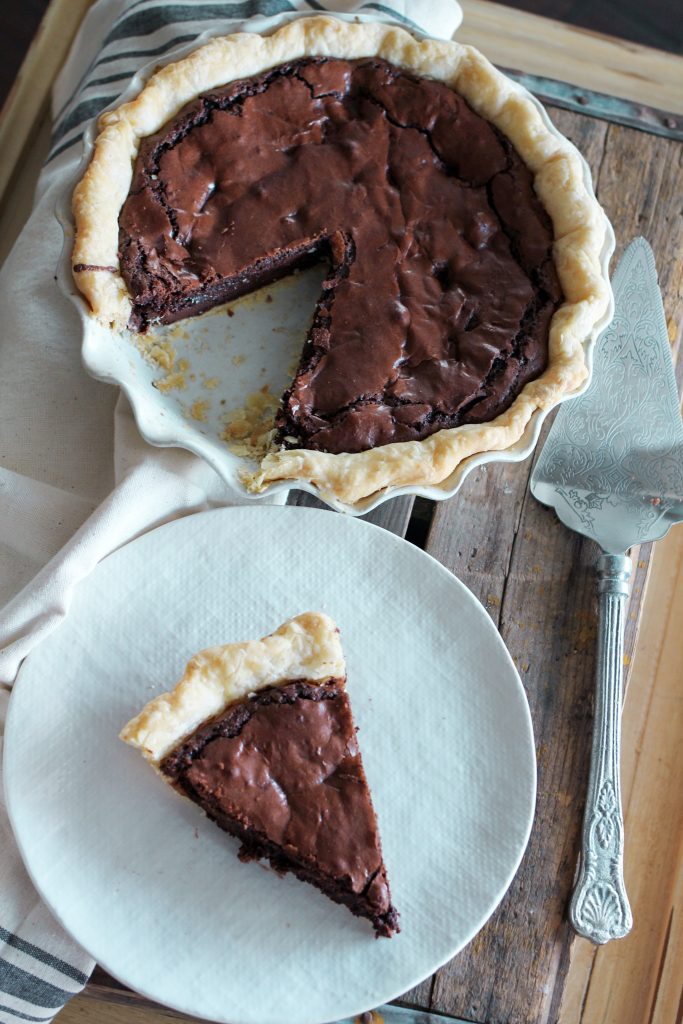 If you're a first time pie maker, this is the absolute perfect pie for you! Fudge Brownie Pie is a beginner pie, but tastes like you've been baking for a lifetime. Take a look at this tutorial for step by step flaky pie crust instructions (you'll need 1/2 of the recipe for a single crust). If you'd like a more in depth tutorial, take a look at ABK's Essential Holiday Dinner Guide!
Brownies vary all over the board in texture ( cake like to fudge) and depth of chocolate flavor. I love a brownie that's kind of in the middle. Not too wet and not too cakey. I like every type of chocolate, whether it is dark or light or in-between… Let's be honest, I have hardly ever met a home made brownie I didn't like! I envisioned this pie as a dark chocolate brownie resting in a light flaky pie crust. I opted to make this brownie filling without nuts, but I know it would be amazing with a cup of roughly chopped walnuts or pecans! If you are serving this to an older crowd, I highly suggest adding nuts.
I love Callebaut Royal Dutch Chocolate powder and also Trader Joe's "Pound Plus" dark chocolate bars (which I use in our favorite NY Times Chocolate Chip Cookie recipe), found in stores or online. Any good quality dark chocolate bar and unsweetened cocoa powder will work! The key here is to use good quality chocolate. It definitely make a difference in this recipe, since chocolate is the star ingredient. This pie is best when served warm. You can bake it ahead and warm up individual pieces or just serve it at room temperature. If the pie sits until completely cooled, the butter and chocolate have time to solidify and you'll get nice clean slices, if serving warm, the pie may fall apart a bit when sliced. It's absolutely delicious slightly warm, served with a scoop of vanilla ice cream or whipping cream.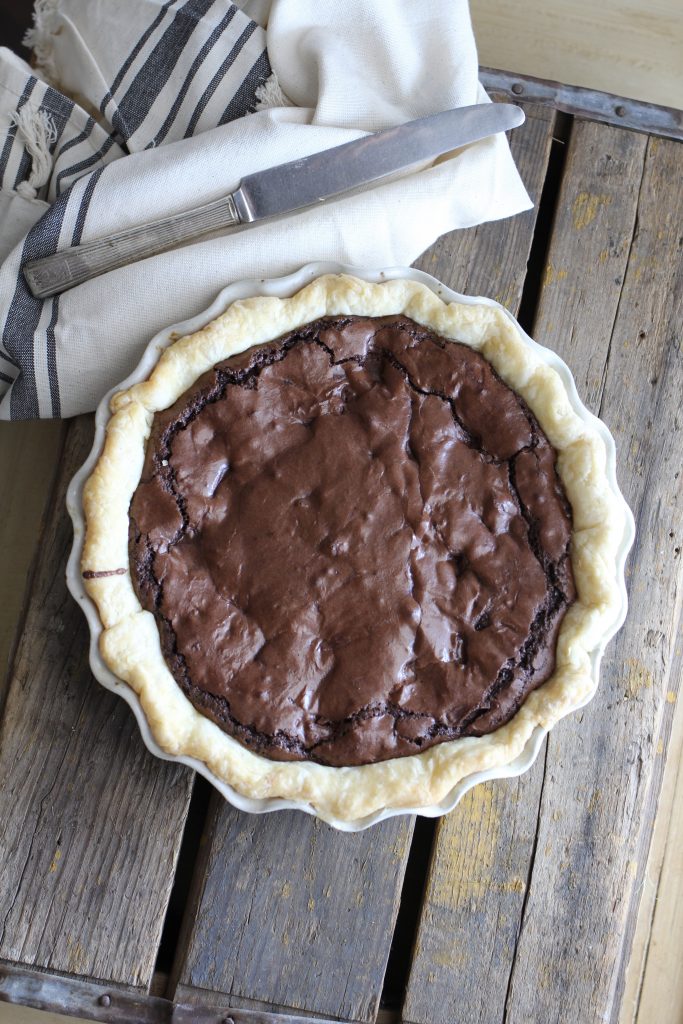 I didn't make a whipped cream topping, but on Thanksgiving, we are serving Fudge Brownie Pie with a chocolate whipped cream (made with whipping cream, cocoa powder and powdered sugar).
Is it Thanksgiving yet????
Fudge Brownie Pie
Ingredients
1

unbaked 9 inch pie shell

recipe link on post

1/2

cup

butter

melted

1

cup

sugar

1

teaspoon

vanilla

2

large eggs

beaten

1/3

cup

unsweetened cocoa powder

8

oz

chopped dark chocolate bar

1/4

cup

all purpose flour
Instructions
Pre heat oven to 350 degrees and place rack on lowest shelf in oven.

Prepare pie crust according to directions. See recipe notes.
Make filling:
Melt butter in a small pan. Remove from heat.

Add sugar and vanilla, whisk until mixed well.

Whisk in two beaten eggs to butter mixture.

Add cocoa powder, chopped chocolate and flour to pan. Fold in until wet and dry ingredients are incorporated. This will take just a few turns of the spatula, do not over mix!

Scrape brownie filling into prepared unbaked pastry shell.

Bake for 35-40 minutes.

Let sit on counter for at least one hour before serving.
Recipe Notes
-Use a 9 inch shallow pie plate for this recipe. Do not use a deep dish pie plate. -If you would like to add nuts, add 1 cup of roughly chopped nuts to the batter with the flour and reduce the cooking time to 35 minutes. -I highly suggest baking on the bottom rack of the oven (not the bottom of the oven, the bottom rack). Place the rack on the lowest shelf setting of the oven. This will insure the bottom crust is cooked without the top of the pie getting overcooked.