We love Game Day Baked Potato Skins for tailgating or at home game watching! If you can bake a potato, you can make this yummy game day treat.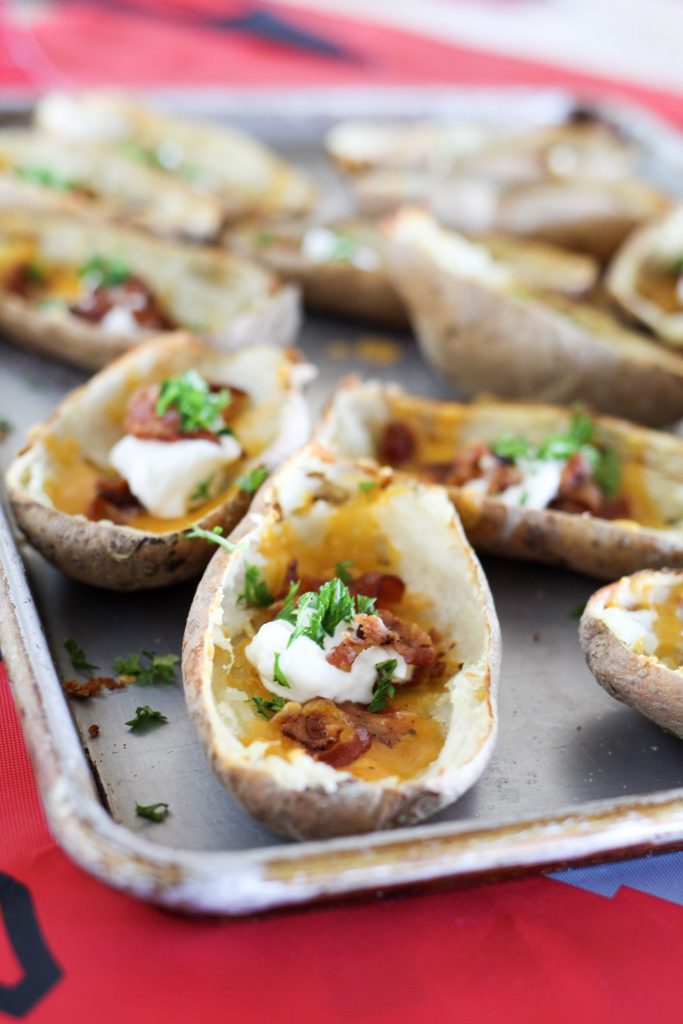 Game Day Baked Potato Skins are perfect for serving at your next gathering whether you are meeting at the game or in your kitchen. I love to serve these at parties because they're loaded with flavor and can be served either hot, warm or at room temperature. When you're carting food to the game, keeping everything warm is  tricky, so it's nice to have a few dishes that don't require a heat source. Game Day Baked Potato Skins can be served as an appetizer or a side to almost any main dish.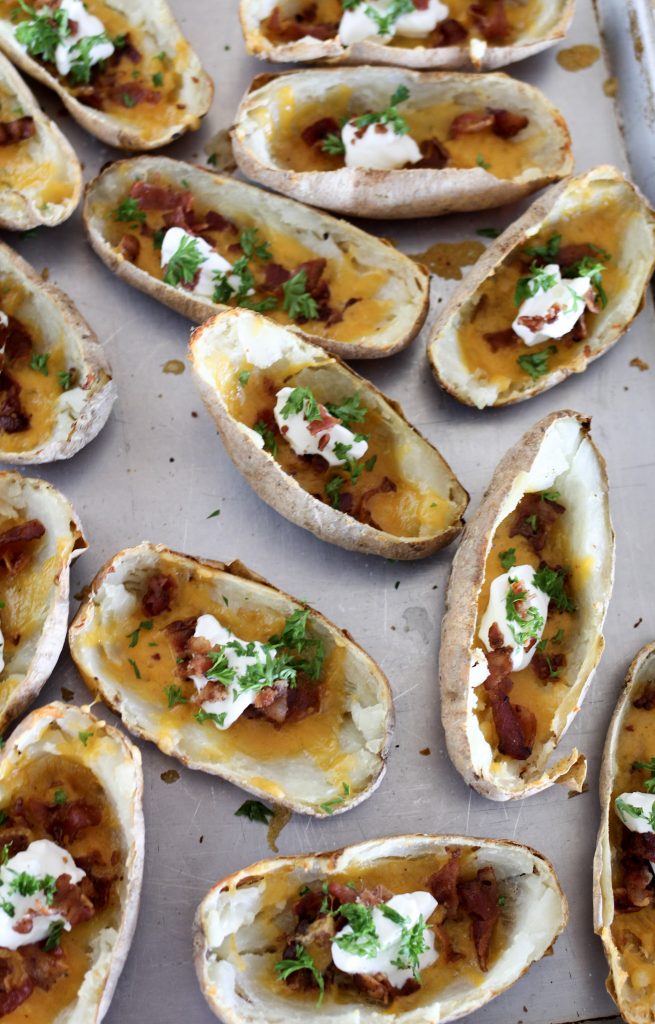 A few things to remember when you're making baked potato skins…don't choose potatoes that are too large. Medium size potatoes are best for this recipe. Don't scrape too much of the potato out of the skin. If you scoop too much of the potato out, you'll be left with just skin, and the skin isn't all that tasty! Make sure to save the scraped out potato to make ABK's Funeral Potatoes. I place the cooked potatoes into a Ziplock bag and store them in the fridge or freezer until I'm ready to use. Don't be tempted to skip the butter and salt! I've made these both ways. With and without the butter and salt inside of the potato. Trust me! Last tip- If you take the potatoes out of the oven after the cheese has melted and place them in an aluminum pan you'll have an easy clean up and the potatoes will stay warm for about an hour if covered with foil, placed in a cardboard box and wrapped in newspaper.
Here's a look at last time we tailgated…we served Game Day baked Potato Skins, Baked Beans with caramelized onions in cups, Basil Couscous Salad, Smoked Boston Butt with Bbq Sauce, slow cooked beef,  And  Almost Swig Sugar Cookies for the win!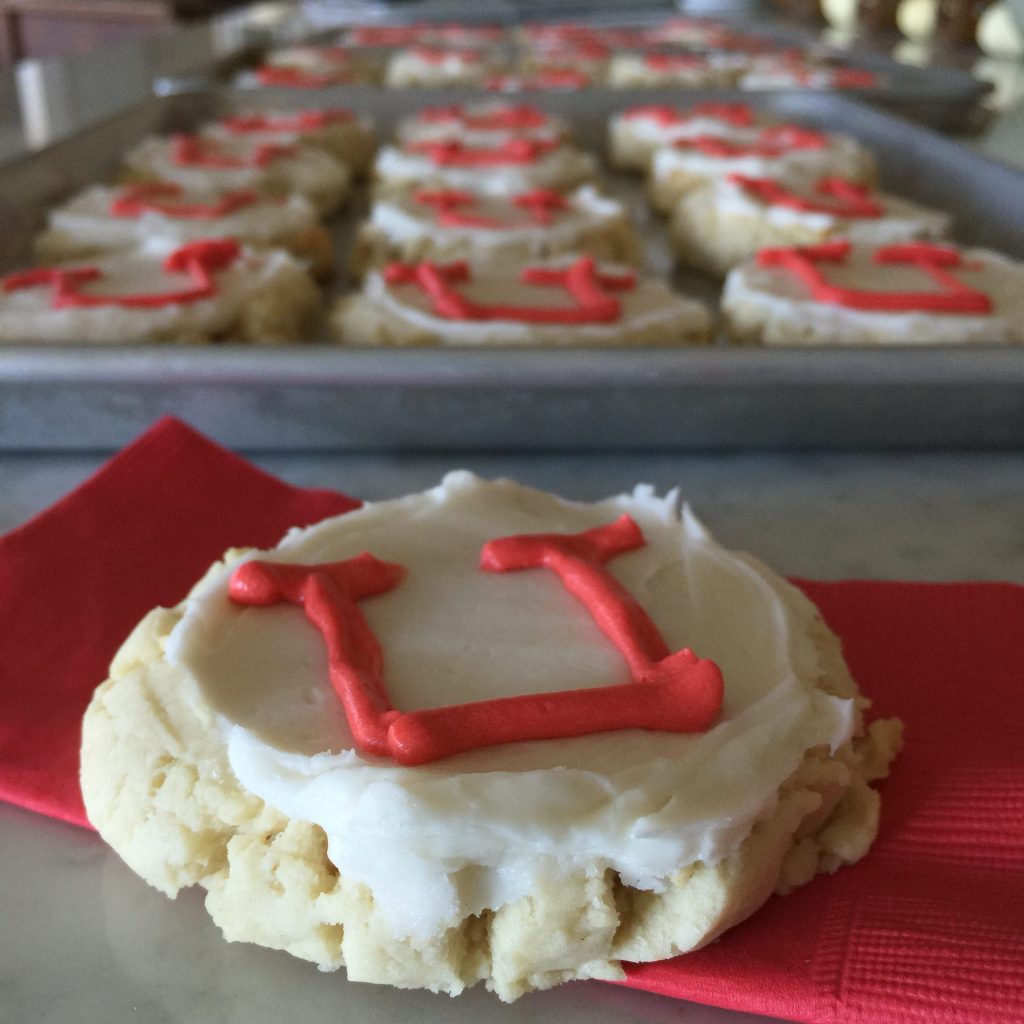 Game Day Baked Potato Skins
Ingredients
6-8

Russet potatoes

washed and patted dry

olive oil

2-3

tablespoons

melted butter

sea salt

1 1/2

cups

grated cheddar cheese

1/2

lb

bacon

thick cut is best

2-3

green onion stems

chopped or parsley, chopped

1

cup

sour cream
Instructions
Pre heat oven to 375

Prick potatoes with a knife or fork in a couple of places.

Place potatoes on oven rack or on a cookie sheet in oven.

Bake potatoes for 45-50 minutes or until knife is inserted easily into potato.

While potatoes are cooking, cook bacon until crisp and chop, set aside.

Remove potatoes from oven. Let cool for about 10 minutes. Rub outside of potato skin with a little olive oil.

Cut potato in half length-wise. Using a spoon or scoop remove the inside of the potato to a bowl or ziplock bag. Leave about 1/4 inch of the potato in the skin.

Brush the inside of the potato with melted butter and sprinkle with salt.

Place grated cheese into each of the potatoes. Top with chopped bacon.

Place the potatoes on a cookie sheet and slide back into oven for about 5 minutes at 375 or until cheese is melted.Remove to serving patter or container for transporting.

Just before serving, top with a dollop of sour cream and chopped green onion or parsley.

Serve warm or at room temperature.