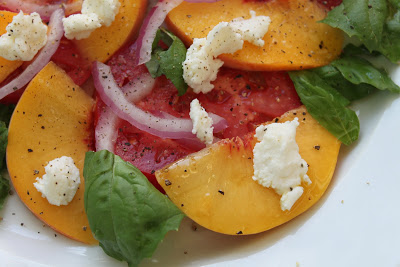 About the Recipe:
Found this recipe for Garden Tomato & Fresh Peach Salad in a recent issue of Martha Stewart magazine. It called for heirloom tomatoes, which were not available in my garden on Thursday. Or on any other day, for that matter. I used my little, ordinary, garden tomatoes (go ahead, feel sorry for me) and guess what? Yum.
The recipe also called for white peaches. Uh. Not happening. The closest I came was a donut peach. Yummy, but not a white peach. I'm sharing this because at times, we (I) get hung up on having exact ingredients called for in a recipe. Running all over creation for some crazy ingredient. Been there.
This segment is called : Si's Mini lesson on getting a grip… In this case, fresh is fresh. Sure an Heirloom tomato is wonderful. A white peach, unusual. The sub of a garden fresh tomato and a delicious ripe local peach were perfect in this salad. Which, btw, if you love tomatoes and peaches- this salad is your new bff. I modified the recipe a bit- added my new bff White Balsamic (*see note in tips section below) and wow. I think we are having this for dinner a few more times this week. Even Jake (14) asked for seconds. He tried the salad with and without the olive oil and balsamic. He LOVED the balsamic version.
Moving on… The Giveaway:
I picked up this cookbook last month, and fell in love with the beautiful photos.
I love Williams Sonoma cookbooks. I'm not a big -"I need pictures in my cookbook" type of girl, but I do love WS cookbooks. This book is filled with recipes from Meyer Lemon Jelly to Proscuitto Panini with Fontina & Fig preserves. Mouth watering type of pics and recipes.
As an added bonus, the nice people at
CSN Online Stores
asked if I would be interested in sharing a giveaway with ABK readers. They offered a gift certificate in the amount of $55. Good at any of their online stores.
Leave a comment about the best thing you ate this summer. Comment deadline:
Tuesday, September 14, 2010. Midnight.
Winner announced on Wednesday.
Good luck!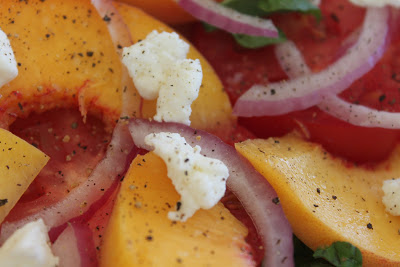 Garden Tomato & Fresh Peach Salad
Ingredients
1

white or other variety fresh ripe peach

1

large heirloom tomato

thin sliced red onion

fresh basil

Ricotta

crumbled

Coarse or Sea Salt

Fresh Ground pepper

Extra Virgin Olive Oil

White Balsamic Vinegar
Instructions
Arrange peach and tomato slices on platter or individual salad plates.

Lay red onion slices, torn fresh basil and crumbled ricotta over top of fruit. Season with salt and pepper and drizzle white balsamic and olive oil. Garnish with basil sprigs. Serve immediately.
Recipe Notes
-White Balsamic. I have received several emails about this product. Found in Italian specialty stores, in SLC, downtown at Tony Caputos. No more expensive than Red Balsamic. Some argue that white balsamic is not really a balsamic, whatev. You can also purchase online, one of my fave brands of olive oils and vinegars: "O Olive Oil" brand. I've tried several of their vinegars and olive oils. Great products. They may be purchased online here. Or at kitchen specialty stores (Sur La Table), or occasionally at my fave, TJMaxx.