My friend Eden Bennett gave me this recipe  for Giant Oatmeal Chocolate Chip Cookies about 100 years ago.
I think it's the best Oatmeal Chocolate Chip Cookie recipe.
Ever.
Oh, make sure you have some milk chilling. You'll need a big, tall glass.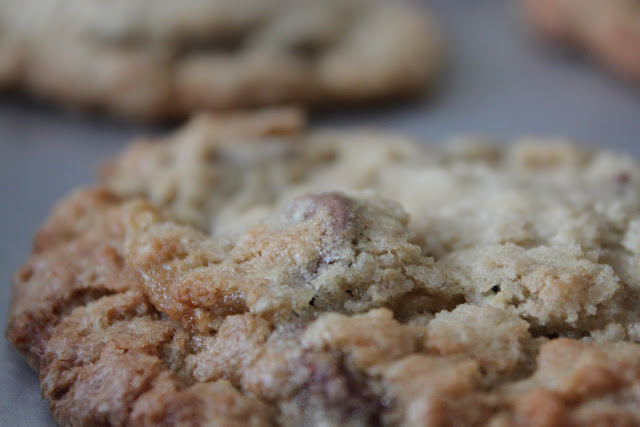 Giant Oatmeal Chocolate Chip Cookies
Ingredients
2

cups

butter

slightly softened, no substitutes

2

cups

brown sugar

2

cups

sugar

4

eggs

2

teaspoons

vanilla

4

cups

flour

2

teaspoons

baking powder

1

teaspoon

baking soda

1

teaspoon

salt

5

cups

quick oats

1 1/2

bags Guittard or other milk chocolate chips
Instructions
The day before or several hours before baking:
Cream butter and sugars. Add eggs and vanilla, beat until no longer grainy. About 3 minutes.

Combine all dry ingredients in bowl. Mix in a little at a time to wet ingredients. Do not over mix. Blend just until wet and dry ingredients are combined, You may also mix by hand to prevent over-mixing. Fold in chocolate chips.

Scoop dough onto one large jelly roll pan, using a 2-3 inch cookie or ice cream scoop. Place cookie dough onto pan, closely together until all of the dough is scooped out. You should have approximately 36 balls of dough.

Cover pan with Saran wrap and place in refrigerator for at least 2 hours or until dough is chilled completely.

When ready to bake, preheat oven to 400 degrees.

Place dough onto cookie sheets, no more than 6 cookies per pan. Slightly flatten top of cookie with spatula or palm of your hand.

Bake at 400 degrees for 8-10 minutes.

Remove from oven and let cookies cool completely on baking sheet.
Recipe Notes
-I like the flavor of Guittard Milk Chocolate Chips. The Guittard chips are also larger than a standard chocolate chip.-To bring the butter to perfect temperature, remove from refrigerator and microwave 1 cup (2 cubes) at a time for 15-20 seconds. Or set on counter for about 30 minutes.