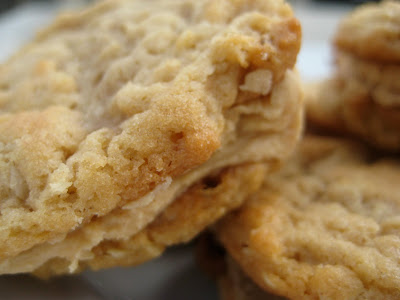 I always wanted to be a Brownie. Or a Girl Scout. Wanted one of those cute uni's. Wanted to stay after school to meet in they gym with the other girls and Mrs. Miller, Gretchen Miller's mother and eat treats together after the meeting. For some unknown reason, it never worked out. Could this be the reason I feel compelled to buy ridiculously overpriced cookies from cute little girls on street corners, or in front of Freddie's or Dick's Grocery? My favorite are Samoas, of course. I mean, who doesn't LOVE those. Once I ate the GS version of PB Oatmeal Sand cookies. Not on my top three list of fave GS cookies. That would be:
1. Samoas
2. Thin Mint
3. Shortbread ( actually I only buy these for Grant.
they are his #1,2 and 3.) I know you care.
The other day, out of curiosity, I Googled "best cookie recipe" and came up with a list that included this recipe. Seriously, there were about 1,000 reviews, most of them positive. So I thought they were at least worth a try. Do you love peanut butter? Do you love oatmeal cookies? How about peanut butter frosting?
Get out the baking sheets.
You need to make these.
Now.
Girl Scout Peanut Butter Oatmeal Sandwich Cookies
adapted from All Recipes
Ingredients
1 1/2

cups

all-purpose flour

1

teaspoon

baking soda

1/2

teaspoon

baking powder

1

teaspoon

salt

1

cup

unsalted butter

softened

1

cup

peanut butter

1

cup

white sugar

1

cup

packed light brown sugar

2

eggs

2

teaspoon

vanilla extract

2

cup

quick cooking oats
Filling:
6

tablespoons

butter

softened

2

cups

confectioners' sugar

3/4

cup

smooth peanut butter

4

tablespoons

whipping cream or half and half
Instructions
Cookie:
In a large bowl, cream together 1 cup butter , 1 cup peanut butter, white sugar, brown sugar, and vanilla. Add eggs and beat well.

In another bowl, combine the flour, baking soda, baking powder, and salt. Add to the creamed mixture. Stir. Add oatmeal and stir.

Drop by tablespoon onto ungreased baking sheet, and press each mound down a little to form 1/2 inch thick cookies. Bake at 350 degrees for 7-8 minutes, or until cookies are a light brown. The cookies need to be slightly browned. Don't under bake too much, or the cookie won't be able to support the creme filling.
Filling:
Cream 6 tablespoons butter with the confectioners' sugar, 3/4 cup smooth peanut butter, and the cream. Spread filling onto half of the cooled cookies, then top with the other half to form sandwiches.
Recipe Notes
– I used a small cookie scoop, so the cookies would be more uniform and easier to match up after filling.
-Normally, I'm a BIG cookie scoop type of gal. But this cookies is really sweet and rich with the creme filling (AND you are really eating two cookies per serving). I think smaller is better in this case.