Peanut Butter Balls. They are round peanut-butter-nutty-chocolate wonders that have been in the Lauder-Foster family for 4 generations. Peanut Butter Balls are similar to the popular homemade confection called Buckeye Balls, but these are completely dipped in chocolate and then rolled in chopped nuts.
Family history and peanut butter balls…
I was first introduced to Peanut Butter Balls in 1982. My mother in law and sister in law, Sheri volunteered to make treats for our wedding. For months we gathered together on Thursday nights, to roll Peanut Butter Balls. We would make, dip, roll and then freeze the ingredients into little balls of perfection while we watched Knots Landing (a night soap opera spin-off of Dallas). I went with my mother in law to purchase the ingredients for this treat to
Orson Gygi
, a kitchen specialty store off of 3300 South in SLC. I was first introduced to Gygi's by my mother in law, Doreen and was fascinated with everything Gygi's offered in one store. It was like heaven to me! So many types of chocolate, nuts, sprinkles, flavorings and kitchenware items galore all sold in bulk. Everything from baking pans to the little clear plastic plates we purchased for our reception were (and still are) available at family owned Orson Gygi. Gygi's is still my favorite stop for everything kitchen and cooking related in SLC. Oh, and how's this for coming full circle- I now teach
cooking classes at Gygi's .
The original Peanut Butter Ball recipe came from Doreen's mother, Eveline Lauder. Grandmother Lauder was born in 1919, and passed in 1999, but her legacy lives on. She was an impeccable dresser. She worked at Beaton's Clothing store for years in Canada and in the U.S. Eveline Lauder took hours to get ready, and never left the house in sweats, or anything casual. She loved being a woman!
One time I remember she had an early flight to take after a family wedding, instead of going to bed, Grandma stayed up and got ready- dressed, makeup on, hair fixed. The whole nine yards. Then she just sat upright on the sofa, and waited until it was time to go to the airport! She was a generous, loving and kind woman. She made buckets of peanut butter balls (and about 10 other types of cookies) every Christmas, and shared them with friends and family. My kids still love these treats, and ask for them every Christmas.
Traditions and techniques
In the years when I skipped all other baking, aka "The Lost Years" (when I had Brooke and Stephen in diapers and high chairs at the same time) this was the one and only Christmas treat I made, every year, without fail. My kids love them. Grant loves them. We make batches and place in fridge or freezer. They keep FOREVER. Sometimes a container will get buried in the back of the freezer, and we'll discover it long after the Christmas decor has been put away. It's like finding a $20 in your coat pocket. Don't you love that?!!
This recipe only requires 5 ingredients. How great is that? Start by mixing the softened butter and peanut butter until they are blended together and smooth. Add the powdered sugar and mix until the peanut butter mixture is dry enough to roll into balls without being too sticky. Then, roll the balls into about 1 inch in diameter. Place them on a cookie sheet. When you've filled up the cookie sheet, stick them into the fridge or freezer to chill. Its that simple No baking, if you can mix, chop, roll and melt a little chocolate, you've got this! They are the ultimate make-ahead treat.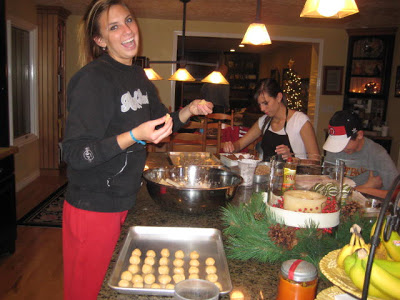 making peanut butter balls back in 2008…