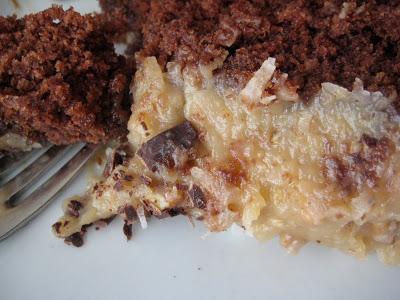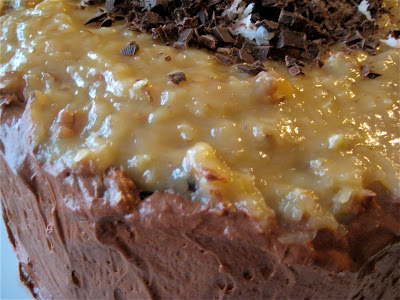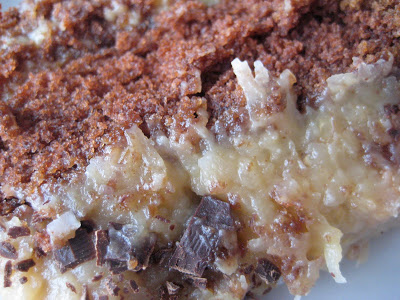 Grant's 50th German Chocolate Cake: So, you know how I love cake? All cakes. I've made lots and lots of cakes over the years. For some reason, I haven't ever baked a German Choc cake. I'm not in love with the usually overly sweet pecan and coconut filling. Don't love a cake without frosting either. Lots of times German Choc cake is served without any frosting, just filling. A cake without frosting… not for me.
For Grant's 50th, yes 50th! birthday, I wanted to make him a special cake. My friend Laurie made him a cheesecake (his #1 favorite), a Key Lime cheesecake, which I will have to share with you soon… anyway, I decided to make one of his other fave cakes: German Chocolate. I started out with a recipe that looked good, but the layers turned out SO FLAT. Seriously, I would have had to make a double recipe for it to look presentable. So I tried another recipe. Bingo! Winner! Added a creamy chocolate frosting – and WOW. Yummy. Definitely a keeper.
Grant's 50th German Chocolate Cake
Ingredients
1/2

cup

water

4

1 ounce squares German sweet chocolate

1

cup

butter

softened

2

cups

white sugar

4

eggs

room temperature

1

teaspoon

vanilla extract

1

cup

buttermilk

room temperature

2 1/2

cups

sifted flour

1

teaspoon

baking soda

1/2

teaspoon

salt
Coconut Pecan Filling
4

egg yolks

1

can

12 oz. evaporated milk

1-1/2

tsp.

vanilla

1-1/2

cups

sugar

3/4

cup

1-1/2 sticks butter or margarine

1

pkg.

7 oz. flake coconut, I used sweetened (about 2-2/3 cups)

1-1/2

cups

chopped pecans
Chocolate Frosting
1/4

cup

1/2 stick butter, at room temperature

1/4 to 1/3

cup

unsweetened cocoa powder

1 1/2 to 2

cups

powdered sugar

1/4

teaspoon

salt

2-3

tablespoons

milk

1

teaspoon

vanilla extract
Instructions
Preheat oven to 350 degrees. Grease, flour and line 2 – 9 inch round pans with parchment paper or wax paper rounds. Sift the flour, add baking soda and salt to flour. Set aside. In a small saucepan, heat water and 4 ounces chocolate until melted. Remove from heat and allow to cool.

In a large bowl, cream 1 cup butter and 2 cups sugar until light and fluffy. Beat in 4 eggs, one at a time. Blend in the melted chocolate mixture and vanilla. Beat in the flour mixture, alternately with the buttermilk, mixing just until incorporated. Do not over mix.

Pour into 2- 9 inch pans. Bake in the preheated oven for 20-30 minutes, or until a toothpick inserted into the center of the cake comes out clean. Allow to cool for 10 minutes in the pan, then turn out onto wire rack. Wrap in Saran or other plastic wrap and place in freezer until frozen and ready to fill and frost cake.
Coconut Pecan Frosting
Beat egg yolks, milk and vanilla in large saucepan with wire whisk until well blended. Add sugar and butter; cook on medium heat 12-15 minutes or until thickened and golden brown, stirring constantly. Remove from heat.

Add coconut and pecans; mix well. Cool to room temperature before frosting cake.
Chocolate Frosting
Cream butter. Stir in cocoa and salt. Add powdered sugar and milk, beating to spreading consistency. Add small amount additional milk, if needed. Stir in vanilla. About 1 1/2 cups frosting.

Assembly:

Take cake layers out of freezer.

Place one layer on serving plate.

Top with half of filling.

Lay other layer on top.

Frost sides of cakes with chocolate frosting.

Spread rest of filling on top of cake.

Shred some chocolate on top of cake.
Recipe Notes
Or in this case, my mini degree in German Chocolate Cake baking: -Original cake recipe found on All Recipes.com, calls for baking in 3 pans. It baked up perfectly in two 9 inch round pans. -I adjusted this recipe which called for: the eggs and whites to be separated, beating the egg whites until frothy, and folding into the batter. Because I wanted to bake a cake with only two layers and frost the sides, I felt it would be too airy if I whipped the whites, so I added the eggs without separating. -The recipe also called for cake flour. A lot of comments on various sites talked about German Chocolate Cake being too hard to handle (when frosting, filling, etc) so, I decided to use regular flour instead of cake flour. The result was perfect. Still a super tender and moist cake (because of the buttermilk), but not falling apart as I moved it from pan to cooling rack, then freezer. -The cake is very tender, meaning it is susceptible to falling apart if not handled carefully. Freezing the cake made it much easier to fill and frost. -No need to wait for the cake to completely cool before wrapping in plastic wrap and placing in freezer. Just let it sit on the counter for about 10 minutes before turning out of pan. You may skip the step instructing you to turn cake onto wire rack. Just wrap and freeze immediately.