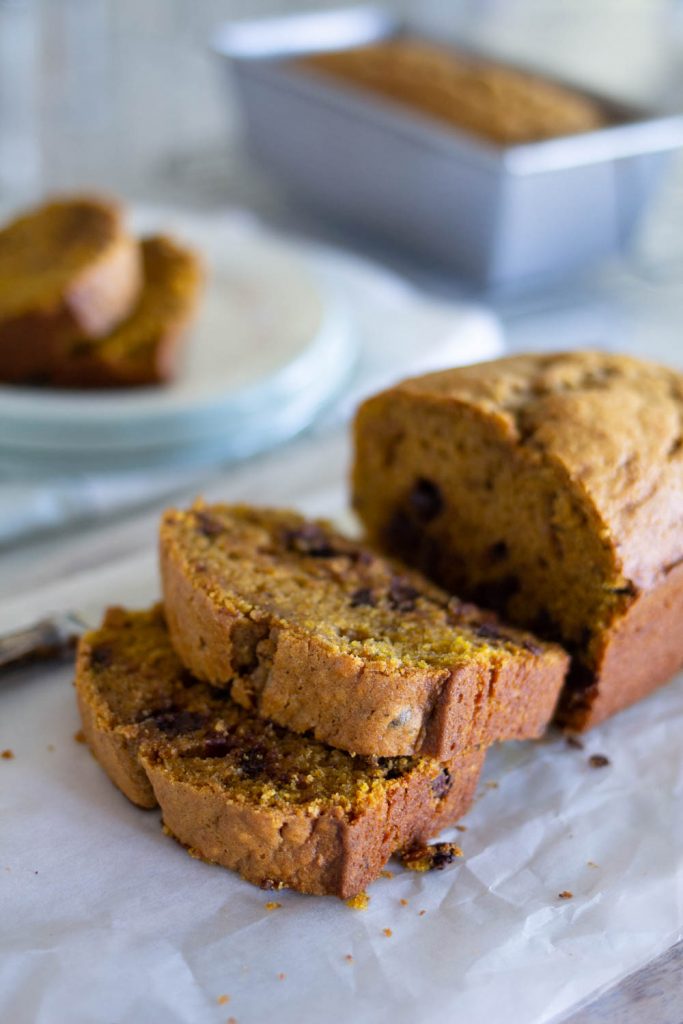 Pumpkin is in full swing over here. This Great Harvest Pumpkin Chocolate Chip Bread recipe is #1 on my list of favorite recipes in the fall! I can't get enough of the rich flavor of pumpkin combined with fall spices. This Pumpkin Chocolate Chip loaf is the definition of the perfect fall treat!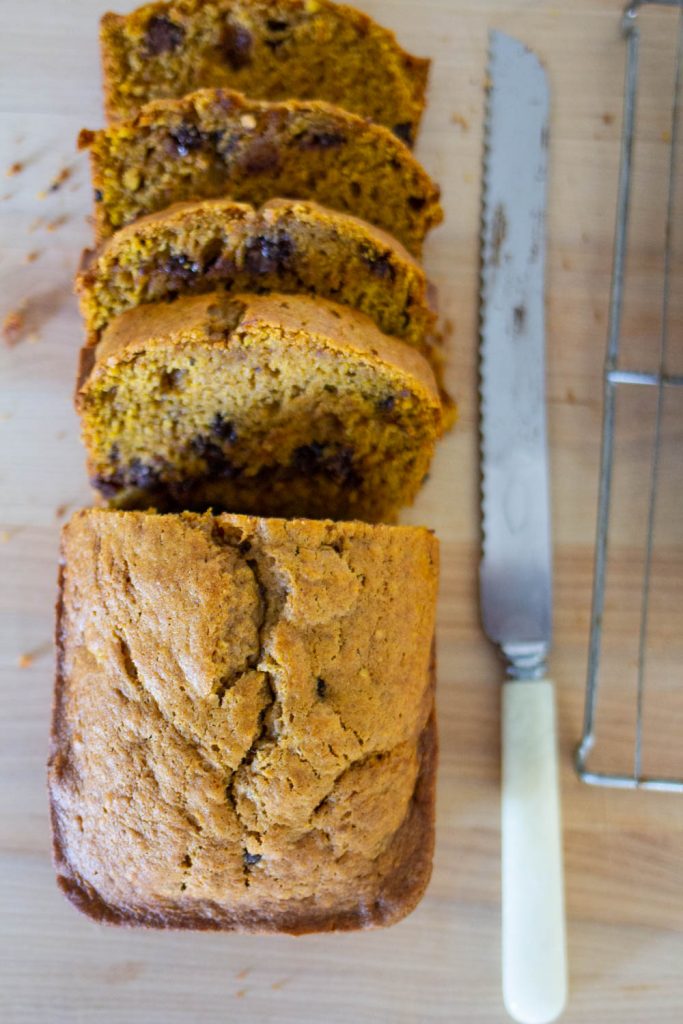 In love with Great Harvest Pumpkin Chocolate Chip Bread
I'm not usually a fan of store bought pumpkin bread. It always tastes like a mix (because it probably is) or it is: too airy, too dry, too much like a cake. The one exception is Great Harvest Pumpkin Chocolate Chip Bread. If you've ever eaten a slice, you know that Great Harvest makes an amazing loaf of pumpkin bread. It has just the right amount of sweet and chocolate and it stays moist for DAYS… IF you can keep it hidden away!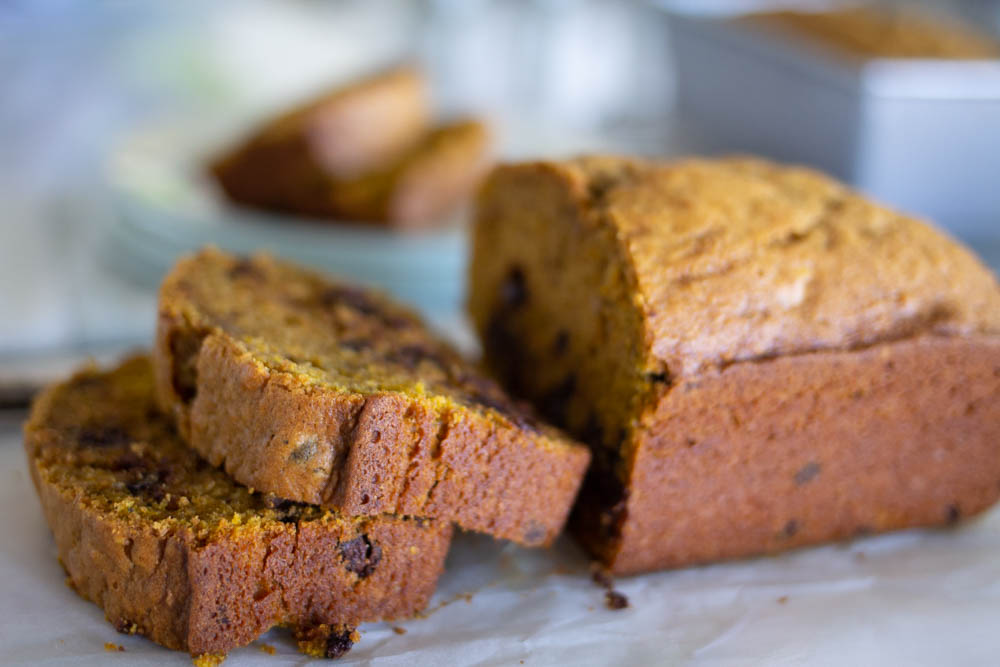 Research, research, research
Nothing compares to homemade so I decided it was time to make a homemade version of our favorite store bought loaf! First, I purchased and ate several slices, ok, maybe loaves to make sure my copycat version was as close to the bakery version as possible in taste and texture. I compared the ingredient list on the Great Harvest package to recipes online that claimed to be Great Harvest copycats. Hmmmm. A lot of those recipes included ingredients not on the Great Harvest ingredients list. Ingredients like: honey, brown sugar, wheat flour. All good ingredients, but not accurate if you're trying to recreate the bakery version…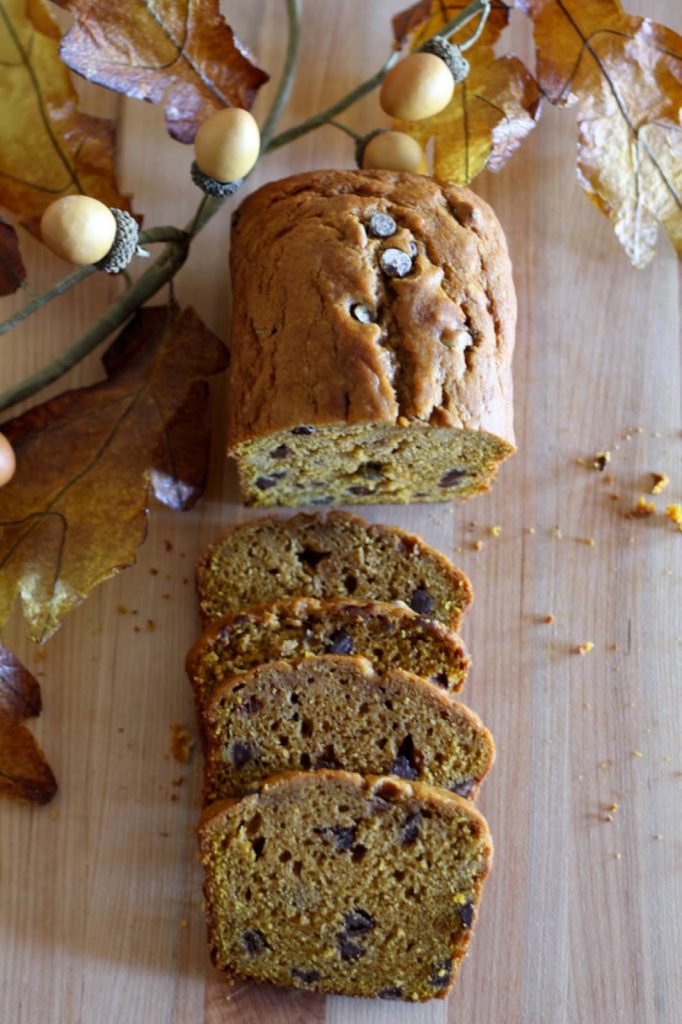 After several test batches, and experimenting with different temperatures of baking, amounts and types of flour, spices, pumpkin, and eggs, I think it's a true-to-form copycat. Many of my taste testers declared it to be "Just like Great Harvest!"
So easy to make, one bowl, two loaf pans!
This recipe is very simple and can be mixed up in one bowl. I start by beating the eggs in a mixing bowl and adding sugar, beating until smooth. When I add the oil, I usually slowly pour into the bowl as the mixer is on, which makes for no splash and a smooth mixture leading up to adding the dry ingredients. I like to mix all of the wet ingredients together until smooth and then add all of the dry ingredients to the bowl and mix just until the flour has disappeared. If you are looking for the best loaf pan, I love this pan from USA Bakeware. They are heavy duty, light in color and bake up the best loaves.
Key to perfect quick breads…
One important key to making the perfect quick bread loaf such as banana or pumpkin bread is DO NOT over mix. We have a popular fast-casual restaurant in Utah that sells a pumpkin loaf that is one of their best selling items.
Every time I eat a slice, I'm always disappointed. It has a kind of dry spongy and almost a tough texture?, and the flavors are lacking. This recipe for Great Harvest Pumpkin Chocolate Chip Bread is the complete opposite! If you follow the directions on this recipe, you will end up with a perfect loaf and one for sharing as well.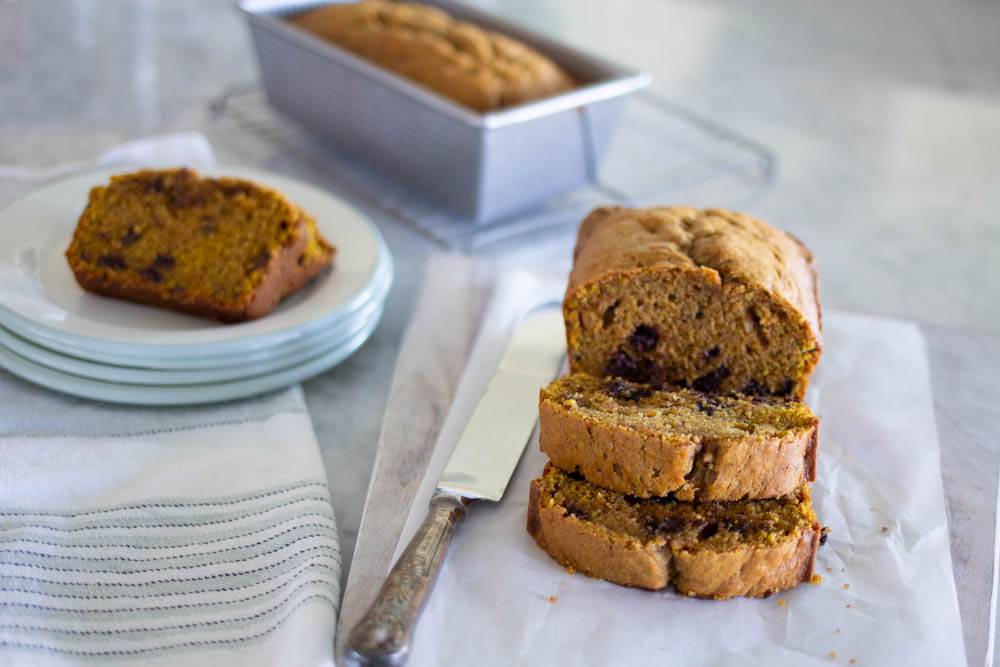 Just right
This Great Harvest Chocolate Chip Bread is lightly spiced, super moist and has a rich pumpkin flavor. At $6 a loaf in the bakery, you'll be saving a few dollars and your house will smell great too! I know you're going to love this recipe. I want to hear if you think this is a true copycat, leave comments below. Thanks, and happy baking!
This post has been updated from it's original publish date in October of 2014 with new photos and recipe adjustments.
Great Harvest Pumpkin Chocolate Chip Bread
Great Harvest Pumpkin Chocolate Chip Bread is the closest thing to buying a Great Harvest loaf! This make at home version includes all of the ingredeints listed at Great Harvest and costs less than buying at the bakery.
Total Time
1
hour
35
minutes
Ingredients
4  

large eggs

2

cups

granulated sugar

1 1/4  

cups

vegetable or canola oil

1-15

oz

can Libby's pumpkin* see recipe notes about Libby's

not pumpkin pie filling

2

teaspoons

vanilla

3

cups

all purpose flour

1

teaspoon

baking soda

1

teaspoon

baking powder

1

teaspoon

salt

2

teaspoon

cinnamon

1

teaspoon

allspice

1/2

teaspoon

ground cloves

1 1/2

cups

semi sweet chocolate chips
Instructions
Place the rack in the center of the oven, and generously grease and line the bottom of two loaf pans with parchment or wax paper. Preheat oven to 325 degrees.

Place eggs in a mixing bowl. Beat for about 1 minute on medium speed. Add sugar beat again for 1 minute. Scrape down sides of bowl.

Add the oil to the mixture in the bowl while the mixer is on low. Add the pumpkin and vanilla and mix on medium until all wet ingredients are mixed well. This takes a few seconds. Turn mixer off.

Place the flour, baking soda, baking powder, salt, spices and chocolate chips into the bowl with the pumpkin mixture. Mix just until the wet and dry ingredients are incorporated on low, scraping down sides of bowl a couple of times during process.

Pour the mixture into the prepared loaf pans.

Bake for 50-60 minutes or until knife inserted in center of loaf comes out with a few moist crumbs attached. The center should not be shiny or wet looking.

Remove from oven. Let sit for 5 minutes in pan. Loosen sides of loaf if necessary with butter knife. Remove from pan and cool completely.
Recipe Notes
Important note regarding pumpkin. I prefer Libby's pumpkin over other brands. Do not use organic pumpkin in this recipe if you want the rich darker color as pictured. I have experimented using a store brand "Organic Pumpkin" and was very disappointed in the finished product. The color is light orange, not the rich color you will get if using Libby's. The texture is also slightly different when using organic pumpkin. Not quite as dense. Use Libby's, trust me on this! If you want your loaves to look like Great Harvest, use Libby's. 
I make a liner for the loaf pan by placing parchment or wax paper under the pan and tracing around the bottom of the pan. Cut the paper on the line. Place the paper in the bottom of the loaf pan and spray sides of pan (only half way up) and bottom (on top of the paper liner) generously with cooking spray. If you spray the pan all the way to the top, your loaf will have an edge that rises above the center of the loaf. 
I bake in  4 1/2 x 8 1/2 pans. When I place the batter in the pans, they fill the pans over 3/4 full. There is about a 1/2 – 3/4 inch space to the top of the loaf pan.  You may use any size of loaf pan, just fill about 3/4 full. 
This recipe will easily yield 3 smaller loaves. Adjust the baking time to 45 minutes then check to make sure loaf is set. You may also make muffins. Fill the muffin tins lined or unlined about 3/4 full and bake for about 20-25 minutes or until the tops spring back when lightly touched!