Can you tell I have a peach obsession? Grilled Peach and Mozzarella Salad. You are going to LOVE this one. Do I say that every time I post? Trust me on this one. You have died and gone to (peach) heaven. I love how light and fresh this salad is. Great for those end-of-summer nights when it's still warm enough to grill and eat dinner outside!
I first posted this recipe back in 2008, when this blog was brand new! I still love the flavors in this Grilled Peach and Mozzarella Salad. Nothing better than grilled fresh peaches. Make sure the peaches are ripe, but not overly ripe for this recipe. The dressing has so many yummy flavors- cilantro, honey, lime zest, and a little chili powder. Such great combinations. It compliments the grilled peaches and sliced mozzarella perfectly. Can we talk about mozzarella for a second? Sliced mozzarella to be exact. I could eat it for every meal. Why is cheese SO GOOD?
Not only is this salad super delicious, it's so simple to put together. Just a few ingredients to make the dressing and you're halfway there. Grill the peaches on both sides and layer them with mozzarella cheese. Drizzle the dressing over the salad. I also like to drizzle a prepared balsamic glaze over the top of the salad. It gives it just a little extra color and punch. Balsamic glaze is so yummy- I find mine at Trader Joe's, but it is sold in most grocery stores near the salad dressing or vinegar.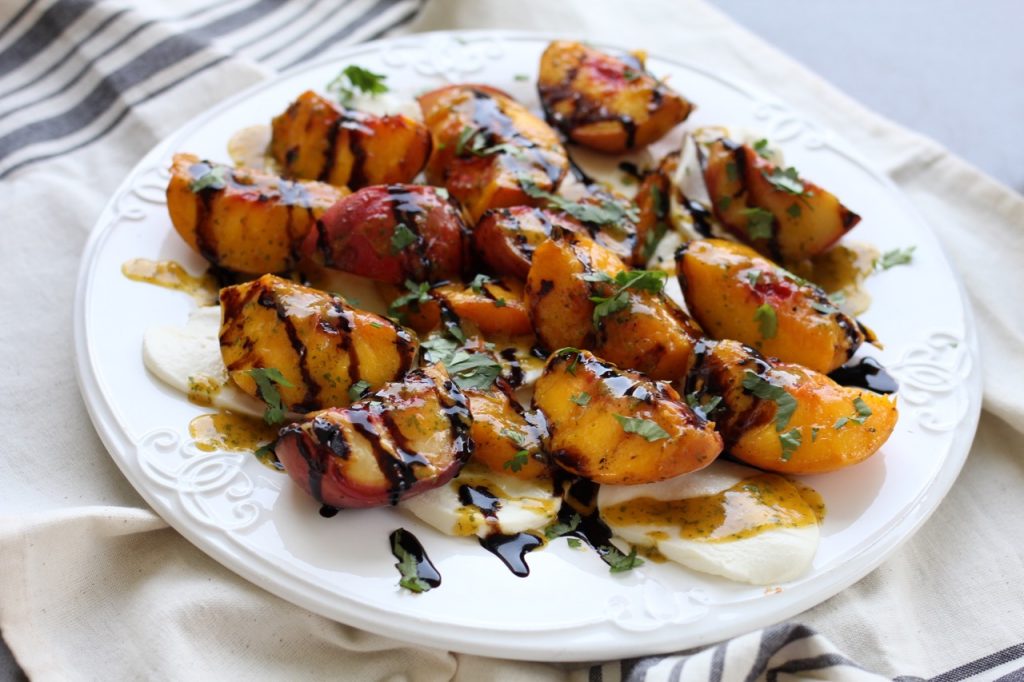 You can prepare this salad and serve it right away or you can keep it in the fridge until you're ready to serve. Just keep the dressing separate. You can also grill the peaches ahead of time and store them in the fridge so you can easily throw this salad together whenever you want it. Easy, simple, so good. This dish makes you look like a gourmet cook, when really, you're putting a few fresh ingredients together on a platter.
Grilled Peach and Mozzarella Salad
Ingredients
5

peaches, ripe but not overripe

3

green onions

sliced

1/4

cup

fresh cilantro

3-4

tablespoons

honey

dash salt

1

teaspoon

lime zest

1/4

cup

fresh lime juice

1/2

teaspoon

chili powder

1/3

cup

canola oil

3/4

lb

mozzarella

cut into thin slices
Instructions
Peel and chop one of the peaches. Cut remaining peaches into wedges, either quarter or 1/8 depending on size of peach. Set on plate until ready to grill.

Process the single chopped and skinned peach, green onions and next 6 ingredients in a food processor 10 seconds or until smooth. Add oil and pulse 3-4 times until thoroughly combined.

While grill is cold, coat with cooking spray. Heat to medium-high heat. Brush both sides of peaches with dressing.

Grill peaches for about 3-5 minutes on each side. Let cool for about 10 minutes after grilling.

Lay mozzarella cheese on platter in a single layer with a peach slice on top.

Drizzle with some of the fresh peach dressing* and prepared balsamic glaze.

Finish with balsamic glaze, drizzled over the platter. Sprinkle with chopped fresh cilantro.
Recipe Notes
*The dressing may be halved, or the remaining dressing used on a green salad, or as a glaze for grilled chicken or fish. The amount of dressing in this recipe is enough for double the amount of peaches and mozzarella. I only use about 1/4-1/3 cup total for topping grilled peaches and mozzarella. 
SaveSave
SaveSave