Did you think I had fallen off the face of the earth? I'm still here. Just returned from a vaca with Grant. Celebrating our 30 years of wedded bliss.
Fish is one of my favorites. It probably doesn't seem like it, since I don't post a lot of fish recipes. Here's the deal- my favorite recipe for fish is: a little lemon juice, salt and pepper. Cook until barely done.
A few thoughts about fish from my fuzzy mind at 3:30 in the morning. Insomnia/jet lag. It's a beautiful thing…
The first pic is of a sea bass we ate in Greece. Absolutely melt in your mouth delicious. The price tag? Not so wonderful. Let's just say, never, ever, sit down to lunch in Greece (or anywhere else for that matter) and let the restaurant owner give you suggestions without seeing the printed menu. The bill may form undesirable negative attitudes about Greece in general. No worries though, Greece's economic woes may now be repaired. eh eh eh.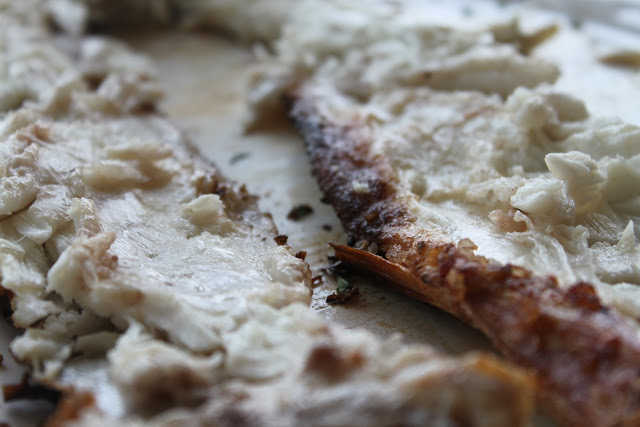 Here's another pic from the trip. I know, you wanted to see photos of ruins, but I thought you would enjoy this special treat. A fish pedicure. It's all the rage in Europe and Asia. Yes. That's right. Tourists lining up to pay money to plunge their feet into a tank (not cleaned in between pedicures) of small fish who then eat the dead skin off of their feet. Really? Am I the only one who thinks this is really disgusting?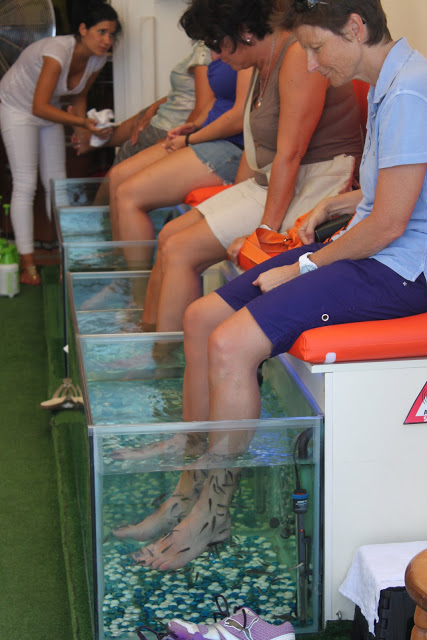 Alright. Back to my dish. I wanted to serve salmon for Brookie's birthday a few weeks back, but also wanted it to be a little out of the ordinary. It was June, so we fired up the bbq. Thought maybe some type of lemony drizzle would be festive. I Googled "Aioli and lemon" and came up with a recipe calling for mayo and lemon juice. Typically aioli is made with crushed garlic, egg yolk and olive oil. Whisking those ingredients together will produce an aioli. I was in a hurry, so I improvised and came up with this quickie sauce.
If you love simple, fresh and delish, you'll love this.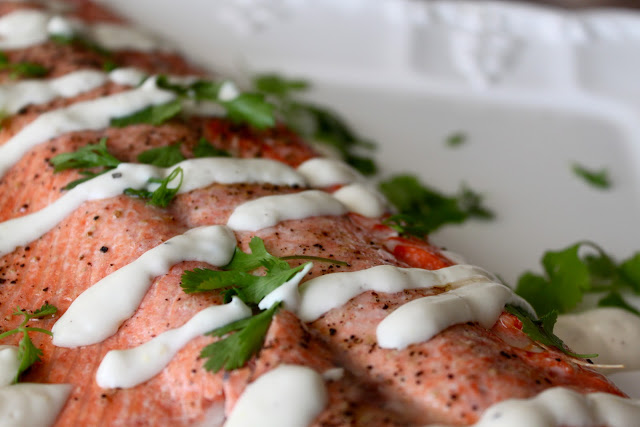 Grilled Salmon with Simple Lemon Aioli
A Bountiful Kitchen
Ingredients
Wild Salmon fillet

about 1 1/2 lbs

one fresh lemon

salt and pepper

cilantro or parsley for garnish
Simple Lemon Aioli
1/2

cup

mayo

not low fat

1/4

cup

yogurt

plain

1

clove

garlic

crushed

2

tablespoons

fresh lemon juice

1

tablespoon

lemon rind

grated

fresh ground pepper and coarse seal salt to taste

Mix all ingredients in a small bowl. Pass alongside fish

vegetables, chicken.

If desired

spoon into a small plastic bag. Snip off small corner of bag, squeeze sauce onto fish in zigzag pattern.
Instructions
Heat grill to medium high heat. Coat grill with non stick cooking spray.

Squeeze the juice of one lemon on to fish. Sprinkle generously with salt and pepper.

Place fish on grill, skin side down.

Cover with lid of grill and cook for about 8-12 minutes. Do not turn over.

Check to see if fish is done by using a fork and pulling apart the fish gently at the thickest part. If the fish flakes apart easily, and is not fleshy looking inside, it is done.Do not overcook. The fish should be done in no more than about 12 minutes. Using a large spatula, transfer the fish to a plate. Cover with foil until ready to serve. Garnish with fresh cilantro or parsley.

Serves about 4-6
Simple Lemon Aioli:
Mix all ingredients in a small bowl. Pass alongside fish, vegetables, chicken.

If desired, spoon into a small plastic bag. Snip off small corner of bag, squeeze sauce onto fish in zigzag pattern.
Recipe Notes
-I have found the freshest fish in Btown is sold at Costco. A few years ago I took a series of sushi making classes at Orson Gygi in SLC. Jonas Otsuji, Sushi Chef(Survivor 2012 contestant)who taught the class recommended Costco as a source of fresh fish for those who live in mountain states. I've purchased it several times over the years to make sushi and fresh fish dishes. I highly recommend cooking fish the same day it is purchased.
-I also highly recommend spending a few extra bucks and buying wild salmon, instead of the farm raised. It's seasonal, so it is not available year round. Wild vs farm raised? Remember the story about the fish pedi's?
Same concept.
In my mind.
The farm raised are swimming around eating everything in the tank. Ok, Ill stop there. Just buy the fresh and not farm raised when you have the option. Enough said.
-Broiling as an option- I broil fish all of the time. Simply place on a cookie sheet, line it with foil if you like for easy clean up. Spray the surface of the pan or foil with cooking spray. Place the rack on the second to top rack in the oven. Broil on high for about 8-10 minutes. Do not turn over.
-Make sure to snip a small corner of the bag if you want your aioli drizzle to look beautiful. I obviously was in a hurry and snipped off a large hole, hence the thick, unattractive drizzle 😮
-If your grill has grates that are spaced quite far apart, you may want to use a soaked cedar plank to cook the fish, so it doesn't fall into the grill. Another option is to place the fish on a layer of foil, (double layer is best) then grill over the flame. You won't get as much of the bbq flavor, but if the option is foil or losing the fish in the grates, I choose foil.